Blackhawks: Three takeaways from Chicago's game against the Stars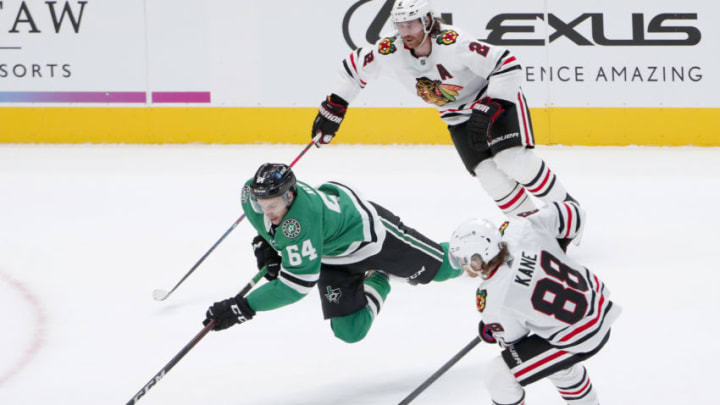 Chicago Blackhawks (Photo by Tom Pennington/Getty Images) /
Chicago Blackhawks (Photo by Tom Pennington/Getty Images) /
The Chicago Blackhawks played their first of a two-game series tonight in Dallas against the Stars.
The Blackhawks went in as an energized group as Patrick Kane suited up for his 1000th career NHL game.
The 'Hawks were headed to Texas to play a Dallas Stars team that was having a tough time in their own barn as of late. Coming into this game, the Stars had gone 1-3-2 in their last six home games, picking up only four out of a possible 12 points at the American Airlines Center. Despite this, the Blackhawks were unable to take advantage of this and ended up losing the game 6-1.
The Blackhawks started off with a poor performance, with the first goal of the game coming from Dallas less than two minutes into the contest, and things never really got much better after that. The Stars began pouring on an onslaught of goals that seemed to never stop.
Given that Chicago has been playing very well as of late, it's hard to get upset about one loss. However, the effort in this game was simply not there, especially considering that the 'Hawks just went 1-1-1 against the Tampa Bay Lightning.
While this isn't great, it was a better outcome than many people were expecting, and the team definitely played up to par against the defending Stanley Cup champions, so to see the implosion that occurred in tonight's game was disappointing, especially during Patrick Kane's big night.
There were a number of issues that plagued the team throughout the game, and a plethora of things that will have to be addressed moving forward by Head Coach Jeremy Colliton. The 'Hawks have another game on Thursday against the Stars, so hopefully they'll be able to sharpen up some aspects of their game and get back to the win column in a few days.
With that being said, here are three important takeaways from tonight's game against the Dallas Stars.