Blackhawks: Three takeaways from Chicago's game against the Stars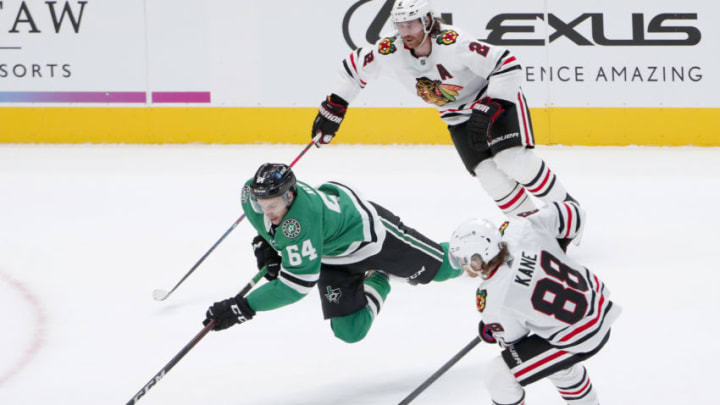 Chicago Blackhawks (Photo by Tom Pennington/Getty Images) /
Lucas Carlsson, Chicago Blackhawks (Photo by Ronald Martinez/Getty Images) /
If there is one thing that the Blackhawks can't afford to do right now, taking bad penalties would definitely be at the top of the list.
The 'Hawks disastrous penalty-killing unit is currently the fourth-worst in the NHL at only 72.3 percent. Compare that to the best PK unit in the league, the Boston Bruins, who have a penalty-killing percentage above 88 percent, and it's clear Chicago has a big hill to climb to get back to the top of the pack.
That is why it was extra frustrating tonight to watch the undisciplined penalties that the 'Hawks took in this game. A lot of the action happened in the first period, and it was no different when it came to penalties. They started off with getting called for hooking. Just minutes after that, the team would take a too-many-men penalty.
Taking a penalty for too-many-men is one of those infractions that is extremely frustrating to me. I understand that these players are just human, but at the same time, they are playing in the top hockey league in the world. It hurts to see them take a lazy penalty because of a bad change.
Miraculously, the 'Hawks were able to kill both of these off. However, Matthew Highmore would get called for tripping early in the second period, and the Stars would finally convert on the powerplay to make it a 3-1 game. Perhaps if the Blackhawks don't take that penalty, they would be able to tie it at 2-2.
There is almost no way to avoid taking penalties during a game. However, it was clear tonight that the 'Hawks were a bit undisciplined. At the end of the day, the penalties might not have been a game-changer for Chicago, but it certainly didn't help in their efforts.