Blackhawks: Three takeaways from Chicago's game against the Lightning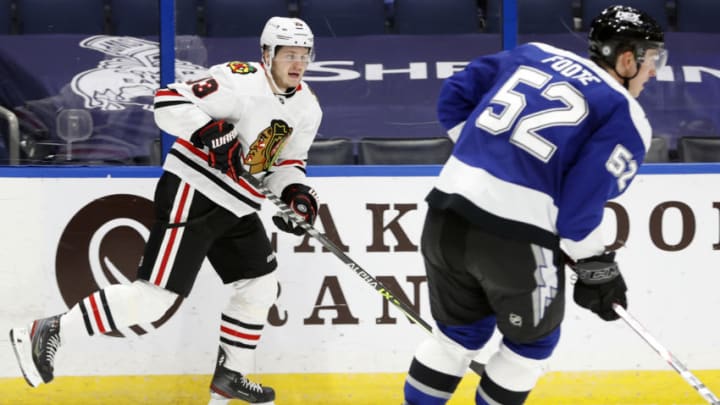 Mattias Janmark, Chicago Blackhawks Mandatory Credit: Kim Klement-USA TODAY Sports /
Mattias Janmark, Chicago Blackhawks Mandatory Credit: Kim Klement-USA TODAY Sports /
The Chicago Blackhawks faced off against the Tampa Bay Lightning tonight in the first of a quick two-game series.
The 'Hawks were looking to bounce back with a formidable win, as the team was coming off of two bad losses against the Florida Panthers. Chicago sat at fourth-place in the Central Division coming into this game, and badly needed to try and make up some ground against the surging Carolina Hurricanes.
Unfortunately, although the Blackhawks played quite well overall, they were unable to pull off the victory, losing 4-2. This became their third straight loss and their fifth in the past six games. The Blackhawks went into this game knowing what their game plan needed to be, and for most of the contest, they stuck with the defending champions.
However, a single goal by Tampa's fourth line would end up being the difference maker, and now Chicago must look forward to their next contest against the Bolts on Saturday. Despite this loss, though, there were a number of positives for Chicago in the game. At the end of the day, though, the Lightning's depth proved to be too much for the 'Hawks.
One notable issue seemed to be the 'Hawks inability to keep offensive pressure on for a full 60 minutes. Although they did score two quick powerplay goals, they were unable to find the back of the net at all after the first period. This is something that has to change if the 'Hawks want to have a chance of splitting this series.
To sum it up, the Blackhawks came out swinging and everything looked good for most of the game, but at the end of the day, the Bolts simply put on too much pressure. Here are three big takeaways from tonight's game against the Tampa Bay Lightning.