Blackhawks: Three takeaways from Chicago's game against the Lightning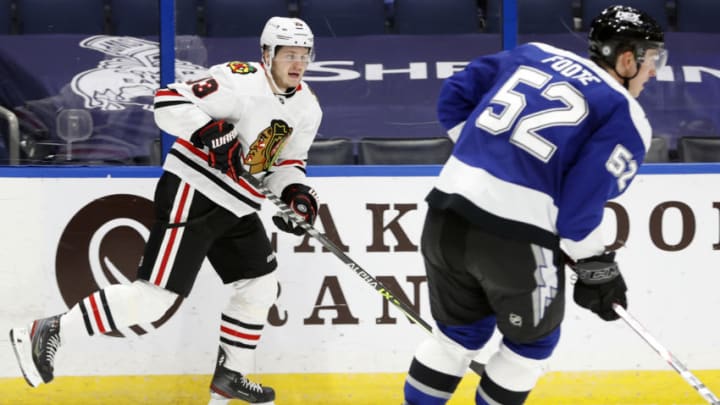 Mattias Janmark, Chicago Blackhawks Mandatory Credit: Kim Klement-USA TODAY Sports /
Chicago celebrates a goal Credit: Kim Klement-USA TODAY Sports /
The Blackhawks' powerplay had cooled off significantly in the past few games, but they got back to form tonight.
Despite having one of the best powerplay units in the NHL for most of the season, the 'Hawks man-advantage unit had fallen off of the wagon in the past week. Fortunately, some early penalties by Tampa allowed Chicago to get the powerplay groove back.
Mattias Janmark deflected a puck past Andrei Vasilevskiy early in the first for the team's first powerplay goal of the night. We've already praised the solid play of Dylan Strome in tonight's game, and he would score the team's second man-advantage tally of the game.
While this was obviously not enough for the 'Hawks to pull off the win, it was excellent to see one of the team's best aspects do what it does best. This was especially notable given they were playing Tampa Bay, a team that has the fifth-best penalty killing percentage in the league.
Clearly, powerplay percentages can never stay stagnant throughout the season. Even the best PP units have their ups-and-downs, and after a week in which they lost their mojo on the man-advantage, it was relieving to see the 'Hawks score twice while up a man.
The unit moved the puck well overall, generated decent chances, and looked like the top-shape powerplay we've gotten used to seeing this year. Hopefully the goals will keep coming, because they clearly need to score a lot to be able to beat Tampa Bay.