Blackhawks: Three takeaways from Chicago's game against the Lightning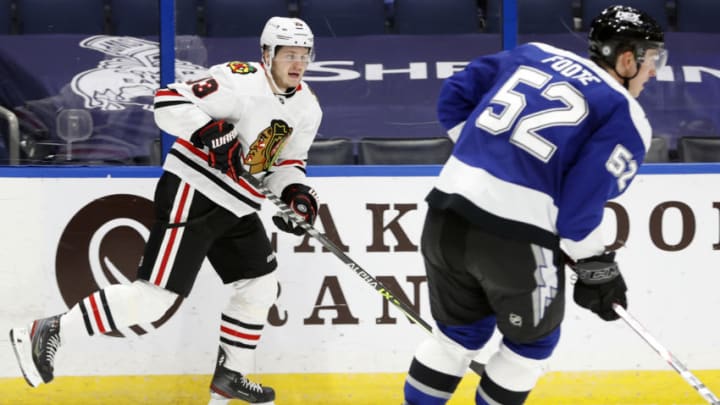 Mattias Janmark, Chicago Blackhawks Mandatory Credit: Kim Klement-USA TODAY Sports /
Kevin Lankinen, Chicago Blackhawks (Photo by Kirk Irwin/Getty Images) /
The player who has been perhaps the Blackhawks' most pleasant surprise this year had his first truly rocky performance.
Kevin Lankinen has been absolutely outstanding for the Blackhawks this year. Out of all three of the goalies that have manned the Chicago net, Lankinen has cemented himself as the starter, and he's part of the reason that the 'Hawks are where they are in the standings.
However, Lankinen appeared tonight to have his first truly poor game. I'm not saying that he's the reason the 'Hawks lost, or that he shouldn't be their starter after this. Obviously, he's been fantastic all year, and he's still won ten games with a .916 save percentage to go along with it.
Unfortunately, though, while Lankinen was okay in the last forty minutes, he struggled in the first period. Both Tampa Bay goals were ones that Lankinen would definitely want to have back, and the goalie performance is part of the reason that Chicago ended the first period tied instead of up 2-0.
Again, I'm not saying that this loss was in any way his fault alone. At the end of the day, in order to win hockey games, you have to score goals. The Blackhawks didn't do that after the first period. Combine that with the fact that Lankinen didn't make the saves he needed to, and the team simply couldn't pull off the win.
It should also be taken into account that Lankinen has started a lot of games for the Blackhawks this season. This is also his first year of NHL play, and he was thrust into the middle of a very strange scheduling situation due to COVID-19.
Given all of that, he has been an overall rockstar for the Blackhawks. Hopefully, all he needs is a game or two of rest, and he'll be back to his winning ways, because it seems like the team has, for the moment at least, found their goalie of the future.