Blackhawks: The Seth Jones Contract Extension Is Now Official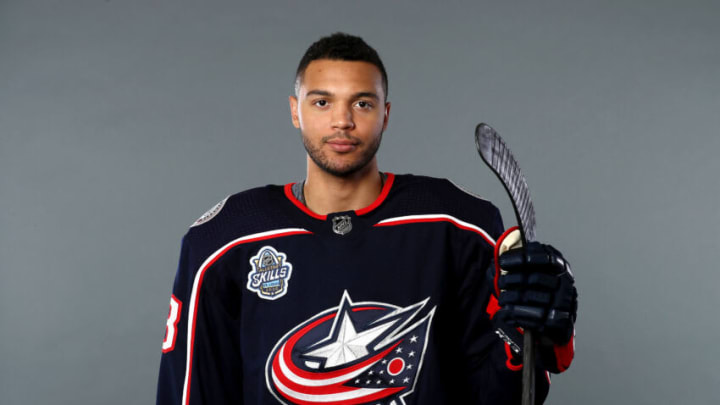 Seth Jones #3, Columbus Blue Jackets (Photo by Jamie Squire/Getty Images) /
The Chicago Blackhawks made the Seth Jones contract extension official yesterday when Jones signed his eight-year 9.5 million dollar contract on day one of free agency.
The Chicago Blackhawks might have paid a high price, but Seth Jones is the new face of the blue line.
Seth Jones is only 26 years old, turning 27 in October, and will be on this team for the next nine seasons. His new contract will kick in a year from now so the team has a little bit more time to figure out the math of his contract and how they are going to fit the entire group in with that massive deal.
Jones's numbers might have trailed off the past few seasons with the Blue Jackets, but he is the guy in Chicago and he is still in the prime of his career. The team instantly improves with him on the blue line, and some of the additional moves the team made yesterday will only help them further.
Here are Jones's numbers thus far in his career:
The eight-year extension makes him the third highest-paid player on the roster, but seeing that he is the team's new number one defenseman, that is alright in my opinion. Plus in a few seasons, Toews and Kane's contracts will be up and one would expect their next contract will be less, especially if they want to stay competitive.
I think we can expect to see Seth Jones's jersey a lot in the United Center next season. Fans will be eager to pick up the new face of the blue line's jersey, even if he did take Niklas Hjalmarsson's number. 
With Jones on the roster the team now has four players that are all 6'4″ that is great for them as they try and make the group a little bit bigger and tougher to play against. The players are Jujhar Khaira, Seth Jones, Connor Murphy, and young Alec Regula. Regula played in three games last season and if the team did want to load up on bigger players then he would be a good fit to keep around as a sixth or seventh defenseman this season.
"Blackhawks: Reacting to the Tyler Johnson trade with Tampa Bay"
With so many new additions to the group, it will be interesting to see how the final roster actually shakes out.