Blackhawks News
3 Chicago Blackhawks To Watch As Philly Hits Town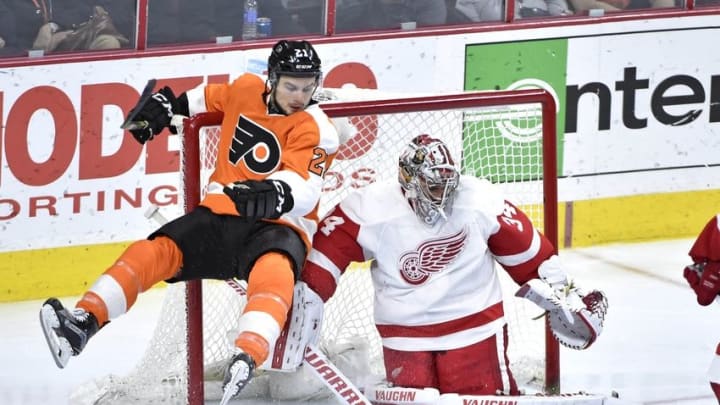 Mar 15, 2016; Philadelphia, PA, USA; Philadelphia Flyers center Scott Laughton (21) is stopped by Detroit Red Wings goalie Petr Mrazek (34) during the third period at Wells Fargo Center. The Flyers defeated the Red Wings, 4-3. Mandatory Credit: Eric Hartline-USA TODAY Sports /
IT'S TIME FOR A WEDNESDAY NIGHT RIVALRY GAME, GUYS! SO WHO DO WE HAVE?! THE BLUES? THE RED WINGS? IT HAS TO BE SOMEBODY GOOD …
Wait. Philadelphia? Really?
Anyway, the Chicago Blackhawks host the Philadelphia Flyers tonight in an excuse for NBC to leech off Blackhawks ratings. Can't say I really blame them, but in no way is Chicago-Philadelphia a rivalry. Just start calling the Wednesday NBC Sports telecast something else until there's … you know, actual rivals facing each other.
Beyond that irritation, we also have the irritation of knowing the Blackhawks have dropped their last three games, including back-to-back thrashings at the hands of Dallas and Los Angeles. While both are shoe-in playoff teams, and it is the middle of March (AKA the time of year the Blackhawks don't care about), there were multiple issues highlighted in grand fashion during those two defeats.
Philadelphia would typically offer a chance at a bounce-back game, but the Flyers have actually found their stroke of late. They sit a point behind the Red Wings for the second wild card spot, and with two games in hand on Detroit. So this game means a lot for Philly. Does it mean a lot for the Blackhawks? Not really, but you know they'd still like to win the Central Division and not crap themselves on home ice in back-to-back showings. Should make for entertaining hockey, especially considering neither of these teams has a fully constructed blue line.
More from Blackhawks News
Normally, I'd give you the Blackhawks' lines and defensive pairings, but this morning presented an optional skate. What we do know is that Scott Darling gets the call in net tonight, relieving Corey Crawford for a game. This is probably in the best interests of the entire team, as Darling hasn't gotten much play this season, and Crow has already reach his career high for regular-season starts. Plus, the Blackhawks have played pretty poorly in front of Crow lately, and they seem to step up their game in front of Darling, who the Blackhawks are well aware is not Crow (i.e. he isn't going to bail out as many of their failures).
Tomas Fleischmann is also reportedly getting a shot at the first line, which does make some sense. He's been very strong alongside Teuvo Teravainen and Andrew Desjardins, and the Blackhawks' first line has scuffled of late. This was seen during Tuesday's practice, and Patrick Kane also slotted up alongside Jonathan Toews. This put Marian Hossa with Artemi Panarin and Artem Anisimov, which would imply Andrew Ladd sits on the third line. We'll see if Joel Quenneville actually deploys these lines tonight.
Speaking of Teuvo, he was reportedly sick yesterday but will play tonight. Also, Christian Ehrhoff draws back in after the Blackhawks' defense rolled over and died multiple times over the last several days. This makes a ton of sense, because Ehrhoff is a better option than Erik Gustafsson or Trevor van Riemsdyk at this point, but my guess is he slots in for Michal Rozsival because … reasons.
On to the Flyers.
Brayden Schenn–Claude Giroux–Wayne Simmonds
Michael Raffl–Sean Couturier–Sam Gagner
Scott Laughton–Nick Cousins–Matt Read
Chris VandeVelde–Pierre-Edouard Bellemare–Ryan White
Andrew MacDonald–Shayne Gostisbehere
More from Blackhawk Up
Neuvirth, who has recently been dealing with a stomach virus, is slated to make the start, according to Philly media. Neuvirth has actually been pretty good this season, posting 16 wins, a .925 save percentage and a 2.29 goals-allowed average in 27 starts.
What's been impressive about Philly climbing the standings is they've done some of it without Jakub Voracek. The ginger-haired forward has been out since Feb. 25 with a lower-body injury and had 48 points in 60 games prior to that. Still, guys like Giroux, Simmonds, Couturier and Read are capable scorers, and no one needs me to remind them about Gagner's eight-point game against the Blackhawks while with Edmonton in 2012.
While I did say the Flyers don't have a fully constructed blue line, it's important to point out Gostisbehere, even if we can't say his name. The man Flyers fans have taken to calling "Ghost" is in the running for the Calder Trophy with 39 points in 50 games. He also averages 19:38 of ice time per night and has 20 powerplay points. The 22-year-old is certainly someone to try and keep in check.
Now, let's take a look at three Blackhawks to watch tonight at the United Center.
Mar 11, 2016; Dallas, TX, USA; Chicago Blackhawks left wing Tomas Fleischmann (12) skates against the Dallas Stars during the third period at American Airlines Center. Fleischmann scores a goal. The Stars defeat the Blackhawks 5-2. Mandatory Credit: Jerome Miron-USA TODAY Sports /
Tomas Fleischmann
When you have a chance to play alongside Toews and Kane, you're doing something right. Considering Fleischmann just got to Chicago and how it occasionally takes Q a while to warm up to new additions (if he ever does), this is a pretty impressive ascent for Fleischmann. While he isn't breaking the score sheet — he has three points in seven games — he's been one of the few Blackhawks actually creating even-strength offensive chances, alongside Teuvo and Desjardins. Imagine, then, what he might be able to do with Toews and Kane.
This could be a breakout game for the first line, and for Fleischmann specifically, if Q decides to roll with the trio. Even if Q doesn't do that, Fleischmann is still worth watching due to how active he's been since joining the team.
Mar 3, 2016; Boston, MA, USA; Chicago Blackhawks goalie Scott Darling (33) looks at his stick during the second period against the Boston Bruins at TD Garden. Mandatory Credit: Bob DeChiara-USA TODAY Sports /
Scott Darling
No, this is not Darling's audition to take over the starting job. And, no, if he shuts out Philly or something, he's not better than Crow. I really don't want to explain these items, or why I feel the need to say them, so let's move on to the importance of Darling's play tonight. The Blackhawks have a game in hand on the Blues and Stars, who are both three points clear of Chicago. With the Blackhawks defense still highly suspect, Darling will need to turn in a strong home performance, something he hasn't struggled to do this season.
He's 4-0-0 with a 1.09 goals-against average and .960 save percentage at the UC this season, and the Flyers aren't exactly an offensive dynamo, averaging 2.62 goals per game. That's good, but not anything unstoppable, especially with the Blackhawks getting last change. Still, Darling will likely be counted on due to the Chicago defense being Swiss cheese-like, and he'll need to step up if the Blackhawks are two grab two important points.
Mar 9, 2016; St. Louis, MO, USA; Chicago Blackhawks defenseman Christian Ehrhoff (55) and St. Louis Blues right wing Scottie Upshall (10) chase a loose puck during the second period at Scottrade Center. Mandatory Credit: Jasen Vinlove-USA TODAY Sports /
Christian Ehrhoff
Please, Mr. Ehrhoff. Please show Coach Q you belong in this lineup on a nightly basis. Because I'm going to internally combust if I have to see Gustafsson and TVR as part of a six-man blue line anymore this season. Ehrhoff has been pretty sound defensively and has tried to contribute offensively in what little action he's gotten since arriving from L.A., but he's the one acquisition Q has not yet warmed up to. Fittingly, it's at the area of greatest need for the Blackhawks.
Ehrhoff will get cushier zone starts at home, but my hope is he plays an all-around solid game that catches Q's eye and leads to Ehrhoff's permanent inclusion in the lineup. At least I hope for that now. You all know how these things tend to go.