Blackhawks News
Chicago Blackhawks' Kane Reaches 100 Points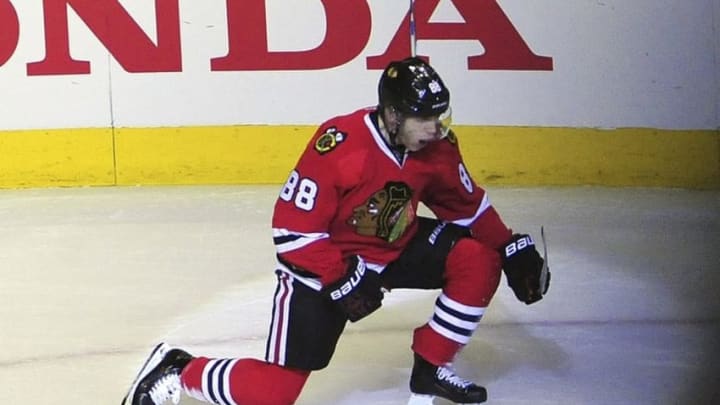 Apr 3, 2016; Chicago, IL, USA; Chicago Blackhawks right wing Patrick Kane (88) celebrates his goal against the Boston Bruins during the first period at the United Center. Mandatory Credit: David Banks-USA TODAY Sports /
Chicago Blackhawks forward Patrick Kane looked especially excited Sunday after tallying on the powerplay against the Boston Bruins. Was it because he had just netted his third goal of the game midway through the second period? Maybe, but he also probably knew what that third goal meant.
Along with an assist, Kane's three goals allowed him to reach 100 points for the season. Kane is just the fifth Blackhawks player to ever hit the 100-point plateau, following Bobby Hull (107 in 1968-69), Denis Savard (five times between 1981 and 1988), Steve Larmer (101 in 1990-91) and Jeremy Roenick (three times between 1991 and 1994).
Kane boasts 43 goals and 57 assists with one period left in this game, as well as three more regular-season games. He seems pretty close to a lock to win the league scoring race at this point, with Dallas' Jamie Benn holding second at 88 points, and Pittsburgh's Sidney Crosby resting in third at 81 points.
Kane long ago surpassed his old career high in goals for a season, which was 30 in the Blackhawks' Stanley Cup season of 2009-10. He needs two more helpers to overcome his current career high in assists, which he also set that season with 58.
With Kane holding such a strong edge in the scoring race, he's very likely to win the Hart Trophy for the league's regular-season MVP. He'd be the first American-born player to win the honor, adding to his hardware stash. He's had an incredible offensive season that has put his problematic offseason in the rearview mirror for many fans.
More from Blackhawks News
Linemate Artemi Panarin is also having a strong game, posting a goal and three assists in the first two periods. He's trying to get back on top of the Calder Trophy race, with the ground having gotten a little shaky during Panarin's scoring drought. He now sits 20 points clear of Buffalo's Jack Eichel with 72, five goals ahead of Eichel with 28 and 11 assists ahead of Arizona's Max Domi with 44.
The Blackhawks lead the Bruins 6-2 after two periods, as the Bruins received a pair of goals in the final 20 seconds of the middle frame. While the offense obviously looks good right now, as all four lines are getting scoring chances, the defense still looks rough. The Bruins have missed multiple wide-open nets, so the Blackhawks need to stifle any Bruins bids early in the third period.
More from Blackhawk Up
Of course, if the Blackhawks' second line puts up some more goals, that shouldn't be a major concern. The Blackhawks were struggling over the last several weeks and the second line was unable to consistently produce, but that has been flipped in these last couple games. It's certainly good to see heading into the playoffs, especially with a roughed-up defense that's missing Duncan Keith and a suspect goaltending situation due to Corey Crawford's injury.