Blackhawks News
Stanley Cup Playoffs: Blackhawks-Blues Staff Predictions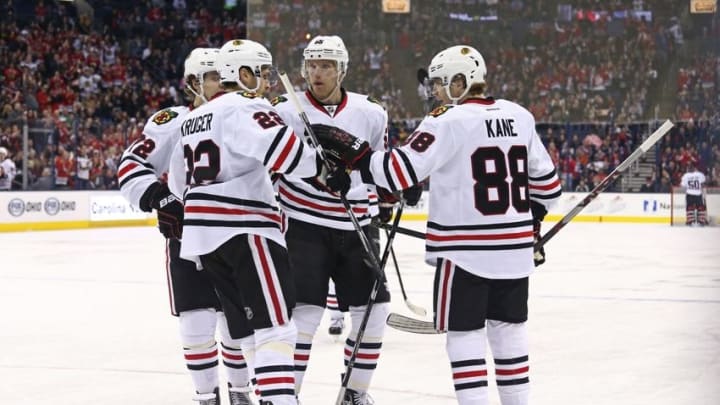 Apr 9, 2016; Columbus, OH, USA; Chicago Blackhawks right wing Patrick Kane (88) celebrates with teammates after scoring a goal against the Columbus Blue Jackets in the third period at Nationwide Arena. The Blue Jackets won 5-4 in overtime. Mandatory Credit: Aaron Doster-USA TODAY Sports /
Members of both the Chicago Blackhawks and St. Louis Blues fan bases are nervously and anxiously watching their clocks, waiting for that time to get off work and watch tonight's first game of the teams' opening-round Stanley Cup Playoffs series.
Hopefully some of our earlier content today has helped you get through the morning. With Game 1 drawing ever closer, the time for predictions is nearing its end. Luckily, the Blackhawk Up staff is going to sneak in its guesses just in the nick of time.
It's time for each member of the staff to be truthful and honest: Who will win this series between the Blackhawks and Blues? We've got everyone's answers right here, so buckle up and enjoy the guesswork.
Keith Schultz
The Chicago Blackhawks always find a way, in these type of series, to win a game on the road, and usually hold serve on home ice.  The 'Hawks' defense and special teams will play better than they did during the regular season, and the Blackhawks will advance to the next round with Artemi Panarin and Patrick Kane carrying the offense.
Prediction: Blackhawks in 6
Gail Kauchak
This is going to be a really tough series for both teams. The Blues will be dangerous because they are hungry to get out of the first round after failing to do so for the last three years. On the other hand, the 'Hawks are a formidable foe. They have won the Stanley Cup three times in the last six years, and they obviously know how to win. If the series started in Chicago, I would say the 'Hawks in 6. But the festivities will start in St. Louis, so we could be biting our nails to the bitter end.
Prediction: Blackhawks in 7
Sean Fitzgerald
The Blues do not get over their arch rival. In the five games they played this year, the Blues won three, but all in OT and all after miraculous comebacks. Patrick Kane and Jonathan Toews live for this time of year.
Prediction: Blackhawks in 6

Andrew Facemyer
This isn't the first time in recent memory the Chicago Blackhawks have stumbled into the playoffs, and it certainly won't be the last. However, when the 'Hawks are on point, they've proven that there is no team in the league that can stop them. Now, this round will not be easy. Every time these two teams meet, there is always potential for some sort of disaster. But with a healthy team, an incredibly well rested Corey Crawford and some fresh, new blood on the bench, the 'Hawks should be poised to make another deep run into playoffs.
Prediction: Blackhawks in 7
More from Blackhawks News
Mario Tirabassi
St. Louis and Chicago are very familiar with each other and know how these games go. St. Louis will try to out-physical Chicago, which is why the Blackhawks will have to use their speed and skill advantages to get quality scoring chances. The difference in the series is in net with a healthy Corey Crawford against Brian Elliott/Jake Allen. If you have two starting goalies, you have no starting goalie.
Prediction: Blackhawks in 6
Mike Brennan
This is going to be a brutal series for both sides, but I think the 'Hawks' offense will ultimately be too much to handle for the Blues. The offense is firing on all cylinders, and those on it have shown before that no matter how tired they are, they can turn it up at any time. The Blues will not be able to rid their woes in the playoffs, but they will get damn-near close.
Prediction: Blackhawks in 7
Nick Heupel
Defensive problems will cost the Blackhawks Game 1, but then Duncan Keith will revitalize the team with his return in Game 2. Patrick Kane and Artemi Panarin are too hot to stop right now, and they will be causing problems for the Blues. If St. Louis focuses too much on Kane and Panarin, then other Blackhawks players will have more room to step up and score big goals when needed. Look for big contributions from the first-line guys, Andrew Shaw, Marcus Kruger and Richard Panik (if he plays).
Corey Crawford will be at his best, as he always is, in the playoffs. The Blues' defense plays tough and will limit Chicago's offensive production, but it will not be able to totally deny Blackhawks goalscorers. By the same token, St. Louis will struggle to score goals. The Blues have a deep group of forwards and some star talent, but they will have to score a lot of goals consistently to beat the 'Hawks.
Prediction: Blackhawks in 6
More from Blackhawk Up
Tim Lively
This will not be the same series as 2014, at least at first. Unlike the last time the Chicago Blackhawks and the St. Louis Blues met in the postseason, in which both squads were out to prove a point in the opening tilt, this time around we should expect much more of a chess match at the start of the series.
Needless to say, St. Louis has become synonymous with choking in the playoffs despite great success during the regular season, so expect Blues coach Ken Hitchcock to try and keep his team's emotions cool and focused in the first few games.
As for the 'Hawks, they are coming into this series with question marks on the blue line and some rust on Corey Crawford, so don't expect our boys in red, white and black to be too zealous out of the gate either as they try to establish their groove.
That being said, while this series will likely start out as more of a measuring contest of wits than in 2014, it'll only take one significant event, like a big hit or a shorthanded/ugly goal, for the emotional floodgates to open. When that happens, given the psychological edge the 'Hawks have over the Blues, they'll be able to take the series.
Prediction: Blackhawks in 6
Colin Likas
It's all about history here. The Blackhawks have it in the postseason, and the Blues don't. It's surprising how much of a difference that makes, but you'll see it when you least expect it. St. Louis needs to win both of its first two home games in this series to have a chance at advancing to the conference semifinals. Their psyche will be too damaged by dropping the home-ice advantage to recover — at least that's the case until the team can prove otherwise.
No one should panic if the Blackhawks lose the first game tonight. Considering Duncan Keith is out and guys like Andrew Shaw, Marian Hossa and Artem Anisimov are just returning to the lineup, it wouldn't be stunning. But if the Blackhawks can get either Game 1 or Game 2 (I think they'll get the latter), they should be in a good shape, because we should trust this team on home ice in the postseason until further notice. And at that point, it all goes back to the psyche factor. The Blackhawks have it. The Blues don't.
Prediction: Blackhawks in 6