Blackhawks News
Chicago Blackhawks Morning Links- For Pat's Sake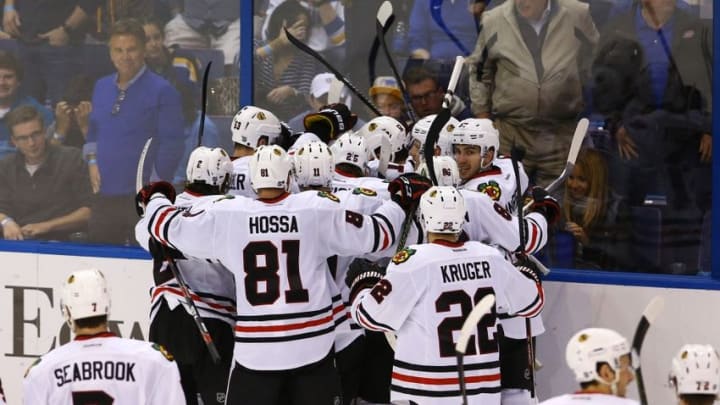 Apr 21, 2016; St. Louis, MO, USA; Members of the Chicago Blackhawks celebrate after defeating the St. Louis Blues during the second overtime period in game five of the first round of the 2016 Stanley Cup Playoffs at Scottrade Center. The Blackhawks won the game 4-3 in double overtime. Mandatory Credit: Billy Hurst-USA TODAY Sports /
Good Morning Chicago Blackhawks Fans! 
The Chicago Blackhawks won in the middle of the night Thursday night in St. Louis, and if you were like me it was extemely hard to stay up for overtime, not because of the lack of sleep but for the amount of sleep I would get before having to get up the next day.  This is why I was glad that Pat Foley made his stance during the telecast that just happened to be being televised nationally on NBCSN.  I understand the fact that the TV rights cost money, but it doesn't meant that every game has to be on at 8:42 local time and if your a fan of the team on the East coast it's almost 10pm.
The fact that Gary Bettman had to comment on Foley's comments makes it a pretty big deal in the NHL circuits, but really the Chicago Blackhawks brass may be alright with the late start times but that is all.  Fans, Coaches, and players don't want to play that late in the day! So Congrats to you Pat Foley! Foley may a little out their with all of his go to sayings, but this time he was in touch with all fans and you can't build the fan base without having kids watching the game.
More from Blackhawks News
Here are your Chicago Blackhawks Morning Links To Kick Off Your Weekend
See and hear what the Chicago Blackhawks had to say while preparing for Game #6 on Saturday at the United Center (Blackhawks)
Gary Bettman and the NHL keep diminishing what their fans actually want which includes earlier start times during the playoffs (Second City)
St. Louis Blues Defenseman Alex Pietrangelo said after their Game #5 overtime loss that it would be fun to win the series in Chicago on Saturday (Madhouse Enforcer)
The Chicago Blackhawks continue to put pressure on the St. Louis Blues will it be enough to get to a Game #7 (CSN)
The Chicago Blackhawks become zombie-like as they grow stronger the longer their series lasts (St. Louis Dispatch)
More from Blackhawk Up
Probably not a shock since there are no Canadian teams in the playoffs, but the ratings are down 60% north of the border during the first round of the playoffs (ESPN)
Watch the Smashville staff do a interview about the Catfish team (Predlines)
The Dallas Stars were prepared for pure desperation from the Minnesota Wild on Thursday (Blackout Dallas)