Chicago Blackhawks Top 3 Playoff Goals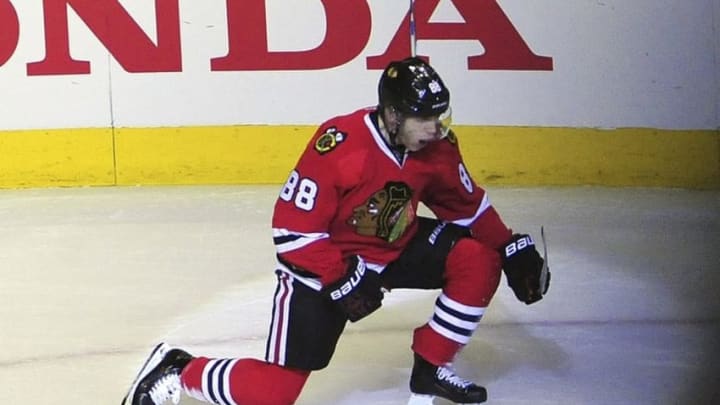 Apr 3, 2016; Chicago, IL, USA; Chicago Blackhawks right wing Patrick Kane (88) celebrates his goal against the Boston Bruins during the first period at the United Center. Mandatory Credit: David Banks-USA TODAY Sports /
The last couple days have been…mellow to say the least.  There has been something missing.  There is no anticipation.  No getting butterflies as you go about your day.  No need to hurry up after work and get dinner on the table.  Because there are no more Chicago Blackhawks games.  No more pacing.  No more, "I'm not sure if my heart can take this!".  No more double overtimes, no more Game 7's.
Yep, the Chicago Blackhawks have made an early exit this year, losing to the St. Louis Blues in the first round of the playoffs.  It's easy to understand why fans are in denial.  The Hawks didn't qualify for the playoffs in the 2007-08 season.  Since then, they've lost in the first round twice, lost in the Conference finals twice, and won the Stanley Cup three times.  I think it's safe to say Chicago Blackhawks fans are a tad bit spoiled.
More from Blackhawks News
I've watched some other playoff games, but of course it just isn't the same.  There's no real personal attachment.  So what is this hockey housewife to do?  Revel in the past of course!  It's a little too early to look towards next season, so we might as well enjoy what went well before the Chicago Blackhawks were eliminated this year.
Of course there was only one round, but there were seven games.  One reason the Hawks aren't still playing is because they didn't score enough goals scored in those seven games.  Only 20 to be exact.  But wait!  The Blues only scored 19 goals.  Oh, the irony!  Ugh!  This series was so darn close!
Well, since we can't watch more Hawks games, let's reminisce a bit before we move on.  Here are my top three goals for the Chicago Blackhawks in these short playoffs.
3.  Trevor van Reimsdyk's goal in Game 6.
I love this goal because it was the perfect play by a defenseman to join the rush and make something happen.  And it wasn't your usual suspects of Duncan Keith or Brent Seabrook.  No, it was TVR, who has been thrown into the fourth defenseman spot whether he's ready or not.  Well, in this play everything went right, and he looked like the offensive-defenseman everybody wants him to be.  TVR has the potential to be a solid player in the future.  I'm looking forward to seeing good things from him next season.
2.  Artem Anisimov's goal in Game 3.  This is simply an example of two guys playing smart and knowing each other's tendencies.  Anisimov got kicked out of the face-off circle the play before, so Artemi Panarin had to take the draw.  I don't remember Panarin ever taking a draw before.  So, Arty has a discussion with him before the play.  He has Panarin purposely lose the draw and then beat his player to the boards for the puck.  Panarin's hustle and pure determination beats a much bigger and stronger Blues player.  The Breadman then gets the puck to where Arty is waiting, right in front of the net.  It's a beautifully executed play, and watching Panarin's excitement after the goal is pretty special to watch.
1.  Patrick Kane's Double OT Winner in Game 5
Can anyone really argue with this one?  It was Kaner's only goal of these playoffs, but man was it a doozy.  It forced a Game 6, and kept the Chicago Blackhawks from being eliminated even earlier.  Kane drove hard to the crease with a shot, and then went around the net to collect his own rebound.  It was a Herculean effort, especially considering the fact that it was the second overtime.  He had a burst of energy, and made everyone else look like they were moving in slow motion.   Kane won the Art Ross Trophy for the most goals in the regular season, and this was the fifth overtime playoff goal of his career.
More from Blackhawk Up
I hope you enjoyed these highlights, as there won't be any more new ones until October of next year.  It's a depressing thought, but we also know the Chicago Blackhawks will have a full summer to regroup for the next push.  After all, winning the Cup every other year is starting to become a theme.
Next: KHL's Michal Kempny Draws Attention
Stay tuned to Blackhawk Up throughout the summer for more Chicago Blackhawks news and entertainment.  We're kinda fanatics around here…there's no off-season when it comes to writing about the best team in sports!
LET'S GO HAWKS!!!