Chicago Blackhawks: Andrew Shaw's Re-Signing Case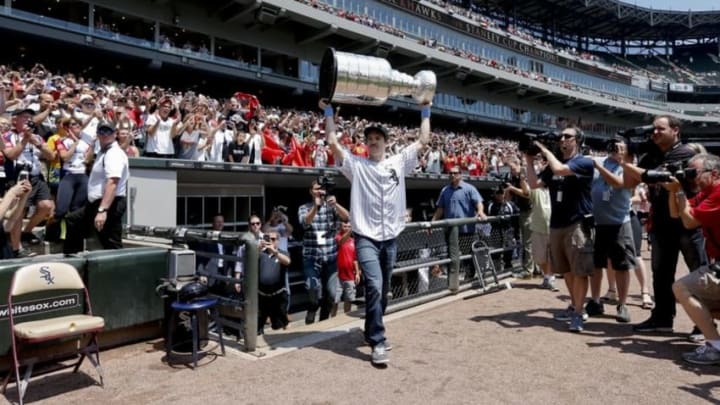 Jun 21, 2015; Chicago, IL, USA; Chicago Blackhawks Andrew Shaw arrives on the field with the Stanley Cup before the baseball game between the Chicago White Sox and Texas Rangers at U.S Cellular Field. Mandatory Credit: Kamil Krzaczynski-USA TODAY Sports /
Looking At Andrew Shaw's Free Agency Case

With the offseason upon us, it is time for a brand new series of posts here at Blackhawk Up. In this series of posts, I will be making a case for each player who has a contract up — to get re-signed. I will be creating arguments for each player, which of course means that we need to address the negatives of each player, too.
This will be going off an old post about the chances of each player getting re-signed by the Blackhawks.  Without further adieu, let's get it started with Andrew Shaw.
Andrew Shaw, 24, is a restricted free agent at the end of this year. He had a cap hit of $2 million, and there are several reasons why he should and shouldn't be re-signed by the 'Hawks.
Last season, Shaw posted 14 goals and 20 assists in 78 games played. He went through some hot and cold stretches through the year for one main reason: He forgot his role. When Shaw was cold during the season, he was absolutely useless. He would think that he was Patrick Kane or Jonathan Toews at times, in that he would have the puck in open ice and try and stick handle his way out of danger.
He also would take it upon himself to get the puck through the neutral zone against teams that have above-average neutral zone defenses like the Nashville Predators. All in all, he forgot that he is not very good at "hockey" at times this season. Those are the negatives. But there are lots of positive reasons why he would make any general manager happy.
More from Blackhawks News
When I say he does not know how to play hockey, I mean that he is only an effective player when he stays within his boundaries of play. For example, Shaw's game is strong when his main point of emphasis is getting under the skin of other players and standing in front of the net.
The 'Hawks have had a history over the past couple years of having players that do not like to get gritty and park themselves in front of the crease. Shaw is able to fill that need. He finally became a very good player by doing this towards the end of the season and in the postseason.
Mar 11, 2016; Dallas, TX, USA; Chicago Blackhawks center Andrew Shaw (65) skates against the Dallas Stars during the game at the American Airlines Center. The Stars defeat the Blackhawks 5-2. Mandatory Credit: Jerome Miron-USA TODAY Sports /
Besides one suspension for an anti-gay slur, Shaw had four goals and two assists through six games during the 2016 postseason. During the 2015 Stanley Cup Playoffs run, Shaw had five goals and seven assists through 23 games. During his first Stanley Cup run in 2013, he had five goals and four assists through 23 games.
So while the jumps have not been that much, it is clear Shaw has in fact been getting better with age. He has become more experienced and has finally realized the type of game he needs to play.
One of the biggest reasons to keep Shaw is his play during the playoffs. His style of standing in front of the net and irritating other players is the style that thrives in the Stanley Cup Playoffs. His play during the spring months might be enough reason to keep him.
With his play toward the end of the season and how good he has clearly become, Shaw will definitely want a hefty pay day this offseason. While the 'Hawks are extremely strapped for cash, the 'Hawks should go all in on Shaw. If you look at the other players who have contracts up, they are players who can be replaced. So spending a little more on Shaw could be made up by letting some players go.
In the AHL you cannot teach heart and you cannot teach grit. Shaw has both of these commodities that are so sought after in many players throughout the NHL.
So there is my case for the 'Hawks to re-sign Andrew Shaw. What do you think the franchise should do with Shaw? Leave your thoughts in the comments or connect with us through social media.