Chicago Blackhawks Sticking To The Plan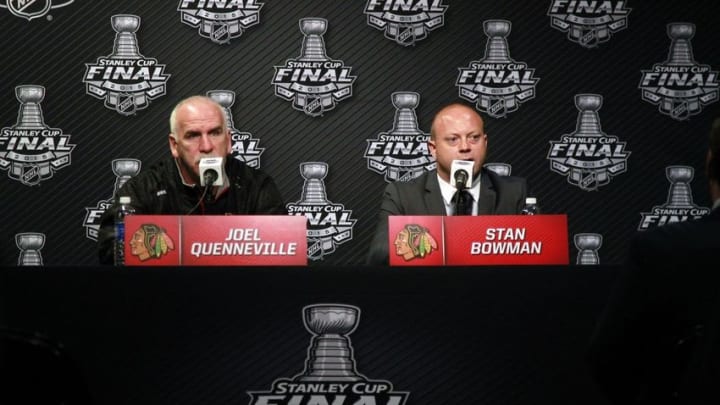 Jun 2, 2015; Tampa, FL, USA; Chicago Blackhawks head coach Joel Quenneville and general manager Stan Bowman talk with media during media day the day before the 2015 Stanley Cup Final at Amalie Arena. Mandatory Credit: Kim Klement-USA TODAY Sports /
Blackhawks Will Build From Within
The Chicago Blackhawks organization has made it clear that the success of the 2016-17 season is going to be dependent on the level of impact the "homegrown" players make on the team.
General Manager Stan Bowman stated after the Blackhawks lost in the Stanley Cup Playoffs to the St. Louis Blues, "You need some growth from within, so you must have younger players taking the next step. That could mean a couple different things. for guys not here – players in Rockford – the next step is making the NHL. For guys here, that have had a year or two under their belts, you're looking for them to move themselves up the ladder."
More from Blackhawks News
So the Blackhawks have to sell themselves, the fans, and the players that the future of the organization sustaining success will have to come from within. If you haven't been following along this off-season, we at Blackhawkup have been bringing you a Chicago Blackhawks Future Friday section highlighting some future players that fans should pay attention to as major players in the Blackhawks future.
Players such as Ryan Hartman, Vinnie Hinostroza, Ville Pokka, Nick Schmaltz, and Tyler Motte are among the players highlighted in our Future Friday section and are names that could make impacts at the NHL level for Chicago next season.
Check it out: Brian Campbell Signing A Good Move, But Not Enough
Chicago has been able to not only state that they are going to invest more in their own farm-system, but also show that they are going to give prospect players the chance to make their impacts by not going out and signing big name free agents and not 'throwing away' prospects for short-term players.
This off-season has seen the Blackhawks sign Brian Campbell to a one-year discount deal and it is a move that doesn't take time away from young players and makes the team better. This season has also seen the trades of Andrew Shaw, Bryan Bickell, and Teuvo Teravainen to gain a bundle of draft picks in this past June's draft and in next year's draft that will be held in Chicago.
While losing Shaw stung with some fans, it was the right move. While trading Bickell was necessary, it stung to lose Teravainen. But the future that lies ahead of the Blackhawks after those trades looks brighter than had they held onto players like Teravainen and Shaw.
Now what do the Blackhawks do to put together a lineup that lives up to having the second-best odds to win the Stanley Cup that Las Vegas has put on Chicago?
Too Early To Project Lineups
A disclaimer right away: It's early July, people are still digesting from their Fourth of July cookouts, it is way too early to put any weight into any type of line projections.
With that being said, here are what the Chicago Blackhawks lineup could look like for the 2016-17 season.
Forwards –
Vinnie Hinostroza, Nick Schmaltz, Ryan Hartman
Andrew Desjardins, Marcus Kruger, Tyler Motte
Defense – 
Brian Campbell, Brent Seabrook
Goalies –
Throw in players like Dennis Rasmussen, Brandon Mashinter, Mark McNeill, Jordin Tootoo, Viktor
Svedberg, Michal Rozsival, and Erik Gustafsson as potential scratches at the NHL level. But, that could all be a carousel of players going from the Blackhawks to the Rockford IceHogs.
But looking at what the Blackhawks can put on the ice, right now, between four and six players on their roster would have played less than a dozen games at the NHL level.
Hard to sell to fans as a winner of a team, but that is why this month's Prospect Development Camp is one of, if not the most important in recent years for those attending.
Success Take Patience
How long was it between the Blackhawks winning Stanley Cups prior to Stan Bowman taking over as general manager? 49 years. How many Stanley Cups have the Blackhawks won under Bowman? Three in seven years.
Check it out: Blackhawks Adding Jordin Tootoo Doesn't Help Chicago
One thing that Blackhawks fans must know is that success isn't always instantaneous. Don't be surprised if the Blackhawks have a span next season of some puzzling losses, but in the same breath, enjoy when they hit their stride and find their groove because when young players make big impacts, the fans will embrace them and there will be some new red sweaters walking around downtown Chicago in April.
Finally, let's not forget that the Blackhawks still have the likes of Kane, Toews, Keith, Crawford, Hossa, Hjalmarsson, and Seabrook. It could be worse. The Blackhawks are sticking to their plan to build from within and are able to do so, knowing they have top-notch superstars that can carry a heavy load.
So what do you think? Are the Blackhawks doing the right thing investing more in their prospects? Let us know in the comment section!
More from Blackhawk Up