Chicago Blackhawks Future Friday: Prospect Camp Wrap-Up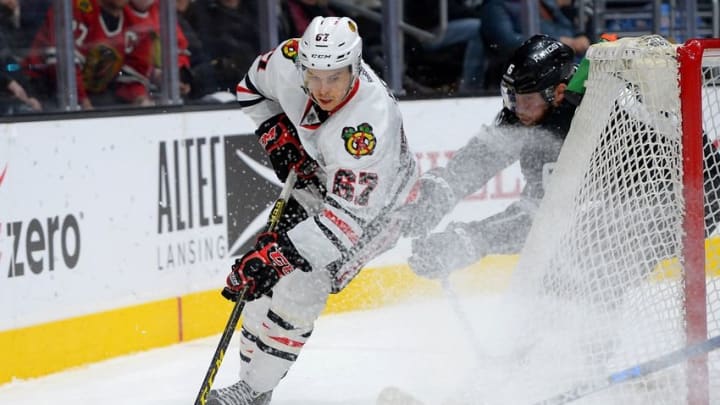 Nov 28, 2015; Los Angeles, CA, USA; Los Angeles Kings defenseman Jake Muzzin (6) and Chicago Blackhawks center Tanner Kero (67) battle for the puck in the third period of the game at Staples Center. Kings won 3-2. Mandatory Credit: Jayne Kamin-Oncea-USA TODAY Sports /
Chicago Blackhawks Wrap-Up Prospect Camp
The final day of the Chicago Blackhawks prospect camp, Day Six, concluded with the full team scrimmage pitting Team White against Team Red. The final was a 6-4 victory for Team White with goals coming from Vinnie Hinostroza (2), Mathias From, Radovan Bondra, Jack Ramsey, and Fredrik Olofsson. Team Red's goal scorers were Tyler Motte, Tanner Kero, Roy Radke, and Matheson Iacopelli who scored arguably the highlight goal of the entire six-day camp, going short-side, top-shelf on Matt Tomkins. 
More from Blackhawks News
While the scrimmage was the final chance for prospects to make their lasting impression, many of the Blackhawks prospects this year had good enough showings throughout camp that one day wouldn't make or break them. But one player that did stand out in the scrimmage was Tomkins. Needing a big year at Ohio State, Tomkins showed a lot of skill throughout camp and saw the majority of quality chances against him in the Day Six scrimmage. He really impressed and made some big saves.
Check it out: Blackhawks Prospect Camp Day Five Review
So who else made their marks with the organization at this year's camp?
Major Takeaways
Big questions surrounded
coming into camp. Would he be the next
for the Blackhawks and be a European signing that becomes a cornerstone for the team? While being a cornerstone is unlikely, Kempny showed in camp that he is more than capable of handling himself at a high level. He seemed to be far and above the best defenseman in camp and could very well be the fifth or sixth defenseman in the Blackhawks grouping consistently all season.
Vinnie Hinostroza and Ryan Hartman were the front-runners coming into camp to have the best shot at making the Blackhawks this year. Coming out of camp, Hinostroza is still a front-runner and Hartman did well, but Nick Schmaltz might have been the second-best forward prospect all of camp. The long-awaited signing of Schmaltz meant a sigh of relief for the Blackhawks organization and fans, and the wait was worth it indeed. Schamltz is fast, handles the puck well, has a great shot, and opens up a lot of quality chances for teammates.
Along with Schmaltz, Tyler Motte and Tanner Kero had good showing throughout camp and will most likely jump between the Blackhawks and Rockford IceHogs this year. Kero probably has a better shot at getting more games in Chicago than Motte does, just based on his time spent with the Blackhawks last season.
Speaking of, the Team Red line of Motte, Schmaltz, and
could be super-fun to watch on the 2017-18 Blackhawks team. DeBrincat lived up to his billing all through camp, very fast, great with the puck, always creating chances, and yes, small. One more season in the OHL may be in-store for DeBrincat, but it wouldn't be surprising to see him play some time in Rockford this season either.
Going along with players who may have some more time in juniors ahead before making the jump to the AHL, Alexandre Fortin and Graham Knott have some work to do before making the pro jump.
For Knott, it seems his on-ice confidence needs a kick-start. He has the size and skill to be a great net-front player, but his skating can get him behind in a faster-paced game. Another season in the OHL where he could maybe find his scoring toucjh again would do him good.
Fortin has definitely played his way into a contract with the Blackhawks. Whether it's an AHL deal or an Entry-Level deal, Foritn was the hands-down surprise of the camp. Undrafted and without a deal, Fortin came in looking to make a huge impact and he did just that. Fast feet, fast hands, always around the puck and looking to score. Another year in the QMJHL and then a trip to Rockford should be in Fortin's future with the Blackhawks.
In net, as stated before, Tomkins made some good impressions but he and the rest of the goaltending prospect were overshadowed by Wouter Peeters. Literally and figuratively. The six-foot-five, 17-year old Peeters was by far the best looking goalie at prospect camp. He'll return to Europe next season and maybe next, then should make the move to North America and get accustomed to the style of play in the Pros before slotting himself into the Blackhawks' top-three goalie positions by 2019. Maybe. Depends on what the organization wants to do with Corey Crawford and Scott Darling in the next few years.
Check it out: Pokemon Meets The Blackhawks
McNeill Re-Signs With Blackhawks
News breaking while the Red-White scrimmage was happening was that the Blackhawks and Mark McNeill agreed to a one-year contract. McNeill was the only Blackhawks restricted free-agent to receive a qualifying offer and seemed like more of a matter of when and not if the two
sides would get a deal done. McNeill was slated to attend the Blackhawks convention with or without a deal, so all signs pointed to positive vibes coming from the two side getting a contract put together.
Signing McNeill to a one-year deal is a smart move for the Blackahwks. It allows McNeill the opportunity to play one more season with the organization and make an impact at the NHL level, or become a trading piece when the trade deadline rolls around next Spring.
Win-win for the Blackhawks and win-win for McNeill as he will either get his NHL shot in Chicago or with another team that could use a hybrid Center-Winger like him.
Ready For The Fall
Now that Prospect camp is over, the Blackhawks Convention is the next event on the Summer schedule. It opens up Friday night and goes through the weekend at the Hilton Chicago. Once the convention wraps up, it's another summer break before the World Cup of Hockey and training camp beginning in September.
What are you looking forward to for the Blackhawks' Summer? Let us know what you think in the comment section below!
More from Blackhawk Up