World Cup Of Hockey Early Reactions: Team USA In Trouble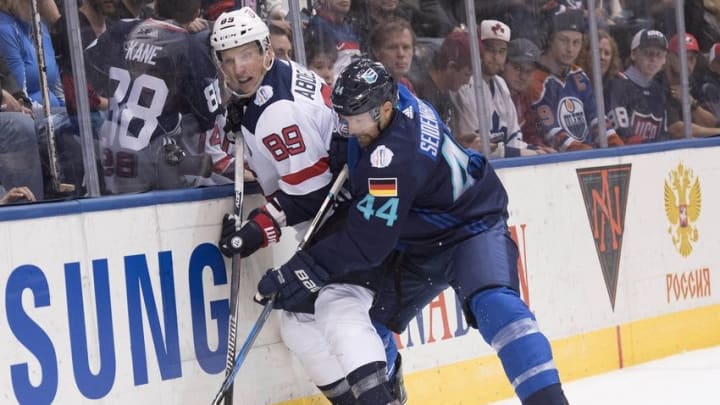 Sep 17, 2016; Toronto, Ontario, Team USA forward Justin Abdelkader (89) battles for a puck with Team Europe defenseman Dennis Seidenberg (44) during the third period of the preliminary round play in the 2016 World Cup of Hockey at Air Canada Centre. Team Europe won 3-0. Mandatory Credit: Nick Turchiaro-USA TODAY Sports /
The World Cup of Hockey is four games deep, so how are various teams faring early on?
Today marks the second game for four teams at the World Cup of Hockey. Team Europe will take on Team Czech Republic at 2 p.m., while Team Russia faces team North America at 7 p.m.
Through four games — one for each of the World Cup's eight teams — we've seen some surprising and expected things. We've also seen some thrilling action and some blowouts that would make any hockey fan cringe.
So let's glance at some of the major takeaways from the World Cup of Hockey's first four games, as four teams are already facing must-win action.
Sep 17, 2016; Toronto, Ontario, Canada; Team Canada players Jay Bouwmeester (4) and Logan Couture (39) celebrate the win at the end of the preliminary round play against Team Czech Republic in the 2016 World Cup of Hockey at Air Canada Centre. Team Canada won 6-0. Mandatory Credit: Nick Turchiaro-USA TODAY Sports /
Team Canada is as advertised
Team Czech Republic stood no chance despite a solid 44 saves from goaltender Michal Neuvirth. Canada's top line of Patrice Bergeron–Sidney Crosby–Brad Marchand pummeled the Czechs into submission with three goals — one from each guy — and three helpers.
More from Analysis
Jonathan Toews, Joe Thronton and Alex Pietrangelo also scored for the Canadians, while Carey Price made 24 saves in his return to the net from injury. Thornton scoring — something he doesn't do a whole lot of — and Price posting a shutout are big ups for the Canadians, who are clicking on all cylinders after a surprising exhibition loss to the United States.
Canada really has no peer in Group A, which also includes Team USA and Team Europe. There are a couple teams in Group B that could challenge the Canadians, but they're looking at a clean sweep in round-robin play, as of now.
Team Sweden's defense is a force
Check these pairings: Niklas Hjalmarsson–Erik Karlsson, Hampus Lindholm–Oliver Ekman-Larsson, Victor Hedman–Anton Stralman. Mattias Ekholm can't even crack the lineup, and he's a pretty solid blueliner.
Sweden's defense shut down a potent Russian forward corps in the opening game, not allowing a goal until late in the third period. No other team, not even the Canadians, can match Sweden's defensive depth.
What's even better for the Swedes is most of their defensemen also have at least a slight disposition toward chipping in on offense. The big man Hedman netted one of Sweden's two goals, and guys like Karlsson, Ekman-Larsson and Lindholm can be potent pinching in or firing a shot from the point.
That Sweden was able to permit just an Alex Ovechkin goal with 33 seconds left, and with backup Jacob Markstrom in net, is a testament to some incredible defensive quality. Defense does win championship, so Sweden could be an awesome sleeper pick to take this tournament down.
Sep 18, 2016; Toronto, Ontario, Canada; Team North America Head Coach Todd McLellan watches from the bench in the third period against Team Finland during preliminary round play in the 2016 World Cup of Hockey at Air Canada Centre. Team North America won 4-1. Mandatory Credit: Kevin Sousa-USA TODAY Sports /
Team North America continues to be exciting
Oh my. This game showed the scary potential of the 23-and-under team, as Finland has a solid enough team to advance to the semifinal round. Instead, the Finns are already in a must-win situation because a speedy and uber-talented North American team skated circles around them.
Jake Eichel, John Gaudreau, Jonathan Drouin and Nathan MacKinnon each potted a goal in a 4-1 win for Team North America, and Matt Murray didn't have to do a whole lot in net with North America outshooting Finland 43-25.
That second part was especially promising for Team North America. We knew the team was fast and capable of scoring, but there was concern the defense and goaltending might not be able to hold up in international play.
The team's ability to control the puck, however, negated any potential Finnish offensive attack.
Team North America, at this point, is a top-three threat to take the championship. I feel even better about my Canada-North America final prediction after the latter's strong first win against Finland.
Team USA … oh, Team USA
Well. There was very little to like about Team USA's surprising opening loss to an older, slower Team Europe. Maybe the execs in charge of Team USA should've chosen the roster better?
The U.S. outshot the Europeans 35-17, but their chances weren't of a terribly high quality. They tried to physically bully Team Europe, and the latter responded by paying a highly defensive style. And Team USA couldn't adjust.
It doesn't help that John Tortorella doesn't exactly know how to manage his lines or roster. How can you have the likes of T.J. Oshie, Ryan Kesler, David Backes and Justin Abdelkader playing while Dustin Byfuglien sits, especially when you're trying to play a "physical game"?
The guys who were on the ice for Team USA also didn't seem totally engaged with each other. While Team Canada had no problem sending passes back and forth and setting one another up for goals, it seemed everyone from Team USA was playing for himself.
Next: Blackhawks' World Cup Experiences Vary Early On
Now the Americans have to beat a Canadian team that put up six goals in its opener, or get immensely lucky, to actually move on to the semifinals. Easily the biggest disappointment of the tournament through four games.