Chicago Blackhawks' Role Players Providing Positive Results Early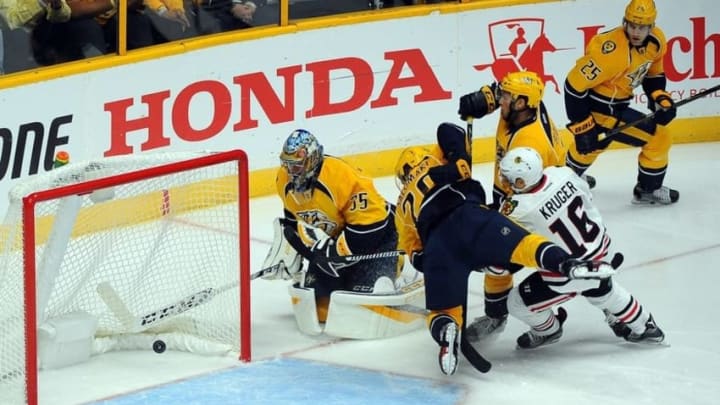 Oct 14, 2016; Nashville, TN, USA; Chicago Blackhawks center Marcus Kruger (16) scores a goal against Nashville Predators goalie Pekka Rinne (35) during the first period at Bridgestone Arena. Mandatory Credit: Christopher Hanewinckel-USA TODAY Sports /
The Chicago Blackhawks aren't off to the best collective start, but they're getting what they needed from certain players
The only talking point that has come from the Chicago Blackhawks' 1-2-0 start is how bad the penalty kill has been. And it's hard not to discuss that when the unit has been successful in a putrid 46.3 percent of its attempts.
But there are things to be pretty happy about in Chicago despite the record. And, no, I'm not just talking about the Cubs.
The defense has noticeably improved from last season through just three games. While Trevor vam Riemsdyk and Michal Rozsival are sure to draw into the lineup now and again, the six-man group of Duncan Keith, Brent Seabrook, Niklas Hjalmarsson, Brian Campbell, Gustav Forsling and Michal Kempny has been all-around good so far.
The goaltending has been as strong as expected, too. Corey Crawford has yet to give up an even-strength goal in two starts, and Scott Darling turned in some solid work on the second half of an early-season back-to-back.
More from Analysis
But there's something else that should have Blackhawks fans feeling positive early on, and that's the offense. I promise I have an explanation for that assessment.
Blackhawks' offensive contributions are coming from across the board
Last season, the Blackhawks had just 15 guys hit double digits in points for the regular season. Three of those guys aren't with the organization anymore — Teuvo Teravainen (35 points), Andrew Shaw (34) and Andrew Ladd (12). One more is in the AHL — Erik Gustafsson (14) — and another doesn't project to play a whole lot this season — Rozsival (13).
Adding on, yet another of these guys hasn't suited up yet this season due to injury — Andrew Desjardins (13). So we're bound to be in doom-and-gloom mode with the Blackhawks' offense, and a 1-2-0 start would seem to support that.
Well, not so fast. A number of guys have already shown some sign of contributing to the offensive output, and we're just three games in.
We're going to set aside the big guns for a moment and look at some of the "role players" who are producing early. You obviously have to start with Richard Panik, who has netted four goals and five points while bouncing around the lineup. His 66.7 shooting percentage is obviously unsustainable, but the fact he's already (seemingly) found his niche this season is huge for Chicago.
It goes beyond Panik, though. Marian Hossa has three points through three games. While this might not seem a big deal, Hossa contributed just 33 points last season. He's currently on pace for 82. While he won't be scoring a point per game forever (mostly because he won't play all 82 games), this is a really positive signal.
Let's go beyond that. Marcus Kruger has two points. The guy had four all of last season. Sure, he was injured, but he still got in 41 games.
Tyler Motte has two points. This is his first NHL action, and he's already produced two points in three games while jumping between the top and bottom six.
Ryan Hartman boasts two points despite suffering an injury last weekend. Nick Schmaltz already has a goal. Heck, Hjalmarsson has two points — he's certainly not a big offensive weapon, despite posting 24 points last season.
Yes, these are small sample sizes, but we're actually seeing guys who don't just play on the top two lines producing offensively early on. This is huge for the Blackhawks for two reasons. First, the bottom-six and role-player scoring hardly existed last year. Beyond Teuvo and Shaw, there was nothing. The second reason has to do with the aforementioned big guns.
What happens when it all clicks for Chicago?
When we're talking about with whom the magic happens on this Blackhawks offense, we have to narrow it down to these guys — Patrick Kane, Artemi Panarin, Artem Anisimov, Jonathan Toews, Keith and Seabrook.
The latter of those two have three and two points, respectively. Totally fine for a team's top defensemen. But the rest of that group is off to "meh" starts.
Kane has two assists, and while I just got done raving about other Blackhawks having two points through three games, those guys aren't Kane. He tallied 106 points last season to lead the league.
Anisimov has one assist. Toews has one assist. The two have combined for 17 penalty minutes. So that's obviously not what we expected on either of those fronts. And even more crazy, Panarin has been held without a point early on.
Now here's the thing. Positives and negatives can both be unsustainable in hockey. Just as Panik's crazy-high shooting percentage cannot be maintained for a full regular season, Kane is not going to be held without a goal all season. Panarin isn't going to be held without a point. Anisimov and Toews, typically two of the team's more responsible forwards, aren't going to continue to post goon-like stat lines.
So, what does that mean for the role players? Well, if the Blackhawks can continue to get the production they are from those guys, and then the big guns start to play to their potential, this offense can really get rolling.
Bringing it all together for the Blackhawks
If the Blackhawks are getting production from all four of their lines in some way, in addition to a push from the back end, this offense is going to be in way better shape than it was at any point last season.
That's why the early contributions from all these non-big guns are so huge. Panik, Hossa, Motte, Kruger and the like finding the net, or helping teammates find the net, is making the Blackhawks' offense something it wasn't last season — well-rounded.
Next: 3 Keys To Victory Against Philadelphia
With the defense certainly on the upswing and the goaltending still extremely solid, this is really the missing piece for the Blackhawks right now. And once guys get more comfortable playing with each other and coach Joel Quenneville settles on his lines, we're bound to see the big guns begin to contribute more, hopefully adding to the work of the role players.
Now, about that penalty kill …