Chicago Blackhawks At Columbus Blue Jackets, TV Listings, Predictions And More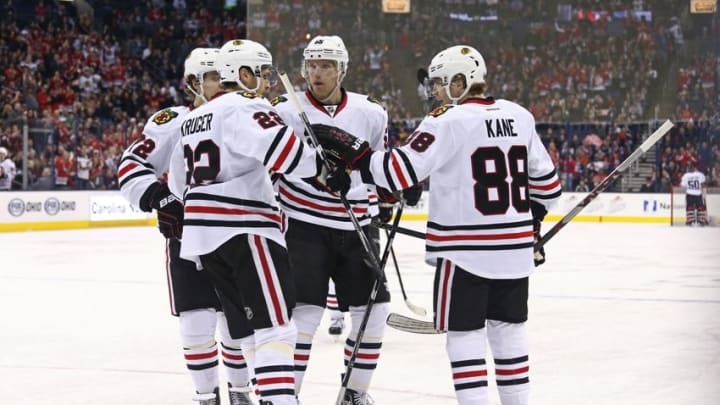 Apr 9, 2016; Columbus, OH, USA; Chicago Blackhawks right wing Patrick Kane (88) celebrates with teammates after scoring a goal against the Columbus Blue Jackets in the third period at Nationwide Arena. The Blue Jackets won 5-4 in overtime. Mandatory Credit: Aaron Doster-USA TODAY Sports /
The Chicago Blackhawks travel to Columbus on Friday night, and hopefully we will not hear the cannon get fired too many times as the Hawks look to win their third straight game on the young NHL season. 
The Chicago Blackhawks after a real shaky start to the season have settled down and scored 12 goals in their last two games.  The best part of the Chicago Blackhawks offensive game has been the play of the prospects who are turning into pro's.
Joel Quenneville has talked about repeatedly about the purpose of Tyler Motte who has been on the top line and on the penalty kill.  He did take a couple of penalties at bad times which is a bit concerning, but he will only get better and more comfortable out there game in and game out.
The other player that is taking advantage of his situation is Dennis Rasmussen, who was put in the lineup due to injuries and has played well, and is forcing Joel Quenneville to keep him in the lineup for now.
The player missing tonight will be Marian Hossa who injured himself blocking a shot after finally putting in his 500th goal.  Hossa has looked liked his old self to start the season because he's back to doing his power move, so hopefully he misses the weekend at most with this injury.
The interesting thing about the lineup tonight is the idea that Coach Q will be scratching Brian Campbell for Trevor van Riemsdyk.  This move is interesting with all of the Trevor van Riemsdyk trade rumors floating around out there.  Is TVR in the lineup for the exposure or because Coach Q isn't happy with Campbell's game early on in the season, and he is sending the veteran a message.
It's hard to imagine the Hawks starting 0-2, and to me after watching those two boring games, so after those games it's equally as hard to imagine that they have scored 12 times in two games and will be looking for a 3rd straight victory tonight.  Let's take a quick look at tonight's TV listings.
More from Blackhawks News
Game Time– 6pm
TV Listings– CSN-Chicago, Fox Sports Ohio
Radio Listings– WGN Radio
Radio Live Streaming– WGN Radio App
Here are tonight's Game Day Predictions
On Tuesday night, I hit on some predictions with Patrick Kane scoring his first goal of the season, Marian Hossa picking up his 500th win, and Hossa being the #1 star of the night.  Tonight I see the Hawks scoring quite a bit again with Jonathan Toew and Tyler Motte both picking up their first goals of the season in the Hawk 5-3 victory.
Three Stars Predictions-
#3 Star- Brandon Saad– 1 goal 1 assist
#2 Star- Jonathan Toews– 1 goal 1 assist
#1 Star Duncan Keith– 3 assists
What are your gameday predictions?