Chicago Blackhawks' Mark McNeill Needs To Be Promoted Or Released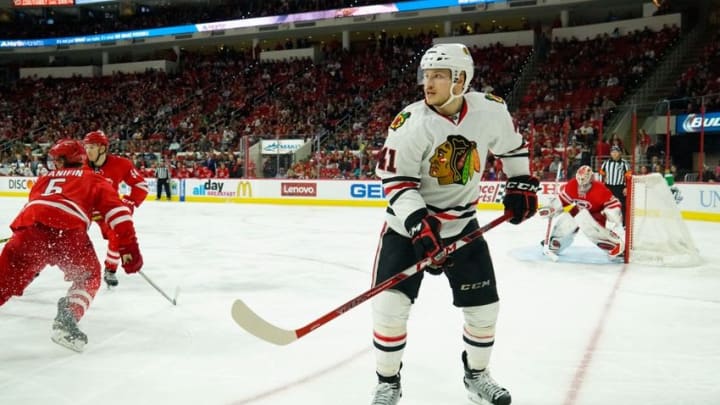 Jan 26, 2016; Raleigh, NC, USA; Chicago Blackhawks forward Mark McNeill (41) watches the play against the Carolina Hurricanes at PNC Arena. The Carolina Hurricanes defeated the Chicago Blackhawks 5-0. Mandatory Credit: James Guillory-USA TODAY Sports /
Mark McNeill's position with the Chicago Blackhawks seems to be entirely minor-league based, so why is he still here?
Today, young people have to pay their dues when starting a new job.  And unlike America in the 1950s where you worked in one place your whole life, young professionals tend to hop from job to job seeking better opportunity.
Such is life in the NHL for young players.  The competition is so stiff that young players tend to grasp an opportunity when it presents itself.  Unless that opportunity never comes.
The NHL is an interesting league when it comes to its top talent.  Unlike other professional sports leagues, most first-round draft picks return either to college or their amateur club teams.  MLB has a similar developmental system with minor leagues, however the NBA and NFL expect first-round talent to contribute immediately.
As much as the NHL and other professional leagues would like to let their players develop, sometimes there is a need to win.  Head coaches and general managers are paid to get teams back on a winning track.  And this sometimes means bringing up a young player prematurely.  In Mark McNeill's case, it's almost the opposite.
More from Blackhawks Prospects
The curious case of Mark McNeill
Mark McNeill was drafted in the first round of the 2011 NHL Draft by the Chicago Blackhawks.  McNeill played his amateur hockey with the Price Albert Raiders of the WHL, with whom he posted a high of 84 points in 70 games in 2010.
At 6-foot-2, 212 pounds, McNeill had the size and grit to compete for a starting job with the Blackhawks in the immediate future.
Since signing his entry-level contract in 2013, McNeill has only seen NHL ice one time.  He played a game in 2015 on the road against the Carolina Hurricanes, where he saw 11 minutes of ice time.  Other than that, his time has been spent in the AHL honing his game.
Since turning pro, his points have been rising every year from 2013 to 2015.  And unlike other top young players in the league such as Jacob Trouba and Jonathan Drouin, McNeill has yet to demand a trade or complain about not being promoted to the NHL.
Others who have made the Blackhawks before McNeill
Here is the list of players who have leap-frogged McNeill to the NHL by draft year:
2011: Phillip Danault, Adam Clendening, Klas Dahlbeck, Brandon Saad, Andrew Shaw
2012: Teuvo Teravainen, Vincent Hinostroza
2013: Ryan Hartman, Tyler Motte
2014: Nick Schmaltz
2016: Honorable mention- Unsigned prospect Alexandre Fortin (almost made the team this year)
As a player who has hung in there and not complained, it is frustrating as a fan to watch McNeill waste away in the minors without getting a significant chance in the NHL.  It's like watching a kid being stuck in an internship role for four years longer than they expected.
In a year where there are so many holes to fill at the forward position for the Blackhawks, why wouldn't you go with a guy who has battled the last three years in the AHL and been productive?
My advice to the Blackhawks is to give McNeill a shot or cut him.  Sometimes a change of scenery can help a player considering different organizations are less demanding than others.  But holding on to McNeill does no good.
Other young players who are in the Blackhawks' system or are considering signing in Chicago can take McNeill's situation as an example and have a bad perception of the Blackhawks' system.
Next: Chicago Blackhawks Villie Pokka Needs To Hit Trading Block
The Blackhawks' message to young players should be that they want you to take the time to become ready for the NHL.  If that means attending all four years of college or going back to your amateur team for a longer stint, the Blackhawks just want to put you in the best position to succeed.  And in McNeill's case, the Blackhawks have done him a dissatisfaction by leaving him in limbo of professional hockey that is the AHL.