Chicago Blackhawks, Martin Frk Could Have Made Good Match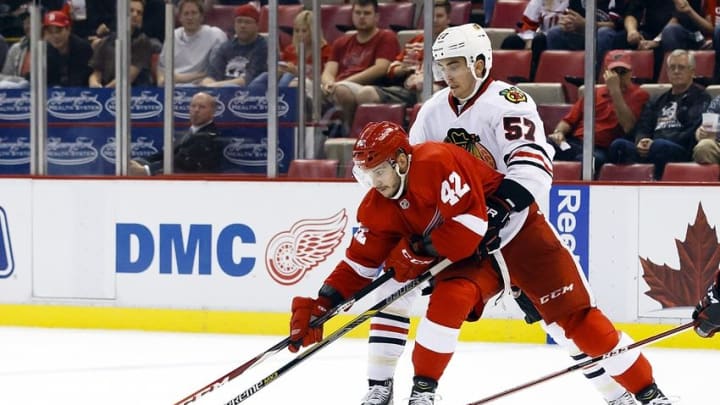 Sep 23, 2015; Detroit, MI, USA; Detroit Red Wings wing Martin Frk (42) skates with the puck defended by Chicago Blackhawks defenseman Trevor van Riemsdyk (57) in the third period at Joe Louis Arena. Detroit won 4-1. Mandatory Credit: Rick Osentoski-USA TODAY Sports /
Detroit winger Martin Frk was recently on waivers, and the Chicago Blackhawks could have afforded to give him a look
The Detriot Red Wings placed forward Martin Frk on waivers in early October, which shocked many people. Most speculated Frk, the Red Wings' top pick in 2012, would not last long on waivers, and they were right.
Frk was claim immediately by the Carolina Hurricanes. Frk played two games with the Canes before being waived again. The Red Wings reacquired Frk via waiver claim this week, bringing him back to Detroit.
When I saw that Frk was waived for a second time, I'd hoped the Chicago Blackhawks would try to acquire him. The Blackhawks desperately need production from their bottom-six forwards, and Frk could have been a good fit.
More from Editorials
Frk has scoring potential which, aside from Tyler Motte, the Blackhawks lack in their young forwards. Frk was the 49th pick of the Red Wings in 2012. He has yet to appear in game with Red Wings but has had a prolific run in the AHL and juniors.
Frk brings ample talent
Frk put up Jonathan Drouin– and Nathan MacKinnon-type numbers in the QMJHL, scoring 117 points in the 2012-13 season alone (across the regular season and playoffs).
While viewed by many as a potential top-six guy in the NHL, Frk has not enjoyed the same NHL success as Drouin and MacKinnon. Hockey Future's stated Frk has a quality shot and plays with an edge. The biggest obstacle to his NHL success his skating ability.
Frk's skating ability is good enough to dominate juniors, ECHL and the AHL, but has not been good enough to make the NHL with the Red Wings.
Red Wings coach Jeff Blashill was happy to get Frk back in the organization:
"Frkie ultimately has to be a top-six guy (in the NHL)," Blashill said. "He plays under more control than when he first got to us. He's learned how to slow himself down at the right times, which puts him in better position to get pucks, puts him in better position to play defensively, which puts him in better position to support people at the right times."
Taking Frk wouldn't have hurt Blackhawks
With all of the questions out there, the potential was worth the risk for the Blackhawks to have placed a waiver claim on Frk. Frk's cap hit is $639,167, so there was not a huge amount of money involved, and the Blackhawks could have placed Trevor van Riemsdyk on LTIR to accommodate the cap hit by Frk.
Next: Top Game 7s Under Joel Quenneville
It was a low-risk move with potential for a high reward that I think the Blackhawks missed the boat on. The Blackhawks' lack of movement will not cost them the season, but it should have been a move made.