Blackhawks: Kick off four game road trip against Kraken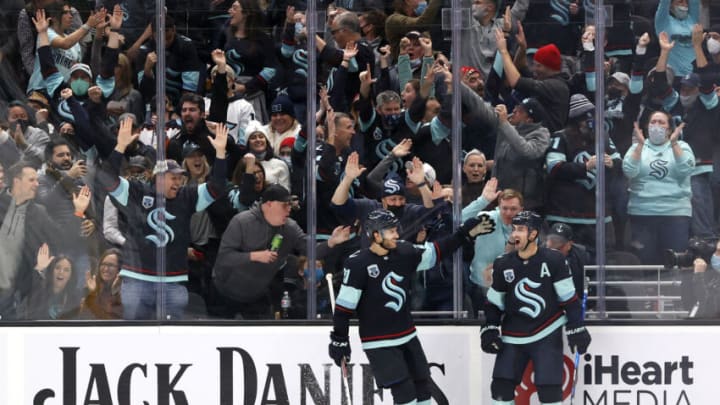 Seattle Kraken (Photo by Steph Chambers/Getty Images) /
The Chicago Blackhawks and Seattle Kraken have never played during the regular season. This certainly will be a big moment for the Hawks as they face off against a new franchise.
The Chicago Blackhawks start a four game road trip tonight against the Seattle Kraken.
After tonight's matchup the Hawks will travel to Edmonton for a game on Saturday, followed by Vancouver on Sunday, and Calgary on Tuesday. These next four games mean a lot for a team that has been doing relatively well as of late under new head coach Derek King.
The Blackhawks are undefeated with Derek King
Under King so far the Hawks are 3-0-0, and while that record is definitely going to add a loss at some point, it doesn't need to happen tonight. King and the Hawks have had a lot of time the past few weeks to get to know each other, and maybe they have spent some time adapting their system to Kings liking for tonights game.
So let's talk a little about the last time the NHL added a new team and how the Hawks did against them. The Vegas Golden Knights controlled the Blackhawks during their first season, heck they still are.
During the regular season, the Hawks and Golden Knights have met nine times. Chicago has won just one of those meetings back on November 14th 2019. During the Golden Knights first season the Hawks couldn't beat them, and during the playoffs the Knights hold the lead in the competition so far as they beat them during their one matchup in the first round in 2020.
The Kraken is a fresh start
Seattle is not Vegas, and the Hawks that have only won one game against Vegas is a completely different team. This is a fresh start for the Hawks against a new franchise that boasts players like Mark Giordano and Jaden Schwartz. I cannot wait to watch tonight's game against the Kraken hopefully it ends with a win for the Hawks.
Puck drop is at 9 PM tonight.