Chicago Blackhawks' 25 Days Of Christmas: Troy Brouwer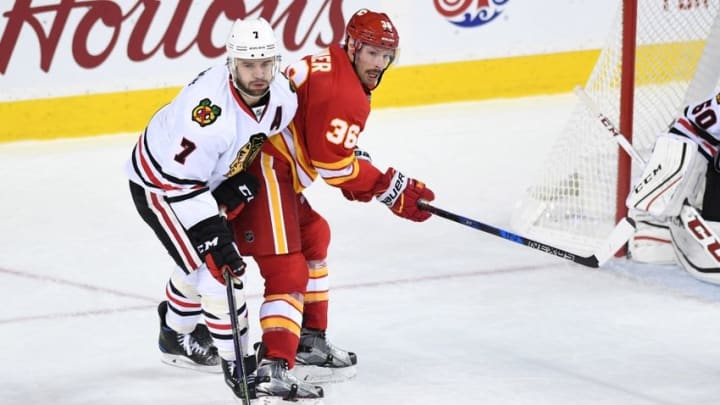 Nov 18, 2016; Calgary, Alberta, CAN; Calgary Flames right wing Troy Brouwer (36) and Chicago Blackhawks defenseman Brent Seabrook (7) collide at Scotiabank Saddledome. Blackhawks won 3-2. Mandatory Credit: Candice Ward-USA TODAY Sports /
We've made it to December, and Christmas is 22 days away. What better way to count down to present opening and eggnog than looking at Chicago Blackhawks greats, and not so greats, that have worn sweater numbers 25-1. This isn't a, 'Best Blackhawk To Wear…' list. This is just 'A Blackhawk That Wore/Wears…'  So if your favorite isn't on this list, don't come crying to me. Or do. I don't care. Anyway, here we go …
Chicago's Ghost Of Christmas Past Might As Well Be Troy Brouwer
Few players in recent memory have gone from a Chicago Blackhawks hero to a loathed-villain quicker than Troy Brouwer.
More from All Time Blackhawks
From 2007-2011, the No. 22 wearing Brouwer was a favorite in Chicago and did everything on the ice the fans love, and everything that gets underneath the opposition's skin.
He could play physical and get in your face, play a sound 200-foot defensive game, as well as produce offensively.
In his 238 career regular-season games with the Blackhawks, Brouwer tallied up 103 points (49 Goals, 54 Assists), and skated in 43 Stanley Cup Playoff games with ten points total.
Brouwer was instrumental in, not only the 2009-2010 Stanley Cup Championship season, but also the renaissance of Blackhawks hockey in the late-2000's.
Check It Out: Blackhawks Lose Crawford And Lose To Flyers
In his 402 NHL games since leaving the Blackhawks after the 2010-2011 season, Brouwer has made life hard for Blackhawks fans and made it easy to quickly turn their opinions against him.
Brouwer spent four seasons with the Washington Capitals, most notably scoring the game-winning goal with less than ten seconds to spare in the 2015 Winter Classic between Washington and Chicago.
More from Blackhawk Up
Then, after a trade from the Capitals, Brouwer found himself in the dreaded Blue and Yellow of the St. Louis Blues. While he only played one season with St. Louis, it was enough time for some to formally shun Brouwer from the Blackhawks community. That may be taking it a bit far, but for some fans, it's far enough.
Brouwer's largest transgression with the Blues was waiting until Game Seven of last season's Stanley Cup Playoff first-round series against the Blackhawks to score his first goal of the match-up.
If that wasn't bad enough, Brouwer's first and only goal of that series would be the dagger, the bad kind of dagger, for the Blackhawks' season as they fell in seven games to St. Louis. The Blues fell short of the Stanley Cup Final and it would be safe to say that a good chunk of the Blackhawks community was happy to see Brouwer come up short too.
All told, Brouwer has tallied five points in his 13 regular season games against Chicago, but it is when he is on the biggest stage, that he breaks the hearts of Blackhawks fans everywhere.
Hopefully since he has made his way to the Calgary Flames, Brouwer won't have an opportunity to break any Chicago hearts. Just the ones in Calgary.