Chicago Blackhawks' Nick Schmaltz Sent Down; Lars Johansson Added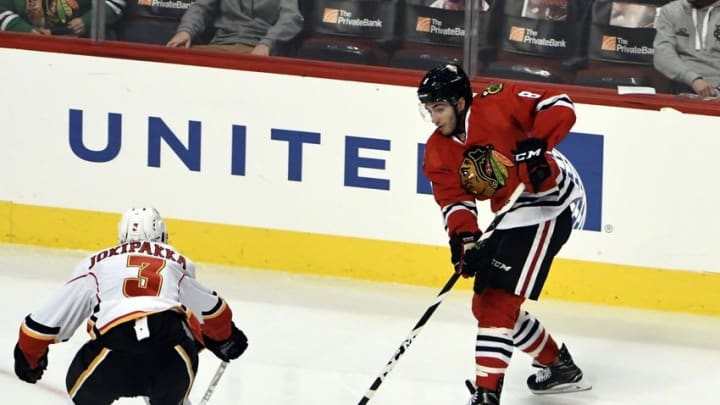 Nov 1, 2016; Chicago, IL, USA; Chicago Blackhawks center Nick Schmaltz (8) is defended by Calgary Flames defenseman Jyrki Jokipakka (3) during the first period at the United Center. Mandatory Credit: David Banks-USA TODAY Sports /
The Chicago Blackhawks knew they'd have to make at least one move after Corey Crawford suffered an appendicitis, and they made that move Sunday
We all knew the Chicago Blackhawks wouldn't be carrying one-day sensation Eric Semborski past Saturday's game in Philadelphia. Semborski was a local (to that area) guy who was just what his title suggested, an emergency goaltender.
The Blackhawks needed a backup goaltender to sit behind Scott Darling while Corey Crawford recovers from his emergency appendectomy. And the team made a move Sunday morning to achieve this.
Goaltender Lars Johansson was recalled from the AHL's Rockford IceHogs, while forward Nick Schmaltz was sent down in a corresponding move.
Johnasson is a 29-year-old netminder out of Sweden. He made his AHL debut this year and boasts a 6-7-1 record with a .911/2.63 slashline. It was very likely either going to be Johnasson or Mac Carruth who got the call up, and the Blackhawks determined Johnasson was the better call.
Schmaltz, meanwhile, has seen his first-ever NHL stint end after 26 games. He tallied just four points in that time, including his first NHL goal. Schmaltz played with just about all of his forward teammates, and while he showed some good vision and promise, he has things to work on — namely his willingness to shoot the puck and make other quick-reaction decisions.
More from Blackhawks News
What does this mean in net?
We'll start with the Johansson move. I really can't imagine Johnasson plays a ton while with the Blackhawks, but I also don't imagine he'll see absolutely no time. Back when Crow was injured late last season, Michael Leighton was called up from the AHL and got a start (granted, Leighton had NHL background, while Johansson has none).
Crow is estimated to need up to three weeks to recover from his appendectomy. There is minimal past precedent with former goaltender Steve Mason to suggest Crow could be back sooner, but let's say he misses three weeks.
The Blackhawks have a ton of home games in those three weeks, and one back-to-back in that timeframe as well. Chicago has 10 games, starting tonight against Winnipeg, over the next three weeks, with seven of them at the United Center.
That would suggest there's at least one spot for Johansson to get a start, and it might be soon. Arizona visits Chicago on Tuesday, and the Coyotes are among the league's worst teams. Maybe coach Joel Quenneville will give Johansson a run that day.
Otherwise, we may see Scott Darling almost exclusively, outside two other possibilities. The second half the aforementioned back-to-back sees Chicago at home against San Jose. Not an easy matchup, but at least it's at home (the front end of this back-to-back is St. Louis on the road).
The other possibility is, if Crow is still out at this time, having Johansson play Dec. 23 at home against Colorado. The Avs are, point-wise, the worst team in the league right now.
Overall, however, this is going to be a Darling-dominated stretch for the Blackhawks.
What does this mean at forward for the Blackhawks?
Well, the Blackhawks did not have a morning skate today, so we'll have to wait to see how this jumbles the lines. The Blackhawks conceivably still have time to make another move today if they want to get Jonathan Toews off IR and into the lineup, but nothing has been said about that at the time of this post.
So the Blackhawks are, at this time, carrying the minimum 12 forwards into tonight's tilt with the rugged Jets. That's an interesting strategy, especially with one of those forwards being the relatively useless Jordin Tootoo.
If the Blackhawks do decide to activate Toews today, they'll no doubt need to move one of the eight defensemen they're carrying. Not all of them have options to be moved to Rockford, so that could make for an interesting situation.
Schmaltz hadn't been terribly noticeable on the ice, so his absence shouldn't be heavily felt by Chicago. The Blackhawks could simply slot Tootoo in on the fourth line with Tyler Motte and Andrew Desjardins, though that line would probably see very little ice time, even at home.
The third line of Dennis Rasmussen, Marcus Kruger and Richard Panik has been pretty strong of late and was really close to breaking through for more than one goal Saturday. Q is going to be hesitant to bust up the Artemi Panarin–Artem Anisimov–Patrick Kane line with the rest of the offense in flux. Marian Hossa has fared well with Ryan Hartman and Vincent Hinostroza.
Whatever the case, the Blackhawks won't be without a 13th forward for too long, you wouldn't think. And Chicago will soon need to make another move to get said 13th forward back in the fold.