Chicago Blackhawks' Scott Darling Could Turn Heads In Las Vegas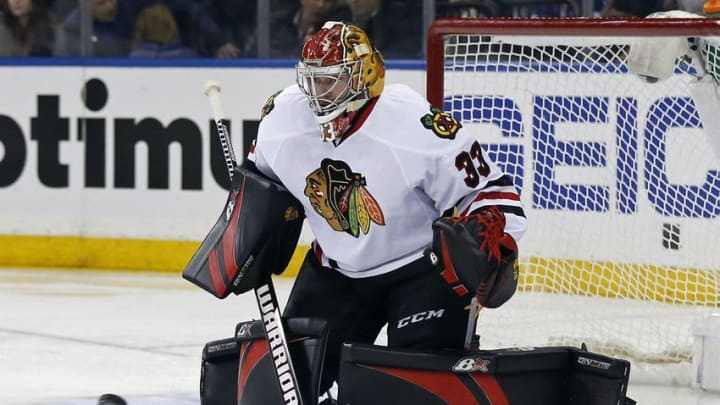 Dec 13, 2016; New York, NY, USA; Chicago Blackhawks goalie Scott Darling (33) makes a save during the second period at against the New York Rangers Madison Square Garden. Mandatory Credit: Adam Hunger-USA TODAY Sports /
With Corey Crawford out for the Chicago Blackhawks, Scott Darling has put on a solid goaltending run … and it's likely others are taking notice
Isn't it nice to have a backup goaltender who doesn't crap his pants upon taking to the net? The Chicago Blackhawks and their fans certainly think so. While Scott Darling has had his rough spots, he's also had many good ones, such as his current stretch of fill-in starts.
He's not replacing Corey Crawford any time soon (sorry to the few holdouts still hoping for that). No matter how hot a hand Darling is when Crow is ready to go, the guy who should've been the 2013 Conn Smythe winner and who is receiving Vezina votes in recent seasons will take over in net.
Of course, this leaves Darling back on the bench, where his play is likely to take a bit of a slide just because he isn't playing as much. However, it's certainly noticeable that when Darling gets a nice little run in net, he plays far better. We've seen this of late, and we saw it last season when Crow missed time due to injury.
More from Analysis
Now, the Chicago Sun-Times' Mark Lazerus wrote up an interesting piece today in which Darling said he's "auditioning for the Blackhawks." That's certainly a commendable stance. The guy likes it here, even as a backup, and wants to stay with a proven winner. However, there are issues with this, too.
NHL landscape may dictate a Darling move
So Artemi Panarin. The Blackhawks, their brass and their fans sure like him. Well, the guy wants Brandon Saad money this upcoming offseason, i.e. $6-$6.5 million per season. The constantly salary-cap beleaguered Blackhawks can hardly afford that without corresponding moves.
On a similar note, Darling, like Panarin, is a free agent after the 2016-17 season. (Only difference, Darling is unrestricted while Panarin is restricted.) Darling currently makes $587,500, while Panarin makes a base of $812,500 with tons of potential incentives.
While it may seem like these guys are on a similar payscale, it's obvious they're not. Panarin is the reigning top rookie in the entire league and is having no sophomore slump, sitting third on the team with 26 points. Darling, while a solid goaltender, is a backup to a guy who's currently in his prime.
That being said, Darling is going to command more money than the $587,500 he makes now. And while he might take an Andrew Desjardins-like discount, there's also the chance he wants multiple millions moving forward. This is an obvious problem for the Blackhawks.
So they may have to let Darling walk this offseason. But even if the Blackhawks decide to re-up Darling, there is the expansion draft to worry about. So let's talk about how Darling could become a Las Vegas Golden Knight.
Free agent warfare
I see two options here, one quite a bit simpler than the other. Let's start with the idea the Blackhawks let Darling walk this offseason due simply to Panarin's contract demands (and let's face it, that'd be a big reason).
So Darling wants, I don't know, $1.5-$2 million per season this offseason. The Blackhawks say thanks, but we can pay a current AHL backup/Lars Johansson half that to play 10-15 games behind Crow. There's risk there, but you can't make a habit of sacrificing your big-gun forwards for backup goaltenders (the Blackhawks are that tight to the cap with a Panarin deal on the table).
So Darling walks. Now, you can be sure plenty of teams have taken stock in Darling's play when he gets extended stretches in the net. Among those would be those operating the Golden Knights.
How many goaltenders are they going to have to pick from in the expansion draft who are actually quality, bona fide starters? Each NHL team is allowed to protect one goaltender in the draft. There are a lot of marginal-to-bad backups who will be exposed, guys you don't want to build a team around.
Darling would be a better pick than many of those guys. And you can bet the Golden Knights will have some money to spend even after an expansion draft. Darling at $1.5-$2 million to potentially be a starter there sounds like one hell of a steal.
Expansion draft shenanigans
So what's the other option I mentioned before? Well, what if the Blackhawks did sign Darling prior to the current season ending? It would look insane, certainly. It would look like Stan Bowman and Co. are closing the door on re-signing Panarin.
Live Feed
Da Windy City
However, the expansion draft rules state each team must make available "one goaltender who is under contract in 2017-18 or will be a restricted free agent at the expiration of his current contract immediately prior to 2017-18."
Remember when Brandon Bollig signed a seemingly-insane three-year deal with the Blackhawks and was out the door a couple months later? Well, that could be the case with Darling as well. If the Blackhawks want to have Las Vegas focus on Chicago's one available goaltender rather than two available forwards and one available defenseman (other expansion draft necessities for each NHL team), then it might honestly be prudent to sign Darling and toss him on the expansion block.
I know this sounds like a bit of a screw, but business is business. The Blackhawks need to protect their interests and keep their team competitive. Losing Marcus Kruger or Artem Anisimov to the expansion draft would hurt a lot more than losing Darling. Putting Darling on the block may allow the Blackhawks to make some changes to who else they expose.
Darling's play in net not only recently, but in past seasons when he's been given stretch runs, may offer an enticing enough sample size for the Vegas franchise to jump on Darling should he be put up for the expansion draft. He could be their No. 1 starter, depending on what the goaltender market is like come time to fill the roster.
Next: NHL Power Rankings: Same Two Teams Up Top
It's hard to imagine Darling being a Chicago Blackhawk past this season. We should certainly enjoy and appreciate his successes while we have them. The next Chicago backup may not be nearly as solid. But the way Darling potentially leaves the organization is definitely something to keep an eye on.