Chicago Blackhawks' Artemi Panarin Gains NHL's First Star Of Week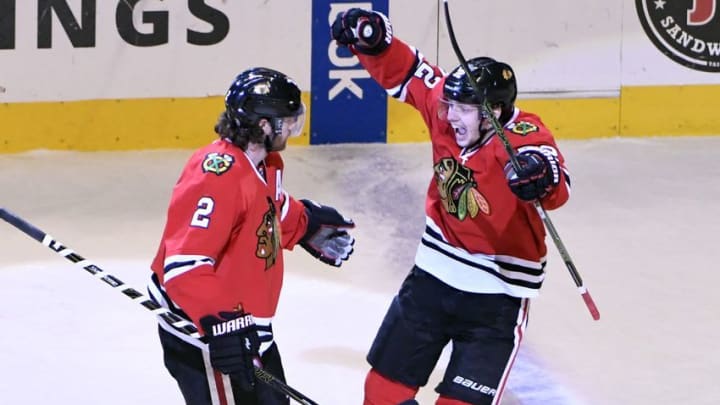 Dec 18, 2016; Chicago, IL, USA; Chicago Blackhawks defenseman Duncan Keith (2) celebrates his goal against the San Jose Sharks with left wing Artemi Panarin (72) during the second period at the United Center. Mandatory Credit: David Banks-USA TODAY Sports /
A scoring binge for Chicago Blackhawks forward Artemi Panarin gained him recognition from the NHL
I don't want to say I predicted it, but I kind of predicted it. In our first-ever Chicago Blackhawks/NHL 3 Stars of the week, I had Chicago Blackhawks forward Artemi Panarin at No. 1 for Chicago and the Western Conference. The NHL on Monday one-upped me.
Panarin has been named the First Star of the Week after an 10-point performance in wins against the New York Rangers and Islanders, St. Louis Blues and San Jose Sharks.
The 25-year-old Russian assisted on both strikes in the 2-1 win over the Rangers before pouring in two goals and an assist against the Islanders and the reverse against the Blues. All three of those games came on the road and were tightly contested.
Panarin finished the week with two more assists last night as the Blackhawks ran their current win streak to five games with a 4-1 triumph at home against the Sharks.
If you also go back to Chicago's win against Dallas last Saturday, you can make that 11 points in five games for Panarin, helping the Blackhawks stretch their lead in the Central Division to eight points over the streaking Minnesota Wild. Chicago also leads the NHL with 48 points, one ahead of the Rangers.
Panarin's recent success also pushed him into unfamiliar territory: the top of the Blackhawks' season stat sheet.
Panarin making push at upper echelon
We knew Panarin was good last season, when he broke into the NHL — broke into North American hockey — by finding immediate chemistry with Patrick Kane and setting the world on fire.
Panarin tallied 77 points in 80 regular-season games to win the Calder Trophy for rookie of the year. He's following that up with a somehow-better display, carrying 34 points in his first 34 games this season. For all you young mathematicians out there, that's a point per game — better than his final pace from last season.
He's even surpassed Kane on the season scoresheet, as Kane jumped up to 32 points last night with an empty-net goal. And while Kane can certainly take back the mantle of top point producer soon — he's shooting 3 percent below his career shooting percentage so far this season — Panarin is really showing us something.
The guy is just locked in and hard to stop, no matter who he's paired with or who he's opposing. His passing is crisp, his shots are on point and his decision making is really strong for a guy in his second season of NHL hockey. It's not news you have to try and stop Panarin now, but it's still a battle for other teams to get the job done.
This likely won't be the last time this season Panarin gets an NHL weekly (or monthly) award. Let's enjoy it now before the money starts to talk.
Next: Blackhawks/NHL 3 Stars: Panarin Shows Way
After Panarin, the second and third stars of the week were New York Rangers goaltender Henrik Lundqvist (3-0-0, .967/0.98) and Minnesota Wild forward Eric Staal (four goals, one assist).