Chicago Blackhawks' Tanner Kero Up, Artem Anisimov On IR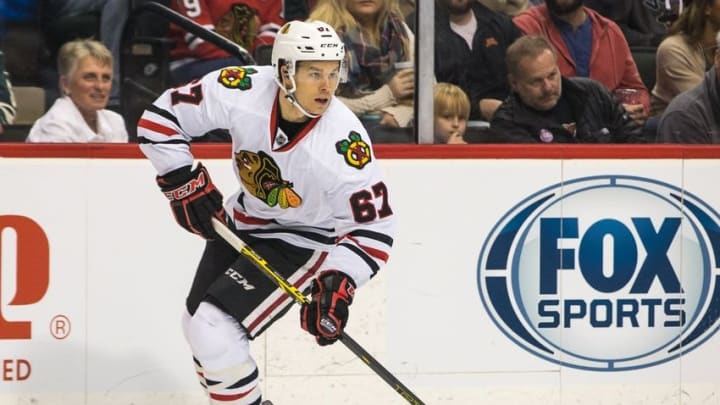 Oct 30, 2015; Saint Paul, MN, USA; Chicago Blackhawks forward Tanner Kero (67) skates with the puck during the first period against the Minnesota Wild at Xcel Energy Center. Mandatory Credit: Brace Hemmelgarn-USA TODAY Sports /
With second-line center Artem Anisimov ailing, the Chicago Blackhawks have made a move to the minors
It's fair to say the Chicago Blackhawks have been dealing with a fair number of important injuries over the past month. Sure, they're not getting hit as frequently as the Dallas Stars and Detroit Red Wings have, but just look at the guys the Blackhawks have had to do without.
Starting goaltender Corey Crawford. Top-line center and captain Jonathan Toews. Ageless wonder and suddenly revitalized Marian Hossa. Second-line center Artem Anisimov. Top-three defenseman Brent Seabrook. And some of these have come at the same time.
Well, right now it's Crow, Anisimov and Hossa on the shelf, though Crow may return for Friady's game against the Avalanche. That'd be great, because if today's morning practice lines are any indication, the Blackhawks will be a bit in flux.
Some of that has to do with today's call-up, which saw center Tanner Kero get plucked from the AHL's Rockford IceHogs. Anisimov was placed on injured reserve in a corresponding move, his upper-body injury not healing fast enough for the Blackhawks to continue using a roster spot on him.
Kero was a guy some (myself included) thought would get a call-up when Toews went on the shelf. The Blackhawks were certainly shorthanded at center then, and just mixing and matching wings at lower-line center spots wasn't working.
More from Blackhawks News
But coach Joel Quenneville and Co. have decided to pull the trigger now on Kero, who will be making his second run in the NHL.
What this means for the lineup
Well, here are your morning skate lines from today:
Artemi Panarin-Jonathan Toews-Patrick Kane
Ryan Hartman-Vincent Hinostroza-Tyler Motte
Dennis Rasmussen–Marcus Kruger–Richard Panik
Andrew Desjardins-Tanner Kero-Jordin Tootoo
This would seem to indicate that Hossa is also set to miss Friday's game, hopefully for precautionary reasons. But I honestly don't dislike these lines with Kero being called up.
It's obviously a top-heavy forward lineup. The Blackhawks will expect ample production from that top line. The setup could get Toews off the goal-scoring schnide he's been on.
That second line is pretty good looking too, though. Hartman and Hinostroza have some some obviously chemistry, and Motte showed some good looks with Hinostroza in the last game. Honestly, getting Motte off the dead-end line with Desjardins and Tootoo can only help him and the team.
The third line is still solid is a checking line and crashes the net hard on offense. So we get to the fourth line, which is … a thing. I mean, the other option was recalling Nick Schmaltz to center it, and the Blackhawks obviously wanted to give Kero another run instead.
I'm fine with that, though this line will have its shifts heavily protected. Kero is more in the mold of Kruger and Phillip Danault than Anisimov. He tallied three points in 17 games last season with Chicago and spent some time on the penalty kill. His faceoff win percentage was also a brutal 44.7. Hopefully he worked on his draw-taking skills in the AHL.
How the lineup stacks up
The Blackhawks' schedule for the rest of 2016 suggests this lineup can be effective. The Blackhawks don't have a difficult slate, splitting their final four games between the United Center and visiting venues.
It starts with a visit from the lowly Colorado outfit on Friday. With Q getting last change, they should really blast the Avs unless Semyon Varlamov pulls his game-stealing act. Winnipeg then hits town the following Tuesday, so we see another quality break and another meh opponent, though the Jets do play the Blackhawks tough.
Still, should be two victories there with the above lineup, although this lineup could honestly last one game. But let's just say the Blackhawks need this lineup for the rest of the calendar year. They want to be cautious with Anisimov and Hossa and whatnot.
So after the Jets, we see back-to-back road games on the 29th and 30th, against Nashville and Carolina. The Preds are still stuck in the mud and could be without top defenseman P.K. Subban for this one. Regardless, Nashville is a vulnerable team.
The Hurricanes rarely generate much interest on the Chicago end, but maybe playing against a team that is rapidly becoming Blackhawks East — Teuvo Teravainen, Viktor Stalberg, Joakim Nordstrom, Klas Dahlbeck, Michael Leighton and a sidelined Bryan Bickell are all here — will spur something in the Blackhawks. Regardless, the Hurricanes are another meh outfit.
Next: Blackhawks' 2016 Christmas Wish List
So regardless of how long the Blackhawks have to stick with this lineup, there are eight points very much on the table to close out 2016. And I think this forward group is capable of achieving that.