Chicago Blackhawks' Nick Schmaltz Recalled From Rockford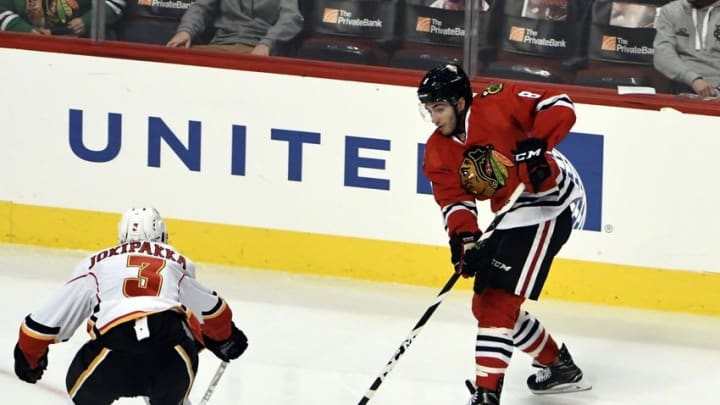 Nov 1, 2016; Chicago, IL, USA; Chicago Blackhawks center Nick Schmaltz (8) is defended by Calgary Flames defenseman Jyrki Jokipakka (3) during the first period at the United Center. Mandatory Credit: David Banks-USA TODAY Sports /
It's the return of a youngster today for the Chicago Blackhawks, as Nick Schmaltz makes his way back onto the main roster
(Editor's/writer's note: It was initially incorrectly written Schmaltz was recalled today. He was recalled Saturday afternoon.)
After spending 12 games at the AHL level, Nick Schmaltz is ready for the NHL once more. So say the Chicago Blackhawks, who recalled Schmaltz on Saturday ahead of the Blackhawks' game today against the now-co-division-leading Minnesota Wild.
Schmaltz hadn't spent any time with the Rockford IceHogs prior to making the Blackhawks roster out of training camp prior to this season. It showed at times, as the stellar NCAA player was very pass-happy and made some positional and timing mistakes in his first NHL stint.
So the Blackhawks sent Schmaltz to Rockford to try and iron out some of those issues. With Chicago's offense not doing a whole lot of late, he's quickly been re-added to the roster to, hopefully, provide some bottom-six spark in that regard.
More from Blackhawks News
Schmaltz tallied six goals and three assists in his 12-game Rockford stint after having just four points in 26 games previously with Chicago.
What does this mean for tonight's lineup?
It sounds like Schmaltz will center the fourth line tonight against Minnesota, something that's previously been done by Dennis Rasmussen.
Rasmussen isn't being dumped from the lineup, though. Thankfully, that "honor" goes to Jordin Tootoo, who (say it with me) still hasn't scored a point this season.
Here's what the lines project to start at tonight:
Vincent Hinostroza-Jonathan Toews–Marian Hossa
Artemi Panarin–Artem Anisimov–Patrick Kane
Ryan Hartman–Tanner Kero–Richard Panik
Andrew Desjardins-Nick Schmaltz-Dennis Rasmussen
There was some speculation Schmaltz would jump in with the sharks and get to center the second line, as Anisimov has been battling an illness. But Anisimov is reportedly good to go, pushing Schmaltz to a line on which he can be well-protected with last change at home.
Another change to the lineup
No, this is not a goaltending change. Corey Crawford is slated to get the start in net tonight despite allowing five goals Friday against Washington. Of course, coach Joel Quenneville could always through a curveball, but I think he'd like to run Scott Darling against the lowly Colorado Avalanche on Tuesday.
Instead, this lineup change is on the defensive end. It sounds like Michal Rozsival is still in the lineup tonight, but also Michal Kempny will rejoin the boys on the ice. This would probably mean Brian Campbell is a healthy scratch for the third time in nine games.
Rozsival … is slow, obviously. Though he knows where to be position-wise, it's another matter entirely for him to get to those spots. Minnesota has some very speedy forwards, so Q is going to have to be careful with how he deploys Rozi.
Kempny returning to the lineup, however, is a good thing. He's a strong possession defenseman, and after the Blackhawks pretty much never had the puck against Washington, it's clear Kempny's re-addition to the lineup should, theoretically, help with that.
Next: Blackhawks, NHL 3 Stars: Hartman Heats Up
Campbell just hasn't brought the Blackhawks what the expected: a solid, puck-moving defenseman who's not a liability in his own zone. Campbell has been very stagnant throughout this season, and I can't really explain why. Maybe he's just hit a wall. He is, after all, 37 years old.
Check back in later today for a prediction and TV listings for tonight's contest.