Chicago Blackhawks Morning Links- Summer Shutdown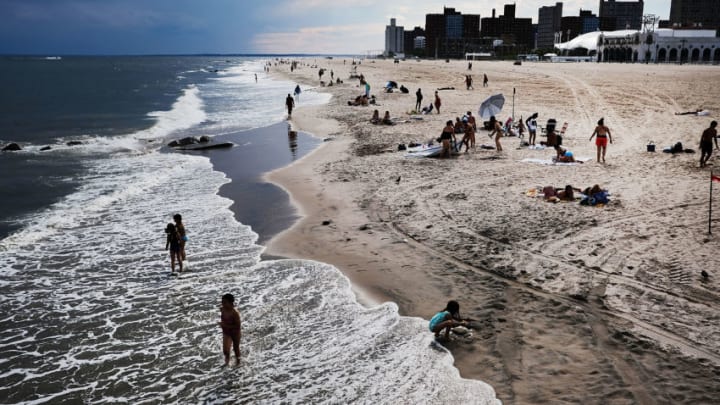 NEW YORK, NY - JUNE 21: People relax on the beach at Coney Island on the first day of summer on June 21, 2017 in New York City. Following an unseasonably wet spring, New York has been experiencing days of warm temperatures and bright sunshine. (Photo by Spencer Platt/Getty Images) /
Good morning Chicago Blackhawks fans! The two worst day in all of sports comes next week, but after having the NHL in the news for weeks it sure feels like the league is completely shut down for the summer right now. 
As soon as the Stanley Cup Final began accompanied by how terrible the NBA playoffs were this year, it felt like the NHL was in the news everyday!
The Stanley Cup led right into the expansion draft which was pretty fun seeing how much George McPhee could fleece the other NHL Gm's around the league. He may some head scratchers, but he also made some great pick ups and trades along the way.  It was a pretty interesting situation with Vegas.
After that was all of the fun in Chicago for the NHL draft which included an appearance from our two favorite players in Jonathan Toews and Patrick Kane. The entire draft weekend was a home run for the NHL, the Chicago Blackhawks, and the entire city of Chicago.
More from Blackhawks News
After that was the first few days of free agency which is always a fun day to take off of work, with players signing everywhere.  Stan Bowman of course went bargain shopping, and hopefully he's found some real steals.
That brings us to today, and now all of a sudden it feels like summer has really hit us and there isn't much to talk about.  Like someone said on Twitter, now one completely shuts down like the NHL.
So I hope you enjoy your weekend of not checking your phone for the latest Blackhawks trade or free agent signing!
Here are some morning links to kick off your weekend! 
The Chicago Blackhawks will look different after their latest salary cap test (Blackhawks)
Who are the Chicago Blackhawks center options heading into the season (CSN)
5 questions for the Chicago Blackhawks this summer (Fan Rag)
The Anaheim Ducks signed former Blackhawks Dennis Rasmussen on Friday (Madhouse Enforcer)
According to reports Ilya Kovalchuk will play in the KHL for at least one more season (Score)
Patrick Sharp's Top 5 moments in a Dallas Stars uniform (Blackout Dallas)
The strange situation of the Chicago Wolves and the St. Louis Blues (Bleedin Blue)
The Edmonton Oilers GM is under fire after the Connor McDavid extension (Puck Prose)
Next: Who's Playing 2nd Line LW
Dan Girardi was shocked he was bought out (Pro Hockey Talk)