Blackhawks Prospects
Chicago Blackhawks Can Use Luc Snuggerud and Robin Press Now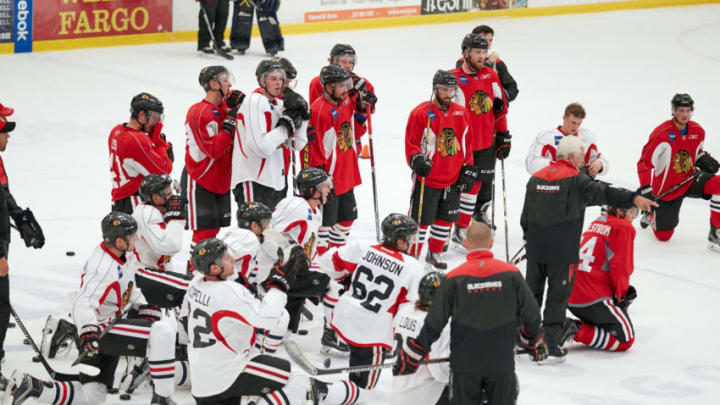 CHICAGO, IL - JULY 17: Chicago Blackhawks prospects participates during the Chicago Blachawks Development Camp on July 17, 2017 at Johnny's IceHouse in Chicago, Illinois. (Photo by Robin Alam/Icon Sportswire via Getty Images) /
Day four of prospect camp was more of the same drills and exercises, but a couple players seem to fit the Blackhawks needs
Thursday at prospect camp, I started to get past some of the obvious facts and really start to dive into what the Blackhawks need.  Matt Iacopelli has a wicked shot, Mathias From has good speed, Beau Starret has great hands for a big guy, and Tim Soderlund should be the treasurer of dangle city, but none of that matters if it doesn't fit in with the Blackhawks plan.
I got home today and really dug into the current Blackhawks and Ice Hogs roster.  What I concluded what that the Ice Hogs desperately need top six forwards to help them score, considering Brandon Mashinter lead the team in goals last year with just 15.  The Blackhawks seem to have holes at forward, but I don't think there are as many spots available as we think.  I actually don't believe there are any to be had by this group of prospects.  Not because they aren't good enough, the Hawks just aren't desperate for them, yet.
Which leads me to the Blackhawks defense.  With the loss of Niklas Hjalmarsson, the Hawks are getting destroyed by analytics guys like Sean Tierany of The Athletic who believes the Blackhawks are in for a rude awakening from their significant losses on defense.
Other than Duncan Keith, Brent Seabrook, and Connor Murphy, the three other spots should be wide open.  Michal Kempny needs to prove he can play a defense-first game to Q, Jan Rutta is TBD, and Gustav Forsling has to prove the job is his.  Can a prospect come in and challenge one of these three for a starting position?  Absolutely.  Here's who could do just that.
Luc Snuggerud – LD – 6'0 187lbs – University of Nebraska-Omaha
Snuggerud isn't the biggest or the fastest guy in prospect camp, but he seems to be very effective in all situations.  We witnessed Snuggerud beating top prospect Alex DeBrincat to the puck twice in a 1on1 drill Tuesday.  This doesn't mean that Snuggerud is a better player or that DeBrincat is under-performing, but shows Snuggerud can compete with anybody and make a great play.
Snuggerud played three years at the University of Nebraska-Omaha where he got more productive each year until his third year when he broke out for 11 goals and 20 assists.  After signing pro in April with the Blackhawks, he spent 13 games with the Rockford Ice Hogs and scored five points.
After watching him the last few days, Snuggerud reminds me a lot of Brandon Saad's demeanor.  A soft spoken, confident kid ready to continue progressing and play wherever his coaches feel he can excel.  There is no question Snuggerud could use a full season in the AHL to get his feet wet, but he's one of the guys on the ice now that I would feel comfortable with him testing NHL ice if an injury occurred to one of the pros.  I'm not sure he can make the opening night roster, but put this kid on speed-dial if they need a d-man up from Rockford.
Robin Press – RD – 6'3 209lbs. – Indy Fuel
One prospect I really had a lot of excitement for was Stephen Johns a couple years ago.  Johns spent time at the University of Notre Dame and really took the time to develop is game.  Soon enough, he was the Blackhawks top defensive prospect and looked like he was primed to be a top four guy for a long time.  He was traded to the Dallas Stars as a sweetener to get Patrick Sharp's salary off of the 'Hawks books which made it an even harder pill for me to swallow.
Since Johns, I haven't seen that physical, bruising type defenseman until I saw Robin Press at prospect camp this week.  I was immediately impressed with his backwards skating, his ability to stay in front of shifty forwards, and his aggressiveness breaking up plays.
Press was a 7th round pick back in 2013 and has come a long way since then.  Reading his plus/minus last year with the Indy Fuel tells a different story at -25.  This year he should start in Rockford with a deep defensive group that should help that number.  His size and physicality in front of the net are qualities the Blackhawks have only had in Brent Seabrook who has shied away from that type of play recently.  Conor Murphy will bring some attitude to the defense as well.
Overall, it looks like the Blackhawks will be very thin on defense to start the season but that could all change.  Once Hossa gets put on LTIR on day two of the season, the Hawks should have about $4.5M in free cap space.  They could sign a veteran defenseman right then or wait until the deadline to get one. Regardless, they may not have to look further than their own backyard in Rockford Ilinois to fill some needs with a couple homegrown boys.