Editorials
Ryan Kennedy of The Hockey News Talks Music, Journalism, and The Blackhawks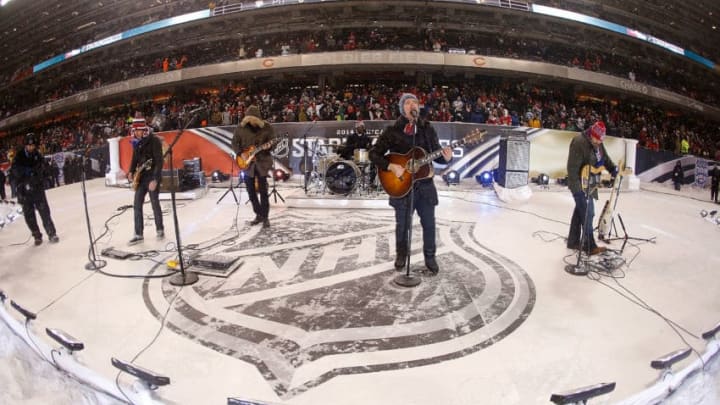 CHICAGO, IL - MARCH 1: (EDITORIAL USE ONLY) The Plain White T's perform in the first intermission during the 2014 NHL Stadium Series game between the Pittsburgh Penguins and the Chicago Blackhawks on March 1, 2014 at Soldier Field in Chicago, Illinois. (Photo by Gregory Shamus/NHLI via Getty Images) /
CHICAGO, IL – MARCH 1: (EDITORIAL USE ONLY) The Plain White T's perform in the first intermission during the 2014 NHL Stadium Series game between the Pittsburgh Penguins and the Chicago Blackhawks on March 1, 2014 at Soldier Field in Chicago, Illinois. (Photo by Gregory Shamus/NHLI via Getty Images) /
 Blackhawk Up had the opportunity to talk with Ryan Kennedy of The Hockey News on music, journalism, and the outlook of the Chicago Blackhawks
This week I was listening to The Hockey News Podcast as I normally do in the car, but this episode started off a little different than usual.  The guys generally go over the topics for the show playfully with the sound of Ken Campbell cracking a diet coke in the background, but today I found out something really interesting about one of the co-hosts.
Apparently associate senior writer Ryan Kennedy grew up playing in punk-rock bands before he began his career as a sports journalist.  As a former musician aspiring to write about hockey, I immediately reached out to Ryan on Twitter who was kind enough to do a short interview with me on his love for music and hockey, and the journey he took from playing punk-rock shows to writing for The Hockey News in Toronto.
It's not often that national writers have the time to interact with fans, and in my case follow up with an email.  I'm very grateful to Ryan for taking the time out of his day to tell his story and hopefully influence other young aspiring sports writers.