Chicago Blackhawks Grades: Defenseman Michal Kempny Ready For Top-4 Role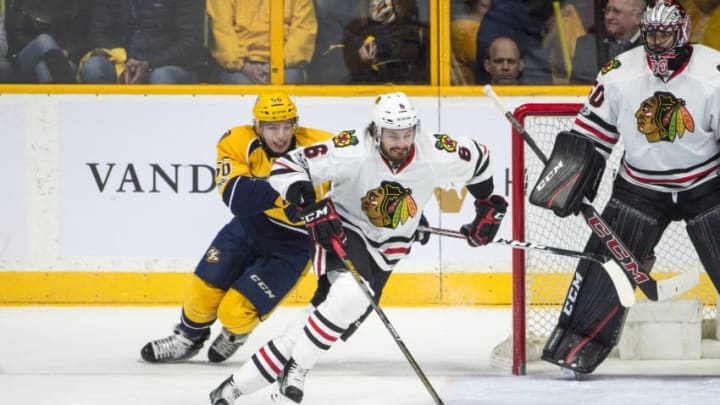 NASHVILLE, TN - MARCH 04: Michal Kempny /
Chicago Blackhawks defenseman Michal Kempny struggled early last season, but the talented blueliner has the strength and skill to deliver quality minutes in a top-4 role for the 'Hawks in 2017-18.  
After watching Michal Kempny score in last summer's 2016 World Cup Championship, Chicago Blackhawks fans could hardly wait to see Stan Bowman's acquisition from the KHL don the Indian Head sweater for the 2016-17 campaign. But after committing several costly turnovers and penalties over the season's first six weeks, Kempny appeared in only 50 regular season games.
Nonetheless, 26-year-old Kempny has the skill and stamina to deliver quality minutes over a full 82-game season, and will likely play a much bigger role now that veteran defensemen Niklas Hjalmarsson, Brian Campbell, Trevor van Riemsdyk and Johnny Oduya have parted ways with the 'Hawks.
As the calendar turns to August, both the prospects tournament and Blackhawks training camp are on the horizon, and I'm concluding my series of season grades with a look at Kempny.
2016-17 regular season statistics: 50 games, 2 goals, 6 assists, 8 points, plus-1 rating, 56.62 percent Corsi-for (even strength).
2016-17 playoff statistics: 1 game, 0 points, 0 plus/minus rating, 47.06 percent Corsi-for (even strength).
Positives
Kempny is a strong and agile, puck-moving defenseman whose even strength 56.62 percent Corsi-for was the team's best last season and shows his ability to generate offense. He's got a heavy shot that first lit the lamp on Dec. 30 in the 'Hawks' 3-2 loss to Carolina. See it here.
Kempny also adds a welcome dose of heavy physical play, and his 76 hits last season ranked second among 'Hawks blueliners. He also blocked 59 shots and logged just over 33 minutes on the penalty kill.                          
More from Analysis
Kempny appears to be in peak physical condition, fully capable of playing an 82-game regular season and lengthy playoff run. That is an asset that cannot be overstated, especially with guys like Brent Seabrook and Duncan Keith starting to show the wear-and-tear of 12 years in the league.
Negatives
Kempny is prone to over-aggressive play, resulting in needless penalties and turnovers that cost the Blackhawks dearly in the early going. In his first eight games, Kempny took three high-sticking and interference penalties along the boards, each of which resulted in a powerplay goal against the 'Hawks. In all, Kempny took 11 minor penalties over the first 14 weeks last season, then managed to stay out of the box for the last eight weeks.
Another weakness was Kempny's inability to control inside position around the crease — a fatal shortcoming in the 'Hawks' early 3-2 loss to Columbus when both Nick Foligno and "Wild" Bill Karlsson scored after outmaneuvering Kempny for tip-in goals at the net.
Those first eight games last season were a nightmare for Kempny as he also committed five giveaways trying to make high-risk passes through the neutral zone. To be fair, Kempny greatly reduced the number of penalties and turnovers over the last three months of the season.
Grade: C
I'm in the camp that feels coach Quenneville hurt Kempny and the Blackhawks by playing him in only 50 games last season. Though he struggled early to find his game and point production remains elusive, Kempny will be a more confident and much improved player when October finally arrives.
Next: Chicago Blackhawks - Nashville Predators Rivalry Starts Now
While the harbingers of doom are holding sway in the media these days, low-balling the Blackhawks' blue line next season, I foresee a rejuvenated, mobile and tougher 'Hawks defense that can go toe-to-toe with anyone. And Michal Kempny will play a huge role in their success.