Are the Blackhawks One Key Injury Away From Missing the Playoffs?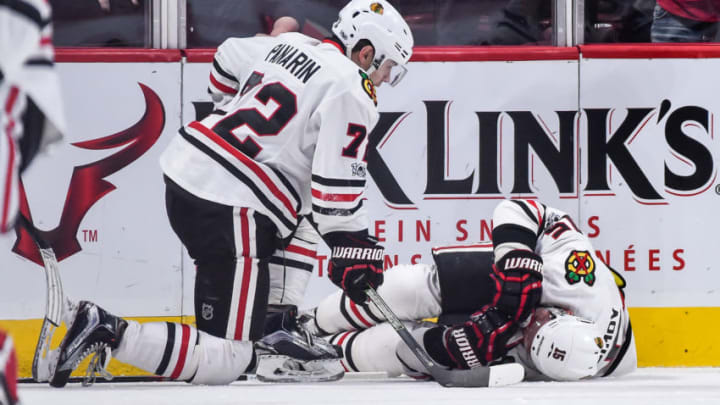 MONTREAL, QC - MARCH 14: Artemi Panarin /
The Chicago Blackhawks no longer have the luxury of veteran depth
We're less than a month away from Blackhawks training camp and many questions are still left unanswered.
Who will play left wing with Patrick Kane and Artem Anisimov on the 2nd line?
Who will make up for Niklas Hjalmarsson's absence on defense?
Who will backup Corey Crawford?
Is Joel Quenneville on the hot seat after two consecutive playoff losses?
Those questions are just a handful of the many that Blackhawks fans worried about over this long summer.
It seems like only one thing that is certain about the Chicago Blackhawks right now is uncertainty.
The Defense
Last season during the playoff series with the Nashville Predators, criticism rained upon defenseman Brent Seabrook for his inability to keep up with the speedy opposing forwards.  It's unknown if Seabrook was ailing for an undisclosed injury, yet fans still fantasized about his name being put on the trading block along with his lengthy contract.  After spending his whole career in Chicago and helping the Blackhawks win three Stanley Cups, he had one bad season and fans are ready to turn the page on #7.  Many are hoping the 'Hawks alternate captain can get back to form this season because their defense cannot afford to lose anybody anytime soon.
It's obvious that Duncan Keith's health is the most important to the Blackhawks blue line.  Although he's been relatively durable throughout his career, at age 34 Keith shouldn't be relied on to play 30 minutes a night anymore, regardless of as good as he may be.
Beyond the top two defensemen for the 'Hawks, it may be safe to say that newcomer Connor Murphy might be the 3rd most important considering the rest of the group is already a liability.  Murphy had injury problems earlier in his career but has played over 70 games in his last three NHL seasons.  He blocks a lot shots and hits a lot too, but he's younger and can afford to take those risks.  But as the major piece exchanged for defenseman Niklas Hjalmarsson, Murphy needs to at least stay on the ice to soak up valuable minutes that I'm not sure anybody else  on the team can handle.
The Forwards
Let's start with this.  Patrick Kane or Jonathan Toews going down is almost the equivalent of your quarterback being out for the season.  It's a huge blow.  Toews has missed time in the past with concussion injuries and so did Kane when he broke is collar bone against the Panthers in 2015.  The Blackhawks have had the luxury of having players like Patrick Sharp and Marian Hossa on the roster who have been able to step in and take on more responsibility.  It's just hard to imagine who can do that today.
Can Nick Schmaltz or Ryan Hartman step up and contribute more offensively?  Sure they can.  Do you want them to?  Probably not.  The Blackhawks should do their best to evaluate their players and place them in situations where they can succeed.  The same can be said of Patrick Sharp.  He's not the same player who once scored 34 goals in a season anymore.  Unfortunately because of the salary cap and the Blackhawks team model, young players are thrusted into key situations early and are asked to produce, but that doesn't mean they're bad players if they don't.
Chicago Blackhawks
Getting Brandon Saad back into the mix is a great acquisition, especially with one of the 'Hawks top two-way forwards pretty much retiring.  I think it might be safe to say that any player that goes down on the top two lines would be detrimental to the team.  Even guys like Artem Anisimov or Richard Panik who aren't superstars, but they reap the benefits of playing with guys who are.
"Puck possession" is a phrase I don't believe the Blackhawks will be able to say very much this year.  They will be seeing a lot of shots and control of the puck will be much harder to come by.  As fans, we're  used to the Hawks controlling the pace of the game but we may see a lot more chasing in 2017-18 because of the overall lack of depth.
The Goalies
Blackhawk Up put an article out earlier this year talking about how Corey Crawford will be the most important player for the Blackhawks this upcoming season, and I couldn't agree more.  Crawford is constantly underrated nationally, but this is his chance to prove his is a top goalie in the league.
The days of Crawford seeing 13 shots a game a long gone.  It's going to be more like 30 per game with a much less reliable defense.
Right now, Anton Forsberg looks like he could be the backup but he hasn't had much success at the NHL level.  In the AHL, he is a top goalie but that's a different story.  I think Blackhawks fans would be shaking in their boots if Crawford sustained a long term injury and were left with a goalie with only 10 career NHL games under his belt.
The Coach
There has been some chatter about if the Blackhawks get off to a slow start or if they fail to make the playoffs, that head coach Joel Quenneville may be looking for a new job.  In an organization that demands excellence and results, that conclusion would only be appropriate, but the question is are you going to find anybody else that's better?
A coaching change to current assistant coach Kevin Dineen is an answer but it still doesn't solve their depth issues.  Yes, hearing the same head coach's voice in the locker room for over a decade can get tiring, but guys still play hard for Quenneville.  They have a system and blue chip players in Chicago that works and letting go of one of the most decorated head coaches in Chicago may not be the right solution.  But hey, it could happen.
The End
Like a Joel Quenneville post-game press conference, all we can say for now is "we'll see."
Stan Bowman will have a little bit of cash to work with once Marian Hossa's salary cap hit goes to LTIR, and we've seen him pull rabbits out of hats before.  There are still some names on the free agent market, but it all depends on the direction the 'Hawks want to go in.
Is the win now window still open?
Are they headed for a rebuild, or a retool?
Will we see more core players get traded?
Are any prospects ready to come up and make a contribution?
Can the 'Hawks face adversity and overcome their depth skepticism?
Next: Blackhawks: What If They Lost Game 1 Against Boston in 2013?
I don't know any of these answers, but all I know is that it just takes one domino for the rest of them to fall.  As much as failure can be a chain-reaction, so can success.  The leadership on the team cannot be happy with the results of the last two years and hopefully they can adjust to the new supporting cast that will be sworn in next month.