Chicago Blackhawks: Goodbye Mr. Pilote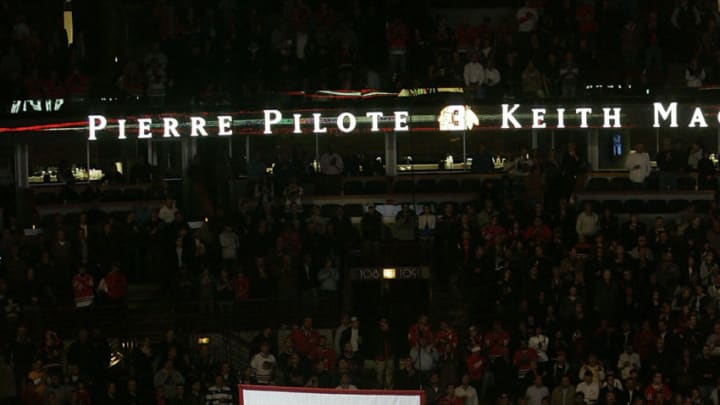 CHICAGO - NOVEMBER 12: A banner retiring the number of former Chicago Blackhawks defenseman and NHL hall of famer Pierre Pilote is raised during a ceremony before the Chicago Blackhawks Boston Bruins game at the United Center on November 12, 2008 in Chicago, Illinois. The ceremony honored Pilote and Keith Magnuson who also wore /
Chicago Blackhawks Legend Pierre Pilote passed away today at the age of 85. Afterwards the hockey community does what it does best and collectively mourned and honored the loss of one of the games all time greats and an unquestioned icon in Blackhawks lore.
I woke up today with the Chicago Blackhawks in the very back of my mind. I've had a very busy summer and this Blackhawks offseason has been.. different.. from recent years past. I had a plan for today, I had a boatload of homework and the falls first Bears game on my agenda, The only things I could think of were is Mike Glennon going to suck today and what the philosopher Plato really meant with his  famous Allegory of the Cave. It is with great misfortune that the Bears gut-wrenching loss was not the most heartbreaking thing of the day.
The news of Pierre Pilote's passing came midway through the first quarter of today's Bears game, and it immediately made the game less valuable to me. Its funny because my life began 36 years after Pilote won the Stanley Cup Championship with the 'Hawks in 1961. I never came close to seeing him play, heck my own father wasn't even alive during that championship run and I turn 20 in less than a month. But when I saw the news my stomach dropped and I've had a pit in my stomach since then.
Chicago Blackhawks
Pilote the vaunted defenseman of a time before the glowing pucks or even color TV was gone. The man was everything Chicagoans love in their athletes. He was tough a point proven by his 376 consecutive games played, he was consistent winning the Norris trophy three straight seasons and not falling past second in the voting on three other occasions, he scored from the back end and made sure you didn't score in his end. I don't want to dip into hyperbole but had he thrown on a  pair of skates and suited up for the 'Hawks this upcoming season I'd feel a whole lot better about the current state of our blueline.
No I never got to watch Pilote play, and I've only seen his hard to find highlights sparingly. But Pilote became something bigger than a legendary figure for this generations new brand of Blackhawks fans as all great players do they become symbolic of the grit of yesterday that makes Blackhawks fans so proud to where the Red and Black sweaters.
Next: Rockford IceHogs' Signing Tyler Sikura Part Of A Larger Plan
Thank you Mr. Pilote for giving me cannon fodder for arguments about the historical greatness of the Blackhawks. If you spend much time looking down at the UC this season I'm sure you'll see plenty of fans from young kids to hockey loving old timers proudly wearing your name on their backs. Rest in Peace.