Chicago Blackhawks Greatest 100- #18 Al Secord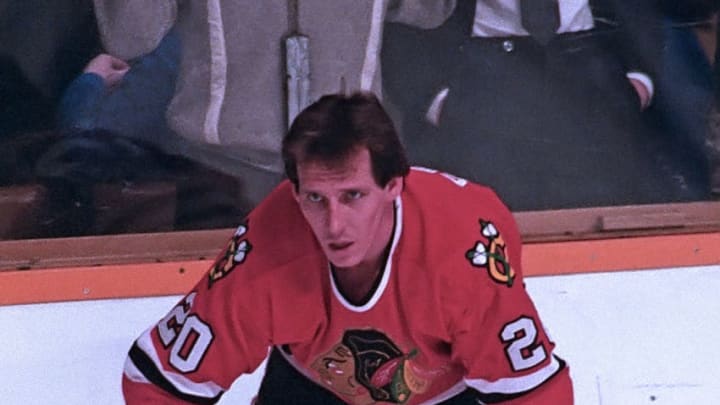 TORONTO, ON - MARCH 8: Al Secord /
When you look back at all the greatest Chicago Blackhawks players, there is one player that was my all-time favorite growing up and it was #20 Al Secord. 
You can call me a meathead or whatever you want to call me, but I liked hockey as a kid for the scoring but probably even more for the fighting.
There was only one player on the Chicago Blackhawks roster that could do both, and do both extremely well, and that was Al Secord.  Secord was conveniently on my favorite line of all-time when he skated with Steve Larmer and Denis Savard.
Secord started his career with the Boston Bruins and Don Cherry who loved the guy but didn't give him much ice time except to throw punches, so it was great of Secord's career when he got traded to the Blackhawks to play with Savard.
It was really great for Secord and Savard to be on the same line because Secord was a fearless and relentless forechecker and tough guy which meant a lot of open ice for Savard without the threat of getting hit because so many players didn't want to mess with Secord.
Al Secord became the 2nd Chicago Blackhawks player ever to score 50 or more goals joining only Bobby Hull at the time (later joined by Jeremy Roenick) when he notched 54 goals in his second season with the Blackhawks.
More from All Time Blackhawks
Secord also totalled over 300 penalty minutes with a lot of 5 minute majors for fighting which could make the Chicago Stadium jump out of their seats while getting Pat Foley all kinds of excited announcing the brawls.
Secord and the 1980's Blackhawks just couldn't make it to the Stanley Cup Final getting stopped by Vancouver and the powerful Edmonton Oilers in the Conference Finals.
The biggest fight for Secord wasn't on the ice, but ended up being with injuries.  He missed almost all of the 1983-84 season with a major injury and half of the next season.  Secord only played in 766 career NHL games, but he sure was memorable.  He even scored the fastest 4 goals in a game in franchise history.
Secord could do it all, but he was only with the Blackhawks for 466 games and no Cups yet he will always be my favorite player from listening to games on the radio as a kid!
Next: Distraction Free Blackhawks
Only 18 more days until the season begins, can't wait!!