Chicago Blackhawks Greatest 100- #11 Pierre Pilote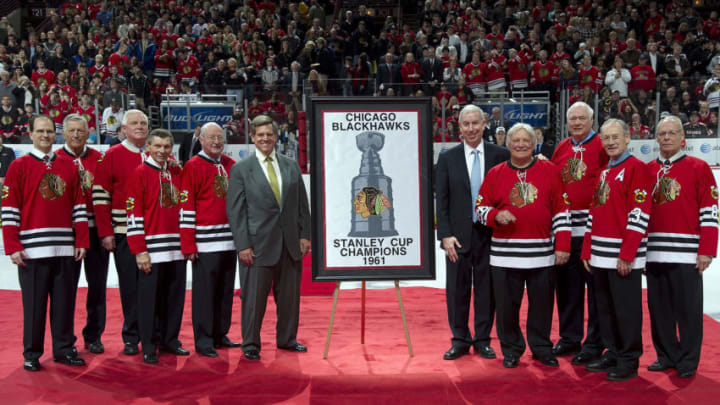 CHICAGO, IL - JANUARY 09: Former Chicago Blackhawks players from the 1961 Stanley Cup Championship team; Rob Crawford, Eric Nesterenko, Bill Hay, Stan Mikita, Glenn Hall, Bobby Hull, Ab McDonald, Pierre Pilote, and Wayne Hicks are honored by Chicago Blackhawks Chairman Rocky Wirtz and President John McDonough before the game against the New York Islanders on January 9, 2011 at the United Center in Chicago, Illinois. (Photo by Bill Smith/NHLI via Getty Images) /
The Chicago Blackhawks have had a lot of great players in their franchise history, but really only a few ever got to hoist the Stanley Cup and today's Hawk is one of those few.
Pilote began his career with the Chicago Blackhawks in the mid-50's which were about as dark of an age of Blackhawks hockey as the early 2000's were.
The Blackhawks started developing young stars back then with the names of Stan Mikita and Bobby Hull, but it was on the blue line that Pilote worked his craft to perfection.
PIlote is only one of three defenseman to ever win the Norris Trophy 3 straight seasons something Bobby Orr or Ray Bourque never accomplished. It's not like Pilote was overly gifted with size or speed,  he was only 5 foot 10 inches but he worked tirelessly to become the best defenseman in the NHL.
More from All Time Blackhawks
Pilote not only won 3 straight Norris Trophies, but he finished 2nd on three other occasions.  He never scored a lot of goals, but he's only one of 8 players in franchise history to tally 400 or more assists in his career.
The signature season for Pilote and the Chicago Blackhawks of course was 1961 when a team that was full of youth and after years of terrible seasons put it all together to win the Stanley Cup. This shouldn't have been their only Cup of that era, but it was a great season and a Championship which can never be changed.
After the 1961 season, in a surprising move, the Chicago Blackhawks traded away their captain Ed Litzenberger, and after that move the Hawks named Pilote the Captain of the Hawks until he retired in 1969.  He's the 2nd longest serving Captain in franchise history only trailing Jonathan Toews who passed him last season.
Pilote was a hard hitting defenseman and his number is up in the rafters retired with Keith Magnuson.
Sadly, as most of you know PIlote recently passed away, but his greatness will always be remembered in the annals of Chicago Blackhawks history.
Only 11 more days until the puck is dropped at the United Center!