Editorials
Chicago Blackhawks' Young Talent Should Develop In Chicago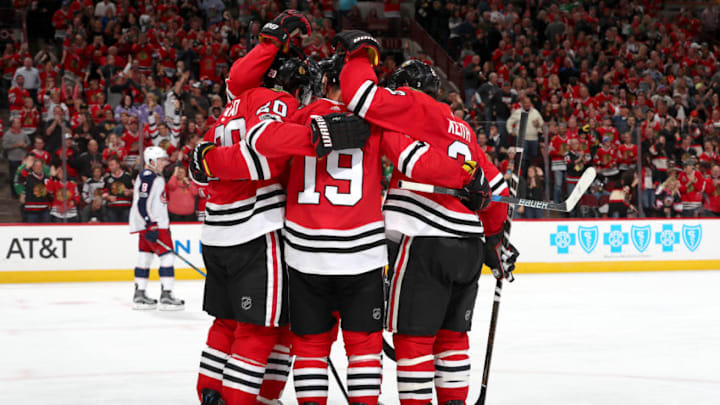 CHICAGO, IL - OCTOBER 07: The Chicago Blackhawks celebrate after scoring against the Columbus Blue Jackets in the second period at the United Center on October 7, 2017 in Chicago, Illinois. (Photo by Chase Agnello-Dean/NHLI via Getty Images) /
The Chicago Blackhawks are firing on all cylinders and showing their young players how they do things in Chicago
Talent doesn't grow on trees in the NHL, and it's clear young Chicago Blackhawks winger Alex DeBrincat has some of that in his game.  But he isn't the first top prospect to make some noise in training camp and make the team.
In years past, young players have had a hard time impressing head coach Joel Quenneville, but it seems that this year something has changed.
Many of us thought a guy like DeBrincat would be sent down to Rockford to hone his craft in the AHL, but so far the rookie has held his own.  He has been placed on the third line with Patrick Sharp and Artem Anisimov, who done their fare share of creating scoring chances.
More from Blackhawk Up
Sophomores Ryan Hartman, Nick Schmaltz and John Hayden have all been contributing in their own ways and look far more comfortable on the ice than they did the season before, which brings me to my point.
Where should the youngsters develop?
Even though young players may not be ready for the NHL, it doesn't mean they shouldn't be there.
The Blackhawks hit the reset button with their minor league affiliates this year because they weren't developing players.  Their prospects would hit a wall and feel stuck playing in the AHL, or in a role they didn't belong in on the Blackhawks.
Watching the Pittsburgh Penguins get key contributions from their young players during their Stanley Cup runs, it was obvious the 'Hawks needed to put a little more faith in the players they drafted.
Being in an NHL locker room as a young player, you're always learning from the pros.  Just by being around the group, building relationships and watching, players figure out what their coaches want and how the team likes to play.  But they can't get that environmental learning in the minors.
It's nice that the Blackhawks have gotten out to a great start this season, but they won't win every game by scoring 10 goals.  They will experience adversity like every team does every year, but it's important those young players also be there for that.
This Blackhawks core has been though thick and thin and has earned the reputation of never being counted out.  Institutional knowledge and confidence is something extremely valuable to a team.
Next: Nick Schmaltz Leaves 2nd Game in a Row
As the core from the 2010 Stanley Cup gets thinner every year, the Blackhawks have to put a strong emphasis on their future, which looks a whole lot brighter knowing the kids are out there learning.