Chicago Blackhawks Of 2017-18 Shouldn't Be Overlooked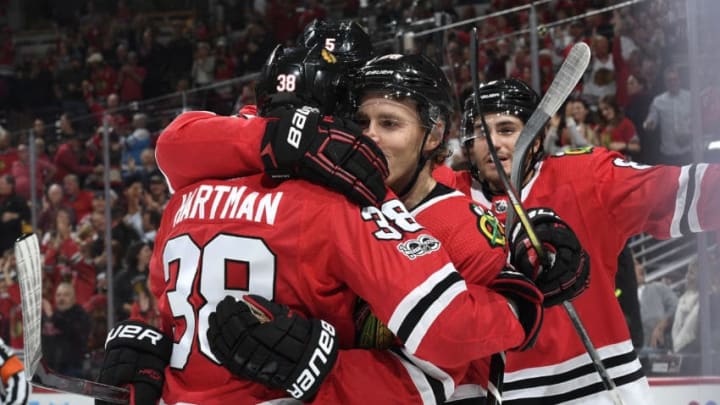 CHICAGO, IL - OCTOBER 05: Ryan Hartman /
Just in case the opening week of the season hasn't convinced you, the Chicago Blackhawks that we know and love are more than back. They're fast, they're mean and they have a perfect mix of veterans and young, skilled skaters. This team is for real.
Many are already writing off the Chicago Blackhawks for this season, and the season is less than a week old. Citing completely irrelevant sources such as the NHL18 simulation, hockey fans across the world are going as far as saying that they won't even make the playoffs.
I'm going to flat out say, that is absurd. How can you write off a team that has Patrick Kane, Jonathan Toews, Duncan Keith and Brandon Saad? You simply can't. The moves made by the front office this offseason have been bold and plentiful, and they have increased my optimism that much more.
Yeah, they lost Hossa. Not by choice, obviously, but I've heard countless fans use that as one reason why the Blackhawks will take a step back.
There's no doubt in my mind that they will miss him, and I'm not saying his absence is a good thing by any means, but look at what it allows. It allows for the return of Saad, a younger, faster player who plays the same 200-foot game, has a great deal of scoring power and uses his body a little bit more.
In Saad, the Blackhawks will presumably get a rejuvenated Jonathan Toews, who has been at his career best while playing with Saad. When Toews goes, they go. Think back to the Anaheim series in 2015.
Huge Game 5 on the road. They go down 3-0 early in the first and can't get any momentum going, much less any offense. Yes, I know, they lost the game. But for Toews to score two goals to tie the game, including one incredible snipe of a one-timer, in the last two minutes — that's Toews at his best. That's the captain they need to lead their team.
Live Feed
Da Windy City
Now, think back to Game 7 of that series. Must-win Game 7 on the road, winner moves on to the Cup Final. Anaheim seemingly loses every home Game 7, but that's never a given, and the 'Hawks had to put that past them.
Toews comes out and completely snipes a wrist shot from almost the blue line two minutes into the game. He scores nine minutes later, putting them up 2-0, and they never looked back.
Toews is known as a two-way historically clutch hockey player, and with Saad at his side, that is amplified.  Don't forget how well diamond in the rough player Richard Panik complements both of their games as well.
Another benefit that comes from the Hossa placement (again, focusing on the positives, not the endless negatives) is the extensive cap space. The Blackhawks are known in the Salary Cap era for being painstakingly up against it, and therefore having a mini roster purge after every offseason.
Hossa being on LTIR, along with Michal Roszival and Jordin Tootoo, gives the 'Hawks some usual cap space (close to $5 million after the Cody Franson addition) to make a significant in-season addition. While this is likely to come on defense, as there's some question marks back there, Stan Boamn and Co. will likely look at the roster top to bottom and decide what updates need to be made.
The currently unknown effects of missing Hossa, but gaining the cap space, won't be evident until much later in the year, but the open cap space is encouraging to say the least.
Rejuvenated defense?
Another offseason move that has a chance to improve the team is the trade for Connor Murphy. While the tenacity, willingness, consistent play and shot-blocking ability of Niklas Hjalmarsson will be heavily missed, I'm very optimistic about the addition of Murphy.
He is a little bit bigger, a lot younger, just as quick (if not quicker) and will provide more offense than Hjalmarsson did. He can contribute on special teams as well, and so far it seems like he isn't afraid to use his body.
Because of his lesser age and cap hit, this move is as much about this season as it is the next several. Lastly, while Hjalmarsson is probably in the prime of his career or slowly coming down from it, Murphy has yet to reach his full potential in the NHL.
Coming into Chicago, he likely will benefit from playing behind a better forward group, with better defensive partners, in meaningful games and in front of the best fans in hockey. Additionally, the (hopeful) growth of newer players (Michal Kempny, Gustav Forsling, Jan Rutta), and the addition of the large and reliable Franson, the newly rejuvenated Blackhawks D corps is swarming with potential.
More from Analysis
Coaching changes
The offseason drama surrounding the relationship between coach Joel Quenneville and Bowman was at its highest when Bowman fired Q's right-hand man, Mike Kitchen, reportedly without his approval. 
Whether that was for the best or not is yet to be determined. But, it allows us to wonder whether or not the new coaches hired this offseason will reignite this team. Enter Ulf Samulesson and Don Granato.
Samulesson, who left his head coaching job in the AHL, was once a teammate of Coach Q's. He has a lot of hockey experience, and looks to help on special teams. He encourages a quick transition game based on speed, which is something the 'Hawks thrive under.
Granato, coming from a position at the University of Wisconsin where he worked with college athletes daily, likely can help focus on player development. With an influx of youth on this year's roster, including highly touted prospect Alex DeBrincat, Granato could become a very important piece to the improvement of this team.
Roster comparison
Lastly, looking at past years, it seems like the roster the Blackhawks are starting the year with is vastly different than the playoff roster.
It's not that the opening night roster is necessarily less skilled, but most Blackhawks seasons, especially ones that consist of long playoff runs, also consist of a breakout season of a younger player.
Below, take a look at the opening night roster for each of the Blackhawks' recent championship seasons, in comparison to this season's group.
Personally, the roster on opening night this season looks a lot bigger, faster and more skilled than those others, especially within the forward group. While this year's defense group has some question marks, it is big, fast and willing to take chances. Take this with a grain of salt, but this year just stands out to me so much more than the other three.
I don't know about you, but this team has me wildly excited. At this point, it seems that the only thing that can slow down this team is a big injury.
Bowman added the grinders needed to make sure the team is harder to play against (see: last postseason).
Next: 5 Thoughts After Blackhawks' Win Over Columbus
The band is back together, and seeing both Saad and Patrick Sharp score against Pittsburgh in the season opener felt way too much like 2014-15. The future core is starting to form, and the team seems to be more motivated than ever. It's going to be a fun year.
Dynasty reign!