Analysis
Chicago Blackhawks' Jan Rutta Impressing Early As Standout Rookie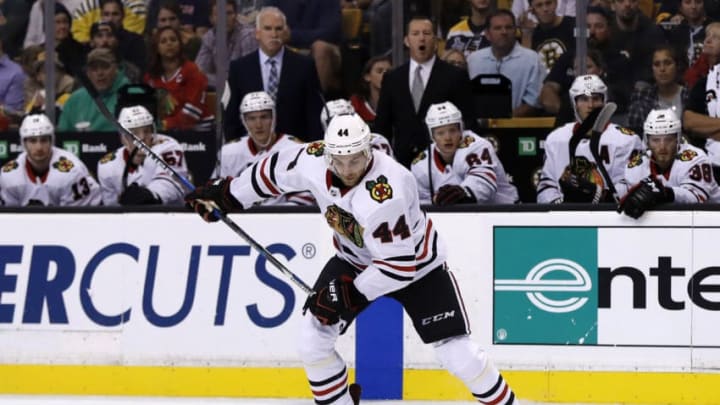 BOSTON, MA - SEPTEMBER 25: Chicago Blackhawks defenseman Jan Rutta (44) times a slap shot during a preseason game between the Boston Bruins and the Chicago Blackhawks on September 25, 2017, at TD Garden in Boston, Massachusetts. (Photo by Fred Kfoury III/Icon Sportswire via Getty Images) /
They say defense wins championships. In hockey, it's the second-hardest position on the ice, as well as one of the most criticized one's as well. One Chicago Blackhawks defenseman, however, who is getting more praise than criticism is Jan Rutta.
The Chicago Blackhawks looked meek on the back end heading into the 2017-18 NHL season. After losing defenseman Niklas Hjalmarsson, a familiar presence was gone and skeptical views loomed over the new defensive options lying ahead in Connor Murphy, who was obtained in the trade for Hammer.
All of the eyes were on big names on the bottom six to step it up. Fans looked to Duncan Keith, Michal Kempny and Brent Seabrook to be some of the team's top names. However, rookie defenseman Jan Rutta has been stealing the spotlight.
With two goals and two assists in three games for the Blackhawks, Rutta the Rookie has been playing like anything but a newcomer.
More from Analysis
Offensive awareness
It's hard for a defenseman to adjust at the NHL level, especially as a rookie. You need to be able to pick up the pace and play your best hockey every shift. If you don't, you're going to be sitting on the bench dwelling on what you could have done.
That's how some learn and progress, but Rutta is learning by success, not failure.
Rutta has been an offensive phenomenon for the 'Hawks. His awareness of when to step up from the blue line to make an offensive play has not just been great for his personal statistics, but his team's overall play as well.
His ability to maneuver the puck and step up for a scoring chance has taken the pressure off forwards and allowed them room to break off from their opponents and get free for a scoring chance. We've seen this with both of his assists thus far, as he's able to keep all attention on himself, giving his teammates time to set up.
Not to mention, the kid has a lethal shot. Ripping pucks from the blue line is no easy task, and is somewhat strategic depending on who's in front of the net, and who's looking to get in front of your shot. Rutta seems to have picked up on when to fire the puck at appropriate times, as well as where to place the shot: behind the goaltender.
Plus/minus rating
Plus/minus rating in the NHL can be tricky, especially when it comes to special teams and the situation on the ice. It's sort of an overrated stat, but it's also a good tool for understanding who's making a difference on the ice. It's a double-edged sword, if you will.
Rutta currently leads the Blackhawks with a plus-7 rating in the first three games, which was a league-best before the team's 4-3 overtime loss to the Toronto Maple Leafs on Monday night. Rutta scored a goal and tallied an assist, but was on the ice for two goals against as well, dropping him from a plus-9 to a plus-7 over the course of the game.
After just coming along on the team, that's still impressive. The only defenseman near him is Gustav Forsling, who is a plus-5. Take that as you may, but I think we have a promising young defenseman in the lineup in Rutta.
Next: Blackhawks' Defensive Pairings Working Early
In a dog-eat-dog world, Rutta seems hungry. From the looks of it, he won't be going hungry as long as he keeps up the impressive style of hockey he's playing his rookie year.