Analysis
Chicago Blackhawks' 4-1-1 Start To 2017-18 Season Deceptive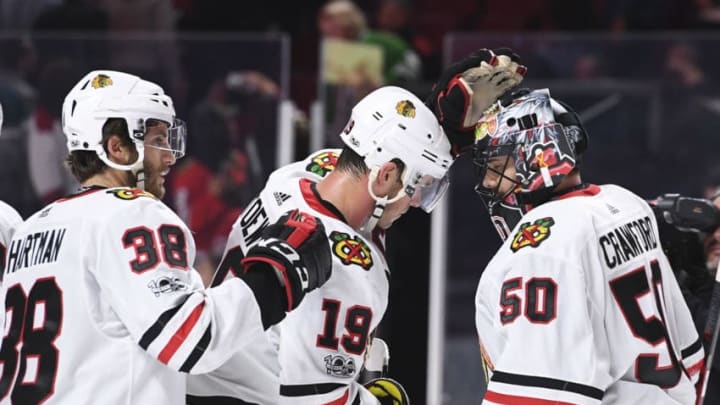 MONTREAL, QC - OCTOBER 10: Jonathan Toews /
A cursory look at the 2017-18 Chicago Blackhawks gives the impression that the team is in fine shape. But things are not always as clear as they seem.
All seems well in Chicago as it pertains to the Chicago Blackhawks. They came out flying in the season opener, annihilating the defending Stanley Cup-champion Pittsburgh Penguins, then followed up with a solid win over Columbus Blue Jackets. Chicago sits atop the Central Division with a 4-1-1 record. Looking good, right?
To borrow a favorite expression of longtime Blackhawks' commentator, Pat Foley:"Not so fast Kowalski."
The deception
The reality check began in the second period of the team's first away game, against the speedy Toronto Maple Leafs. The loss to Toronto came in overtime, but goaltender Anton Forsberg had a lot to do with keeping the score respectable.
The Maple Leafs looked faster and hungrier in their comeback win, and in all honesty, after falling behind early they kicked Chicago's butt. The defeat brought back the haunting memories of last spring's season-ending playoff sweep that came after that impressive 109-point regular season.
More from Analysis
Sure, Chicago has won two of the three games since the loss to Toronto but the wins were anything but impressive. The team has been lethargic at times and too often outworked by the opposition.
The Blackhawks are struggling for consistency for a full 60 minutes and are losing too many faceoffs and board battles. The powerplay is off in this early season and with the number of penalties up significantly, special teams are as important as ever. The second line has struggled since Nick Schmaltz was injured in Game 2, essentially rendering the Blackhawks to being a one-line team.
The good news and what's next
Of course, it's not all bad. The penalty kill has been solid, Jonathan Toews looks like his old self again and the suspect defensive corps has made strides, particularly rookie defenseman Jan Rutta.
Corey Crawford has been stellar in the net, allowing only seven goals against in five games, and backup netminder Anton Forsberg played well in his only outing. Brandon Saad's excellence has invigorated the Toews line and has eased the pain of losing Artemi Panarin to trade and Marian Hossa, who is on long-term injured reserve.
The team returns to action on Wednesday, which allows for some valuable practice time. The chances are good that Schmaltz will be back at center, between Patrick Kane and Ryan Hartman.
Next: Crawford Starting Season Vezina-Worthy Once Again
The team faces the Blues in St Louis, then hosts Connor McDavid and the Edmonton Oilers the following evening. Here's hoping the Blackhawks can return to being the dynamic squad we witnessed in the first two games of the season.