Chicago Blackhawks' 5 Thoughts From 4-2 Loss To Golden Knights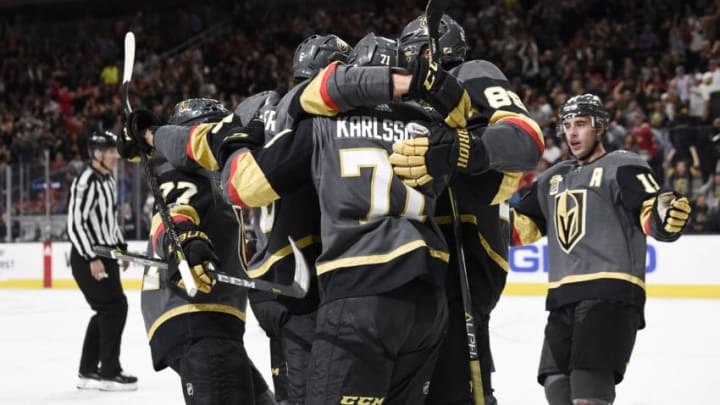 LAS VEGAS, NV - OCTOBER 24: The Vegas Golden Knights celebrate after scoring a goal against the Chicago Blackhawks during the game at T-Mobile Arena on October 24, 2017 in Las Vegas, Nevada. (Photo by Jeff Bottari/NHLI via Getty Images) /
The Chicago Blackhawks ran into an expansion team that was on its third goalie and still could not take advantage, as the Vegas Golden Knights ran circles around the 'Hawks and skated to a 4-2 victory Tuesday night.
The Chicago Blackhawks said the right things, and knew that the Vegas Golden Knights were for real heading into Tuesday's game.  Yet, they were not prepared for this game after having two nights off.  Where do we begin with the thoughts on tonight's game?
Fourth-line pressure again
Let's go with what was good.  Which wasn't much.  The line of Lance Bouma – Tommy Wingels – John Hayden continues to show energy and bring some life to this team.  Hayden, while getting time on the penalty kill, opened the scoring with a shorthanded goal, just 3:33 into the game.
The 'Hawks had little momentum in the game.  Whenever there was pressure in the Vegas zone, it came from this line. Coach Joel Quenneville should think about getting them more time on the ice.  Reward those who are making a difference.  Put a wake up call into those who are not.
Sloppy passing
It's hard to get momentum started when you can't complete a pass out of your own zone.  The Blackhawks continue to have problems completing tape-to-tape passes to get out of their own zone and into the offensive zone.
Regardless if Vegas or any other team clogs the neutral zone, they need to find a way to make the two-pass outlet to get that puck into the offensive zone.  It has just not happened these last couple of games, and it was horrible again tonight.
Too many shots against

This team cannot continue to rely on its goaltenders to bail it out every game.  The 'Hawks, again tonight, were caught watching the puck, which led to them chasing the puck, which lead to Vegas goals.  Just like Pierre-Edouard Bellemare's goal when he was left alone in the slot to make it 3-1.
Third scoring line has gone missing
The line of Patrick Sharp – Artem Anisimov – Alex DeBrincat has not been a factor now in the last six games.  In that time, Anisimov (0 points, minus-2), Sharp (1G,  minus-6), DeBrincat (1A, minus-5) have combined for two points.
Anisimov is non-existent.  Maybe Quenneville should make him a healthy scratch and put in Tanner Kero, who has played in just six of the Blackhawks' 10 games this year.  It also couldn't hurt dropping Ryan Hartman to the third line and putting either DeBrincat or Sharp up on the second line.
Powerplay outage
The Blackhawks' powerplay was lethargic again tonight.  They have scored just three goals in their last 23 chances.  Part of the problem?  DeBrincat has been getting time on the second powerplay unit, but has had quite a few turnovers during that time.
Also, having the opportunity against a rookie goalie tonight in Oscar Dansk, instead of throwing pucks at the net, they passed the puck around looking for the perfect shot, which never came.
They could have taken control of the game early with a couple of powerplays, but had nothing develop on them.
It's very disturbing to see this team unprepared for games like this when it had two nights off.  The Blackhawks knew Vegas was a hot, young team that was playing with a lot of confidence and speed.
Other than the fourth line for the 'Hawks, this team looks like it is sleepwalking.  Quenneville needs to get this team back on track.  The Blackhawks host the Nashville Predators on Friday.  Another two nights off.
Next: Blackhawks' Toews Tracker, First Nine Games
If this team is not prepared for the Predators, this could turn out to be a long season.  Let's hope these days off turn into some hard-skating practices to wake these guys up.