Analysis
Chicago Blackhawks' Corey Crawford: A Goaltender Contract Comparison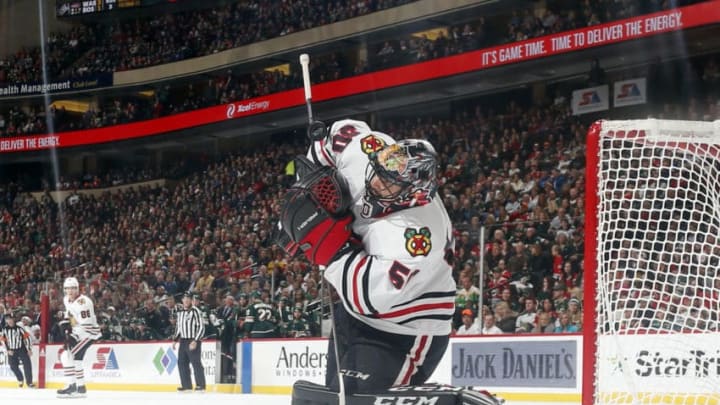 ST. PAUL, MN - NOVEMBER 4: Corey Crawford /
Chicago Blackhawks goaltender Corey Crawford is arguably the only reason his team is currently anywhere near early postseason contention. Some fans have lost and will continue to lose sleep over his contract, though.
When the Chicago Blackhawks inked goaltender Corey Crawford to a six-year, $36 million contract ahead of the 2014-15 season, some fans were irate. This was a goaltender playing in front of a great team, they said. He wasn't worth what currently ties for the seventh-most expensive contract in the NHL.
Flash forward to today, and … some fans are still saying this. But I'd like to think the noise in quieter. And I'd also like to think it's not affecting Crow regardless.
The 31-year-old netminder has had a stellar start to this regular season, and is pretty much the only reason the Blackhawks aren't in last place in the Central Division. Granted, they're closer to last than first, but that's what early-season hockey will do to the standings.
Anyway, back to Crow. He posted his second consecutive shutout last night in a 2-0 blanking of the Minnesota Wild. It wasn't quite the display he had to put on against Philadelphia on Wednesday, when he stopped 35 shots in a shutout. The Wild attempted just 24 shots, as the Blackhawks finally found a team they could possess the puck against.
Still, a shutout is a shutout. There have been plenty of times a goaltender has seen 24 shots and let in a few. The Blackhawks couldn't afford that last night, as they had no goals entering the third period and only beat Devan Dubnyk once.
More from Analysis
Crow's numbers are scary good early in 2017-18. His .945 save percentage is best among regular starters, topping Jonathan Quick's .939 by a solid margin. His 1.75 goals-against average is tops among regular starters, well clear of Martin Jones' 1.98. Crow is also facing an average of 32.5 shots per game in his 11 starts.
Hockey Reference also estimates that Crow has contributed 3.4 points already this season, best in the league for goalies. His career high is 12, set in 2015-16. If we consider Crow is on pace for an obscene 65 starts this season (that likely won't and should not come to fruition), he would be on pace to lend the team roughly 20 points this season. That's insane.
Looking back at the contract
This isn't an aberration for Crow, either. He's in Year 4 of that six-year deal, and each year so far has seen him rack up really solid numbers. Looking back at the basics:
2014-15 — 32 wins in 57 starts, .924/2.27, two shutouts, 29.1 shots faced per game
2015-16 — 35 wins in 58 starts, .924/2.37, seven shutouts, 29.6 shots faced per game
2016-17 — 32 wins in 55 starts, .918/2.55, two shutouts, 30.7 shots faced per game
Crow has a Stanley Cup win in that timeframe, as well as a Jennings Trophy victory with Carey Price. Both of those, of course, came in the 2014-15 season.
But that doesn't tell the whole story for Crow. Here are some more specific statistics for him in the time of this contract:
2014-15 — .932 even-strength save percentage, .879 penalty kill save percentage
2015-16 — .933 even-strength save percentage, .874 penalty kill save percentage
2016-17 — .930 even-strength save percentage, .859 penalty kill save percentage
2017-18 — .952 even-strength save percentage, .908 penalty kill save percentage
He's been steadily around that .930 area when the Blackhawks are at 5-on-5, which is a really solid number. That's how you play most of your hockey, of course, so you want you starting goaltender to carry his best save percentage at even strength.
And so far this season, Crow's save percentage on the PK is bouncing back as new assistant Ulf Samuelsson retools the unit. You'd be forgiven for thinking Crow wasn't very good on the PK last season, but just remember that the team as a whole couldn't stop anything down a man for the first 10 games or so. That really skews the stat.
And this is only considering regular-season stats. Regardless, this naturally won't please everyone. Some will still contend the Blackhawks shouldn't have paid Crow so much and could have a more well-rounded team by using some of that money elsewhere. So let's dispel that argument today.
A contract comparison
Here are the top 11 goaltenders in the league by how much they're paid. I went top 11 because,
Live Feed
Da Windy City
for some reason, Quick and Crow always seem to wind up together in discussions about goaltenders, and Quick's contract put him just outside the top 10 in the league.
1. Henrik Lundqvist, New York Rangers: $8.5 million
2. Sergei Bobrovsky, Columbus: $7.425 million
3. Pekka Rinne, Nashville: $7 million
3. Tuukka Rask, Boston: $7 million
5. Carey Price, Montreal: $6.5 million
6. Braden Holtby, Washington: $6.1 million
7. Corey Crawford, Chicago: $6 million
7. Cory Schneider, New Jersey: $6 million
9. Semyon Varlamov, Colorado: $5.9 million
9. Kari Lehtonen, Dallas: $5.9 million
11. Jonathan Quick, Los Angeles: $5.8 million
So let's go category by category, year by year during Crow's contract and see just how good or bad the Chicago netminder's deal is when compared to those with similar or higher pay.
First, just because it is the ultimate goal in the NHL, let's look at championships won by each of these guys.
Stanley Cup wins over last three seasons
Lundqvist 0, Bobrovsky 0, Rinne 0, Rask 0, Price 0, Holtby 0, Crawford 1, Schneider 0, Varlamov 0, Lehtonen 0, Quick 0
Stanley Cup wins overall
Lundqvist 0, Bobrovsky 0, Rinne 0, Rask 1, Price 0, Holtby 0, Crawford 2, Schneider 0, Varlamov 0, Lehtonen 0, Quick 2
Well, you have to pay for winners in the pro sports world. And considering just one of the top-five paid goalies even has a Stanley Cup win for his entire career, I'd say that makes Crow's two with his seventh-place contract look pretty good.
Overall regular-season SV%, last three seasons and this season
Lundqvist: .922/.920/.910/.902
Bobrovsky: .918/.908/.931/.927
Rinne: .923/.908/.918/.930
Rask: .922/.915/.915/.905
Price: .933/.934/.923/.877
Holtby: .923/.922/.925/.921
Crawford: .924/.924/.918/.945
Schneider: .925/.924/.908/.916
Varlamov: .921/.914/.898/.911
Lehtonen: .903/.906/.902/.914
Quick: .918/.918/.917/.939
So you can see in the first two years of this deal that Crow was right there with Holtby, Schneider and Lundqvist as consistent guys at or above .920, with Price on his own plateau (though he was hurt for most of 2015-16). Most everyone except Bob and Holtby seemed to have a dip in Crow's Year 3, while Crow has been far and away the top dog of this group early in Year 4.
Even-strength and penalty kill SV%, last three seasons and this season
Lundqvist: .933/.935/.918/.902 | .856/.840/.863/.894
Bobrovsky: .925/.916/.938/.932 | .885/.869/.891/.906
Rinne: .932/.916/.928/.938 | .862/.853/.863/.892
Rask: .930/.924/.919/.898 | .872/.857/.888/.932
Price: .942/NA/.935/.876 | .881/NA/.867/.857
Holtby: .929/.928/.935/.945 | .889/.883/.849/.855
Crawford: .932/.933/.930/.952 | .879/.874/.859/.908
Schneider: .933/.934/.920/.939 | .892/.880/.855/.829
Varlamov: .916/.923/.905/.912 | .925/.860/.850/.891
Lehtonen: .909/.911/.920/.908 | .867/.888/.808/.933
Quick: .926/.929/NA/.936 | .860/.873/NA/.944
More from Analysis
Note: The two NAs for Price and Quick were in their injury-shortened 2015-16 and 2016-17 seasons, respectively. The site I was using to track these numbers did not include them for this reason.
I know that's a lot of numbers. But if you roll through them, you can see Crow is the only one who has consistently been at and above .930 each of the last three seasons and early this season at even strength. His penalty kill numbers are also just as steady as those of the other 10 guys on this list.
Point shares, last three seasons and current (per Hockey Reference)
Lundqvist: 9.2/12.6/9.1/1.7
Bobrovsky: 10.4/5.3/14.9/2.5
Rinne: 12.6/8.8/11.3/2.4
Rask: 14.0/11.1/9.8/1.1
Price: 16.2/3.0/12.6/0.7
Holtby: 14.4/12.1/12.3/2.2
Crawford: 11.9/12.0/11.0/3.4
Schneider: 14.5/11.1/9.5/2.0
Varlamov: 12.2/9.9/3.1/1.8
Lehtonen: 8.7/5.5/7.1/0.6
Quick: 12.1/11.5/2.7/3.1
Has Crow been the best any of the last three seasons in this category, again an estimation by Hockey Reference about the number of points a goaltender contributes in a season? No, but he's right there every time. Consistent, without the violent drops almost all of these guys have had in at least one year.
We haven't talked anything about the postseason yet, though. So let's dive in there, too.
Postseason success, last three seasons
Lundqvist: 18 wins, .907 save percentage
Bobrovsky: 1 win, .882 save percentage
Rinne: 23 wins, .915 save percentage
Rask: 2 wins, .920 save percentage
Price: 8 wins, .927 save percentage
Holtby: 19 wins, .932 save percentage
Crawford: 16 wins, .911 save percentage
Schneider: None
Varlamov: None
Lehtonen: 6 wins, .899 save percentage
Quick: 1 win, .886 save percentage
It's not the prettiest, but again, Crow is in the top tier. And this was done behind two inferior Blackhawks teams the last two seasons as well. It looks a lot better than "none," right?
Summary
Overall, I think there are a number of reasons some Blackhawks fans refuse to get behind Crow. He doesn't make flashy saves, for one. Scott Darling did that, going post to post for some wild stops. Crow's positioning is far more sound, so he often doesn't need to do that. It isn't exciting, and some fans want exciting for a $6 million-a-year player.
Crow is also the last line of defense, so whenever some fans see a puck behind him, they immediately pin blame on him. It's rarely that simple, and Crow has had a lot more instances of saving his teammates than needing to be saved by them since getting this contract.
He's also part of a consistently cap-strapped team, and with him not being a Patrick Kane or Jonathan Toews, people will look to Crow's contract more often when the team is struggling and can't afford reinforcements (though that is changing, to some extent).
And maybe some fans are unhappy with Crow suffering a random injury seemingly every season. Whether it's a concussion, an emergency appendectomy or getting banged up while falling down some stairs, Crow's health has rarely been 100 percent. Even though only one of those injuries I just mentioned is self-inflicted, people will find any reason to bag on a guy if they want to.
Next: Five Thoughts On Blackhawks' 2-0 Win Over Wild
But with all of these numbers I've just thrown out, as well as Crow playing behind a team that seems to be getting more and more inferior by the season, it's clear he's an elite goaltender in the NHL. Whether or not the whole of Blackhawks fans wants to accept that is an entirely different matter.