Analysis
Chicago Blackhawks' Future Outdoor Games: 2019 And Beyond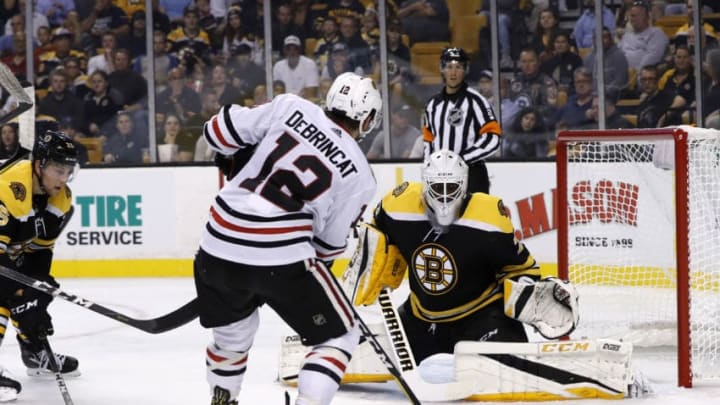 BOSTON, MA - SEPTEMBER 25: Boston Bruins goalie Malcolm Subban (70) stares down the shot from Chicago Blackhawks right wing Alex DeBrincat (12) during a preseason game between the Boston Bruins and the Chicago Blackhawks on September 25, 2017, at TD Garden in Boston, Massachusetts. (Photo by Fred Kfoury III/Icon Sportswire via Getty Images) /
The Chicago Blackhawks are reportedly playing in another outdoor game, something the national media will yet again love to hate. But where else could they play outdoors in the future, and against whom?
According to a report, the Chicago Blackhawks will take on the Boston Bruins in a 2019 outdoor game at Notre Dame Stadium.
Now to the good stuff. Blackhawks vs. Bruins. New Years Day, 2019. Notre Dame Stadium. Does it get any better? Notre Dame Stadium holds close to 81,000, and because of its close proximity to Chicago (96 miles), you have to think this crowd will be mostly Blackhawks fans.
The NHL's decision
Two Original Six teams. A 2013 Stanley Cup Final rematch. The choice in teams playing this game definitely had basis in both of those things. Chicago and Boston are both large sports markets, and the NHL knows the Blackhawks bring in a large sum of revenue anytime they're on the national stage.
Even better, It seems like every time these two teams play, it's a playoff-type atmosphere. We always seem to get one of two types of games from these teams: high-scoring offensive battles, or goaltending duels full of big hits and bad blood. Regardless, its always intense.
But because we're spoiled as Blackhawks fans and outdoor games aren't anything new to us anymore, its only natural to look to the future and wonder where else they may play, and against whom.
Looking further into the future
As hockey fans, we love to speculate. It's in our blood. Who's the starting goalie tonight? What are the lines going to be? Is this player going to be traded? What if the 'Hawks got Matt Duchene? (sigh)
So, its only natural that we speculate some possible future Blackhawks outdoor games, other than the reportedly-planned 2019 Winter Classic.
Option 1: Memorial Stadium (Champaign, Ill.) — Chicago Blackhawks vs. St. Louis Blues
Being a student at UIUC, I'm a bit biased. But, this town and school could put on a heck of a Winter Classic or Stadium Series game.
Being roughly 2 1/2 hours from both Chicago and St. Louis, the stadium could potentially be split half and half as far as fans in attendance go, which could provide an interesting dynamic. Another thing that many people don't know about Champaign-Urbana is that the bargoing age is 19. With many popular bars on campus, fans could not only travel to go to the game, but watch the game in the bars on campus as well.
This would be on top of the students who would already be on campus. Add this to the extensive tailgating that would take place all over campus, and all of a sudden a ton of revenue is generated for both the university and the NHL.
The downfall of this location is that Memorial Stadium only holds 60,700; but comparatively, Soldier Field, where the Blackhawks played outdoors in 2014, holds 61,500.
Option 2: Rose Bowl (Pasadena, Calif.) — Chicago Blackhawks vs. Los Angeles Kings
These two teams had some vicious playoff series in their primes, which included suspensions, a Game 7, overtimes, hat tricks and comebacks. What better to respark this rivalry than an outdoor hockey game in warm and sunny Pasadena, Calif., at one of the most famous stadiums in the country?
Seating 92,500, this would create an unforgettable environment. Blackhawks fans are notorious for traveling well, and I don't think many diehards would pass up an excuse to spend New Year's Eve in L.A.
Tailgating would prove to be a good time, too, spread out over a golf course, overlooking the mountains. I've been to the Rose Bowl Stadium for a UCLA game, and it's one of those things you can't explain until you've seen it for yourself.
Option 3: Las Vegas Stadium — Chicago Blackhawks vs. Vegas Golden Knights
The stadium won't be finished until 2020, meaning that this game would be played in a brand-new stadium that's rumored to seat around 65,000. By this time, the Vegas Golden Knights should be well established, and more competitive than they are right now, if that's even possible.
Vegas and everything that it offers speaks for itself, so I don't think I need to do much convincing here as far as why a game here is a good idea. Las Vegas isn't clueless to outdoor hockey either, as Caesers Palace hosted an outdoor exhibition NHL game in 1991.
Honorable mentions
Guaranteed Rate Field (Chicago): They've played outdoor games at Wrigley Field and Soldier Field, so why not?
Fenway Park (Boston, Mass.): Watching a Blackhawks game from the Green Monster would most definitely be a once-in-a-lifetime opportunity.
PNC Park (Pittsburgh, Pa.): 'Hawks vs. Pens, so you know the NHL is for it. But come on, you can't beat the view from inside the stadium.
The fact is, we as Blackhawks fans have been spoiled since 2009 for so many reasons, with an excess of outdoor games being one of them. While the 'Hawks don't seem to perform the best in them for whatever reason, each and every one is its own spectacle, something that brings the players back to their roots and gives every fan a reason to be excited.
Next: Blackhawks' Crawford Carrying His Team Early In 2017-18
There's countless reasons that I hope the Blackhawks can keep their window open and contend for a few more years, and the national stage along with the outdoor games that follow is one of them.