Blackhawks News
Chicago Blackhawks Morning Links-Coming Together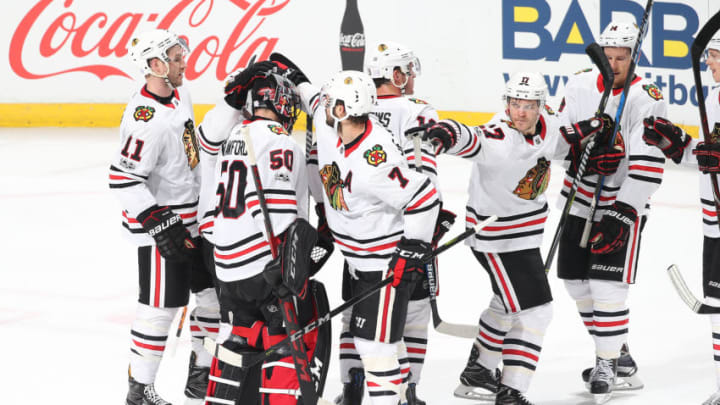 SUNRISE, FL - NOVEMBER 25: Teammates congratulate goaltender Corey Crawford /
Good morning Chicago Blackhawks fans! The Chicago Blackhawks won 4-1 last night in South Florida, and now things are starting to look like they are coming together for the team. 
The Chicago Blackhawks are now 4-1-1 in their last 6 games, and they have started to show some real chemistry which shouldn't be too surprising since Joel Quenneville has kept his lines together during that stretch.  I know some coaches don't think lines are a big deal, but if you look at the old days or even the Wayne Gretzky era lines stayed together for a long time.
Another nice thing to come out of last night's game was Jonathan Toews having a 3 point night including a goal.  It was the kind of gritty puck luck goal that could get the Captain going on a hot streak if you ask me.  Goal scorers sometimes just need to see one go in even if it's from batting it out of mid air.
More from Blackhawks News
It also was great to see Brandon Saad get on the scoresheet with his 8th goal of the season.  The top line really gave the Florida Panthers fits last night, and if Richard Panik could get any luck they would really be filling up the stat sheet!
The Chicago Blackhawks offense is averaging 4 goals a game over the past 6 while Corey Crawford continues to play great, so even though the Hawks were in last place coming into Saturday night's contest, I still feel like everything's coming together at the right time.
Here are some morning links to start your Sunday morning! 
What did Jonathan Toews have to say after the Hawks 4-1 win in South Florida (Blackhawks)

The Captain led the route in Florida on Saturday night (Sun-Times)
Chicago Blackhawks Charities are helping players with developmental issues (Madhouse Enforcer)
The Hawks really need a breakout game from their Captain (CSN)
5 Things NHL Fans should be thankful for this year (Fan Rag)
Alex Ovechkin's hat trick helped lead the Washington Capitals over the Maple Leafs (NHL)
St. Louis Blues dominate third period for a 6-3 win over the Wild (Post-Dispatch)
Winnipeg Jets goalie Steve Mason leaves game with injury (Sportsnet)
Carey Price returns and wins the game for the Habs (TSN)
Next: Being Thankful for 10 years of Change
Kevin Bieksa has his second huge knockdown of the season (Puck Daddy)