Blackhawks News
Chicago Blackhawks Morning Links- Cat in The Hat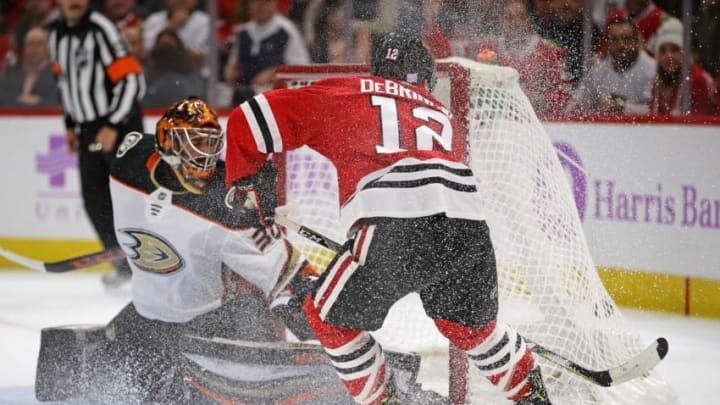 CHICAGO, IL - NOVEMBER 27: Alex DeBrincat /
Good morning Chicago Blackhawks fans! The Chicago Blackhawks rolled to an easy 7-3 win last night. It sure was nice to have a stress free game with a lot of goals scored for a change. 
By now you know that Alex DeBrincat scored a hat trick last night, but I must say I never thought Twitter would be so much fun  when DeBrincat scores. There are so many CAt-Tricks and Cat in the Hat references that it makes you smile and really have fun watching hockey.
I wrote this about him in the Hat Trick piece I did during the game, the thing about DeBrincat is that he finds spots on the ice to score which is something Patrick Sharp alluded to last night when being interviewed after the game.
DeBrincat is always looking to make a play, and sure he might get rubbed out of a play where a bigger guy wouldn't have, but he'll comeback later in that shift and get a shot off where a bigger guy wouldn't have been able to sit and wait.
It's obvious by now that the kid has a special talent to get shots off and the ability to score, now that he's scoring will he be able to maintain when the rest of the NHL starts focusing in on him a little bit more when he's on the ice will be the biggest question.  The nice thing for DeBrincat is that Patrick Kane, Brandon Saad, and Jonathan Toews are on other lines still to take on the best defenseman!
What a fun night at the United Center, hopefully the Hawks can bring that same effort to Smashville tonight when they face the Predators.
Here are some morning links to start your Tuesday!
What did DeBrincat have to say after his big breakout game (Blackhawks)
Jordin Tootoo is close to making his return from LTIR (The Rink)
Even Mainstream is calling it a Cat Trick in print (Sun-Times)
Ed Olczyk talks about his fight with cancer (CSN)
It was Hockey Fights Cancer Night, and here is Ed Olczyk's story (Blackhawks)
Recent history suggest that the Vegas Golden Knights could be playoff bound (Hockey News)
Should the Predators be moving on from Cody McLeod (Predlines)
The Blues pass the first hurdle in Stadium issues (Post-Dispatch)
The Wild looked pretty dismal in 7-2 loss to the Winnipeg Jets (Hockey Wilderness)
Carey Price has returned from injury red hot as he wins his 2nd straight game (TSN)
Next: 5 Thoughts On Blackhawks 7-3 Win
Matt Murray was injured in the Penguins win over the Flyers (Pro Hockey Talk)