Chicago Blackhawks Morning Links- That Sinking Feeling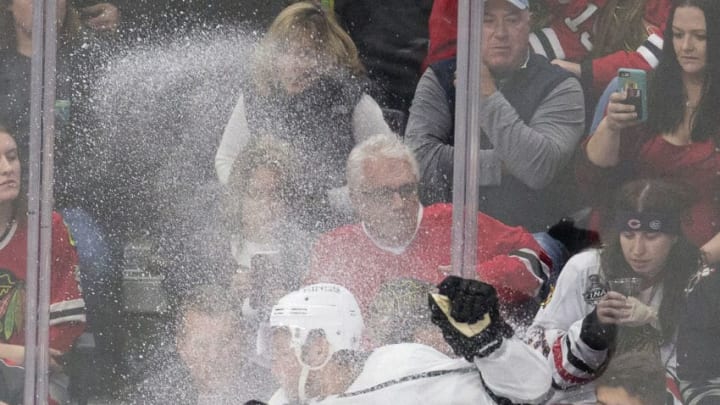 Chicago Blackhawks center Nick Schmaltz (8) crashes into Los Angeles Kings defenseman Alec Martinez (27) during the third period on Sunday, Dec. 3, 2017, at the United Center in Chicago, Ill. The Blackhawks lost to the Kings 3-1. (Erin Hooley/Chicago Tribune/TNS via Getty Images) /
Good morning Chicago Blackhawks fans! Yesterday I looked at the standings in the Central Division and saw that only the Colorado Avalanche were below the Chicago Blackhawks. That's when it hit me, this could be the end of what was a great run! 
I'm not going to lie, opening night had to be the greatest opening night of hockey I've ever watched in my life.  I was so excited about what the Chicago Blackhawks could do on offense that I couldn't wait for the team to take the ice again.
Flash Forward two months later, and the Chicago Blackhawks are not even close to what they showed is in the first two games of the season.
More from Blackhawks News
I know we have picked on Jonathan Toews a lot this past week, but it's Brandon Saad who's really been a disappointment if you ask me. Well, that entire top line with Richard Panik who has no confidence at all right now as really hurt the Hawks.  The top line used to own the puck on a nightly basis, but now they just chase the puck.  If anyone says the Hawks lucked out having Marian Hossa on LTIR is crazy.  Watching this team without him sure does show us his true worth.
The other thing that is highly noticeable is that Patrick Kane doesn't look like he's having fun playing hockey this season without his buddy Artemi Panarin.  Kane won the Hart Trophy and Art Ross Trophy with #72 on his other wing, but now he can score like he's always done there just doesn't seem to be that excitement anymore.
After opening night, I said I was excited because the hockey was fun to watch.  The Hawks are losing and pretty boring right now which is a bad combo! Hopefully they turn the tide tomorrow night!
Here are some morning links to start your day! 
What did Joel Quenneville have to say after the Hawks loss on Sunday night (Blackhawks)
You're never getting comfortable is something John McDonough says (Tribune)
A look at last week with the Rockford Ice Hogs and some new arrivals (Faxes from Uncle Dale)
The Chicago Blackhawks are stuck without an identity (Athletic)
What is wrong with the Chicago Blackhawks powerplay (CSN)
Who are these Jets? They just keep winning (CBC)
Darcy Kuemper is finding his way with the Kings (Pioneer Press)
Could Seattle be getting a new NHL team soon? (Bleacher Report)
Buffalo put Matt Moulson on waivers Monday (Puck Prose)