Chicago Blackhawks' 5 Thoughts After 3-1 Victory Over Coyotes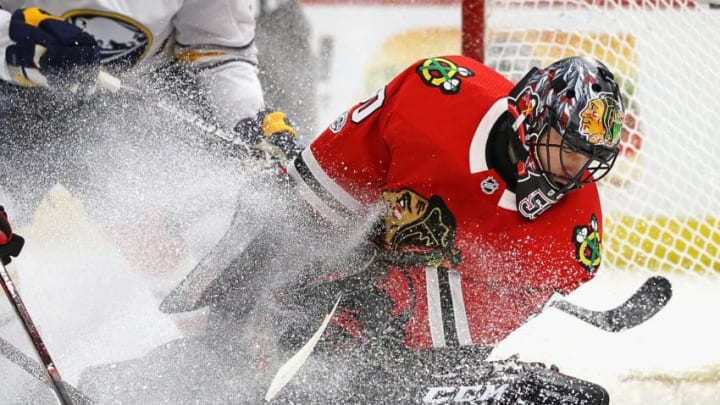 CHICAGO, IL - DECEMBER 08: Corey Crawford /
The Chicago Blackhawks survived a strong attack from the Arizona Coyotes to earn a 3-1 victory Sunday night on home ice
The Arizona Coyotes were playing on the back end of a back-to-back schedule, but for two and a half periods, you would never have guessed it.  The Chicago Blackhawks had problems generating any real offensive attack as the 'Yotes were fast to the puck.  The birdcalls from the 300 Level were filling the United Center as the 'Hawks failed to click on their passing and sustained offensive push.
Here are five thoughts on how the 'Hawks managed to prevail.
Jordan Oesterle filled in admirably for Cody Franson
After sitting in hockey purgatory for ages, Jordan Oesterle found himself playing with Duncan Keith on the top defensive pairing.  While playing on his offhand side, Oesterle showed no signs of rust and played more than just an adequate game.
In 20:18 of ice time, he had three blocked shots, two hits, four shots on goal (including a Paul Coffey-ish keep in and slick shot on goal) and a secondary assist on Tommy Wingels' icebreaking goal.  It will be hard to keep him out of the lineup with this type of performance.
The fourth line continues to make a difference
Although playing about 10 minutes of 5-on-5 hockey, this trio of Lance Bouma, Tommy Wingels and John Hayden is a difference maker.  As a whole, the 'Hawks struggled to mount a consistent offensive attack for the first 47 minutes.
More from Analysis
At 7:36 of the third period, they broke a scoreless tie with a beautiful power rush that ended in a finesse cross-ice pass from Hayden to Wingels for a wrist shot past 'Yotes goalie Scott Wedgewood.  This was the turning point in the game as the team began to find its offensive chemistry again.
The second line found purpose and hit the scoresheet
For most of the game, the second line was not clicking with a lot of errant passes.  It was spending more time in its own zone with uninspired play.  After the inspirational Wingels goal, Nick Schmaltz finally made a dart to the net which created an offensive flurry.
About 10 minutes later, Patrick Kane lasered a cross-ice pass to Artem Anisimov for a winning wrist shot.  About a minute and a half later, Kane made a beautiful backcheck steal at his blue line to spark a 2-on-1 rush.  Kane made another perfect cross-ice pass to Schmaltz for a highlight-reel, one-timer score.
Gustav Forsling is turning into the real deal
Gustav Forsling had himself yet another solid game.  In 20:36 time on ice, he had one blocked shot, one hit and three shots on goal.  He had some plays that sparked glowing comments from broadcasters Pat Foley and Eddie Olczyk.  The young defender is truly coming into his own, and this couldn't come at a better time for the 'Hawks.
Corey Crawford. No, COREY CRAWFORD!
What else can be said about the first star of the game?  Stopping 30 of 31 shots for a ridiculous save percentage of .969, Corey Crawford kept the 'Hawks in the game while they struggled to find their way.
Many of his saves were on high-quality scoring opportunities from the center of the zone.  Without his stellar performance, the 'Hawks could have been chasing the 'Yotes in score-affected play early in the game.
Summing up
As I mentioned in my Eye on the Enemy preview, the 'Yotes have a young and fast team that can cause breakdowns in defensive coverage.  The encouraging sign is that the 'Hawks were able to survive their speed attack and come out with a victory.
Next: Blackhawks' Past Success Has Brought About Demise
Next up will be the Florida Panthers on Tuesday night at the United Center.  Let's see if the Blackhawks can get all 6 possible points on this homestand.  And as always, LET'S GO 'HAWKS!