Chicago Blackhawks Vs Winnipeg Jets Live Streaming, Predictions And More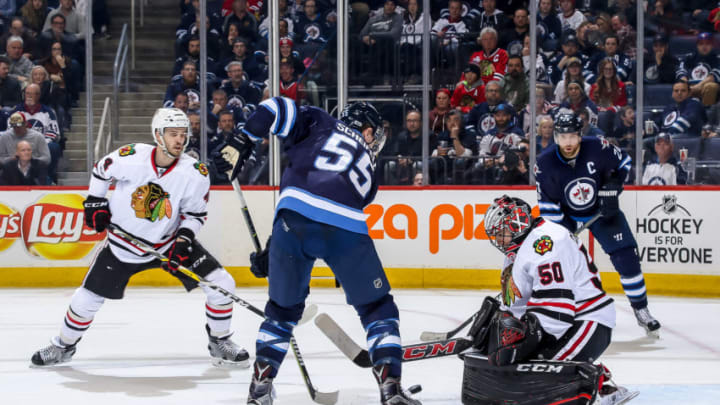 WINNIPEG, MB - FEBRUARY 10: Mark Scheifele /
The Chicago Blackhawks are riding high after winning all three games on their most recent homestand, and tonight we get to see them take their streak on the road when they visit the Winnipeg Jets. 
So unless your my age you won't remember this commercial, but when thinking of the Chicago Blackhawks current winning streak the question is, Is it real?  The old commercial asked is it real or is it memorex.
I asked a poll question on Twitter late last night, and it's almost split down the middle.  Do you think the current Chicago Blackhawks winning streak is a mirage or a start to a longer winning streak.
As I write this it's 51 percent saying it's a mirage and 49 percent saying it's the start of a long winning streak.  The way the Chicago Blackhawks struggled in the three games to score goals suggests that this is just a mirage, but if you throw out the 2nd period of the Florida Panthers game, the Hawks are winning Corsi and other advanced stats so the goals should come.
One thing they must work on is the powerplay.  It's one thing to be dreadful with the man advantage, but it's another thing to give breakaways to the opposition and kill any momentum you were building before the powerplay occurred.  I'm not sure having Patrick Kane and Patrick Sharp as point man is the best option either, but watching other teams powerplays crisply move the puck sure makes the Hawks look bad.
More from Blackhawks News
This three game stretch against teams in the Central in the next week will surely give us a measuring stick on where the Hawks really are heading into the Christmas break.  Tonight is huge and hopefully we get the Hawks best effort tonight.
Here is the listings for tonight's contest
Game Time– 7pm
TV Listings– NBCSCH
Radio Listings– WGN Radio
Live Streaming– NBCSCH Live Stream
Radio Live Stream– WGN Radio App
I got home too late on Tuesday night to crank out some predictions, so it's a clean slate as we look forward to tonight's game.
Final Score Prediction
I want to believe that the Hawks win a fourth straight game tonight, but I think the Jets will be too fast for the depleted Blackhawks defense. I see the Hawks losing tonight 4-3 in a close hard fought game.
Three Stars Predictions
#3 Star-Blake Wheeler 1 Goal 1 Assist
#2 Star- Alex DeBrincat-1 Goal 1 Assist
#1 Star- Patrick Laine- 2 Goals
Next: This Weeks NHL Power Rankings
What are your predictions for tonight's game from Winnipeg?