Chicago Blackhawks Morning Links- Back In Line Again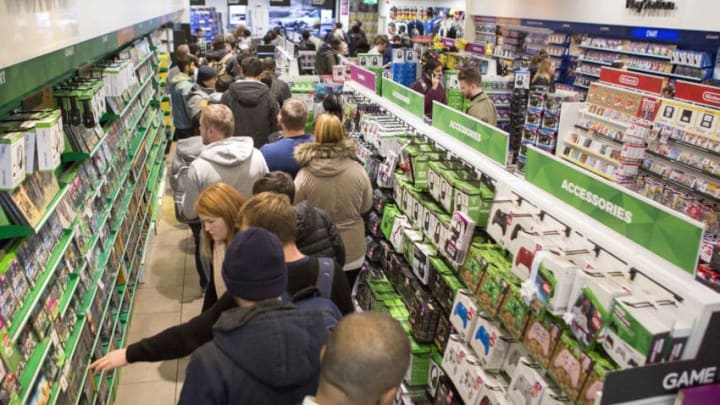 Shoppers queue to buy gaming merchandise in games retailer GAME in Westfield shopping centre in Stratford during a Black Friday event. (Photo by Rick Findler/PA Images via Getty Images) /
Good Morning Chicago Blackhawks fans! I hope everyone had a fun and safe Christmas, and guess what there are still three more days until the Chicago Blackhawks are back on the ice. 
Behind Black Friday which is just nuts, but with online shopping not as bad as it used to be, today is one of the worst days to be involved in retail or going to a retail store.
Welcome to return day! It's the day we show how much we don't care that someone took the time to buy us a present, and we stand in more lines to return things. It has to be the most miserable line to be in every year.
The Blackhawks are beginning to frustrate their fans and make them miserable on a weekly basis.  One week they look like their glory days, skating up and down the ice like world beaters.
Then there are weeks like this past one where they look totally uninterested and listless and all it takes is one goal by the opposition to put them into a tailspin that evening.
More from Blackhawks News
It's a tough one to put your finger on when you watch them.  They have so much talent, and yet there are so many veterans playing under their norm.
One thing is for certain, they are not going very far with Patrick Sharp on the ice.  He's just a role player now, and if he accepts that position the Hawks are fine, but if he's pushing Joel Quenneville for a bigger opportunity then the Hawks are just a flawed team.
The Hawks need to figure it out since we are almost halfway through the season!
Here are some morning links while you stand in the Happy Returns lines! 
Check out the Holiday bloopers from the Chicago Blackhawks this season (Blackhawks)
Check out the Chicago Blackhawks goalie prospect win a fight (Second City)
Here are some suggestions for Chicago Blackhawks holiday giveaways (Tribune)
Should the NHL Play on Holidays or Stay on Break (ESPN)
If you play fantasy hockey, here are some interesting thoughts on trading (Sportsnet)
Should Connor McDavid be blocking shots (TSN)
The top 20 players in the NHL in 2017 (Pro Hockey Talk)