Chicago Blackhawks' Quenneville Must Settle On Lineup With Crawford Injured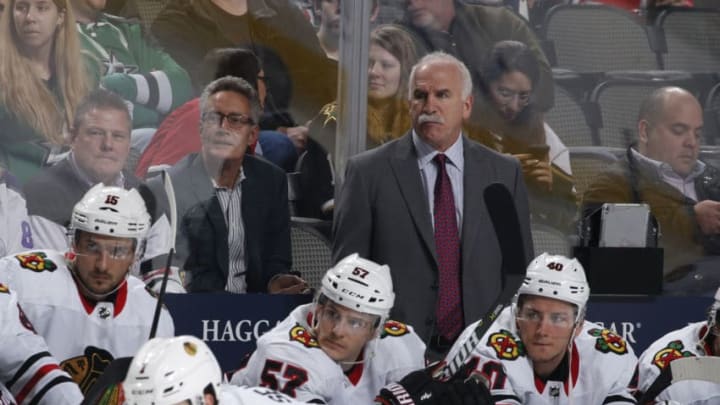 DALLAS, TX - DECEMBER 21: Joel Quenneville, head coach of the Chicago Blackhawks watches the action from the bench against the Dallas Stars at the American Airlines Center on December 21, 2017 in Dallas, Texas. (Photo by Glenn James/NHLI via Getty Images) /
Chicago Blackhawks coach Joel Quenneville has been fast and loose with his lines and pairings this season, but that will need to end now that the stopgap named Corey Crawford looks to miss serious time
Chicago Blackhawks coach Joel Quenneville on Wednesday told the press goaltender Corey Crawford would be out "a bit" with an injury that netted Crow a spot on injured reserve the same day. It's the second time this December Crow has missed time due to injury.
He wound up missing less than two weeks the first time, but this issue could linger, based on Q's wording around the injury. Some have reported Crow is dealing with a lower back issue. The previously injury was reported by some as a groin problem.
Regardless of how this latest issue occurred (I'm of the mind Crow rushed back from the first injury and began overcompensating in some way to take some pressure off the first wound), two lower-body issues in a month is bad news for a butterfly goaltender.
It's also terrible news for a Blackhawks team that has relied on Crow pretty heavily this season. And so, we'll look to the usual faces to step up and hope the duo of Anton Forsberg and Jeff Glass can come slightly close to what Crow was doing.
But we should also look to Coach Q for some leadership in this time. And for him, based on how this season has played out, that should mean calming down the seemingly never-off blender.
Sticking with a lineup
I have no idea if the lines and pairings Q rolled out for Wednesday's practice will stick tonight in Vancouver. Well, I know at least one thing won't, as Duncan Keith missed the practice due to a flight issue.
However, whatever Q lands on tonight facing the Canucks, he needs to stick with unless it produces absolutely abysmal results. I'm talking like 8-0 loss results.
Live Feed
Da Windy City
Q has hit the blender whenever his team shows an inkling of struggling this season. Sometimes it's been called for. Other times, like when he immediately resorted to throwing Patrick Sharp on the top line after the Blackhawks first loss in six games, it was pretty ridiculous.
At face value, I can be happy with some of the forward combos. Alex DeBrincat should have a home on that top line over Richard Panik, but that means either DeBrincat or Brandon Saad will be on his off side. Still, probably better than what Panik has (hasn't) been doing.
What I'm more happy about is that Vinnie Hinostroza is back in the lineup, that new call-up David Kampf is getting a shot, and that Sharp and Ryan Hartman are taking a seat. Again, these lines are far from guaranteed to roll out tonight, but it's a decent look.
The defensive pairings are as they have been, although I still think it makes more sense to have Michal Kempny in the lineup over either Jordan Oesterle or Jan Rutta. The Blackhawks need mobility, and they're restricting themselves in that regard by benching Kempny.
But back to the main issue. If this is the lineup Q wants to use moving forward, so be it. He just needs to stick with it. And this loops back around to Crow's injury.
Forsberg and Glass cannot be trusted to provide nearly as wide a safety net as Crow has done this season. Crow has adjusted to the fact few of his teammates have been afforded more than a few games to find line/pairing chemistry, something that can cause a team to struggle.
Q is just trying to find something that works, as he usually does. But he's gone overboard in that regard this season, making cohesion almost impossible to come by. Winning teams have good cohesion. The reason the Blackhawks are still in the postseason hunt right now despite a lack of cohesion is Crow standing on his head most nights.
Next: Blackhawks Must Part With Sharp To Save Quenneville
Now, that blanket is gone. As such, Q needs to chill with throwing guys around willy-nilly and let some chemistry form in front of the inexperienced (at the NHL level, anyway) Forsberg and Glass. Otherwise, we could see Forsberg and Glass facing a ton of rubber, and chances are they aren't going to be posting .930-plus save percentages on a near-nightly basis.