Chicago Blackhawks Morning Links- Hello 2018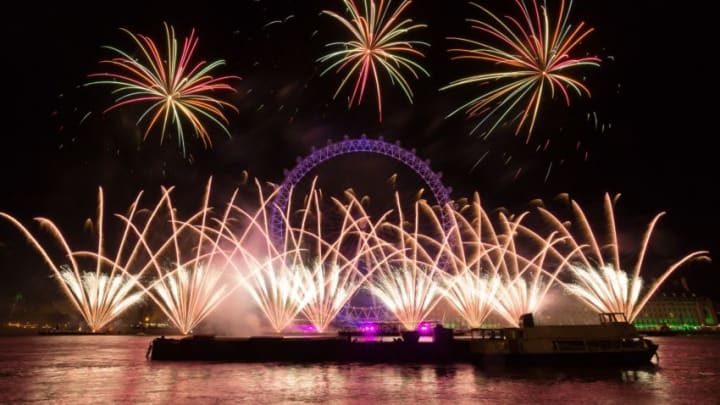 LONDON, UNITED KINGDOM - JANUARY 01: Fireworks light up the sky above the London Eye during the new year celebrations in London, United Kingdom on January 01, 2018. (Photo by Vickie Flores/Anadolu Agency/Getty Images) /
Good morning and Happy New Year Chicago Blackhawks fans! If you live in the Eastern time zone you had a few minutes to digest the Chicago Blackhawks overtime loss before it was time to ring in the New Year! 
Well, Goodbye 2017 and thanks for nothing!  Being a Chicago Blackhawks fan there isn't much to look back at the past year and think it was a great one.
The Chicago Blackhawks got swept out of the 2017 Stanley Cup playoffs after being the #1 seed by the Nashville Predators.  They looked terrible in all four games except maybe the first period of Game #3. I was in the upper deck during Game #4 and was in total shock that the Hawks were getting swept out of the First round of the playoffs.
There are other things to look back at and not be happy about.  Stan Bowman trading away Artemi Panarin was a tough one to swallow.  Sure we got Brandon Saad back, but there was such a great chemistry between Patrick Kane and #72 that it was still sad to see him go.
Now that the 2017-2018 season is almost halfway through, the Chicago Blackhawks aren't even a playoff team right now if the season ended today.  They are incredibly inconsistent offensively while whoever is in net seems to be holding the team together.
More from Blackhawks News
So, I hope 2018 is way better than 2017!!
Happy New Year and here is the first morning links of 2018!!
Here is a look at Brandon Saad's game tying goal after a Jonathan Toews faceoff win (Blackhawks)
What were the Top 10 Stories of 2017 around the Chicago Blackhawks (Second City)
How the Rockford IceHogs dropped 2 out of 3 to finish off 2017 (The Rink)
The Chicago Blackhawks rally falls short in overtime loss (Sun-Times)
It was not quite a happy homecoming for Jeff Glass in Calgary (CSN)
Why do we love the Winter Classic (ESPN)
What if Nashville got to host a Winter Classic (Predlines)
Don't look now, but the Winnipeg Jets are on top of the Central Division (Free Press)
Patience is a virtue with the Colorado Avs recent trades (Mile High Sticking)
Next: January Schedule Will Tell the Tale
Adam Fox leads Team USA to win at the World Juniors (Pro Hockey Talk)