For Chicago Blackhawks, No Playoffs Could Equal Coaching Change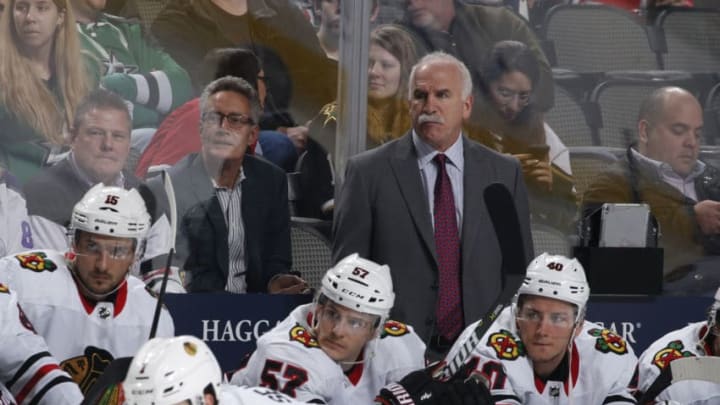 DALLAS, TX - DECEMBER 21: Joel Quenneville, head coach of the Chicago Blackhawks watches the action from the bench against the Dallas Stars at the American Airlines Center on December 21, 2017 in Dallas, Texas. (Photo by Glenn James/NHLI via Getty Images) /
After one of the best runs in NHL history, should the Chicago Blackhawks consider a coaching change next year?  After all, over the past 30 years how, many coaches have won a Stanley Cup after nine years with the same team?  
Chicago Blackhawks coach Joel Quenneville is in his ninth season with the Blackhawks. There is no dispute that he's an outstanding coach. He has the second-most coaching wins in the history of the NHL. He has won the Stanley Cup three times.
Coach Quenneville is a first-ballot Hall of Fame coach and will go down as one of the best ever. The question is, after all these years behind the Chicago bench, if the team is still responding to his leadership. Coming off two straight seasons with first-round playoff losses and with the current team at the basement of the Central Division, for the first time there are questions whether coach has "lost the room."
With the exception of Patrick Kane, the veteran "core" players general manager Stan Bowman has done everything to keep intact and support have not played consistently and seem uninspired on most nights. As the Blackhawks organization is not one that abides losing, the situation elicits a question. Even with a Hall of Fame coach, is there a diminishing return when it comes to a coach's tenure? Has Quenneville been with this team too long to win another Stanley Cup?
What does history tell us in this regard?  Specifically, how many coaches have won the Stanley Cup after being with the same club nine or more consecutive seasons? Another question my brother asked is the historical impact of a new coach. How many coaches won the Stanley Cup their first year, after being handed a good team that just needed a new direction?
The game has changed
As any longtime hockey fan will tell you, the game has changed dramatically over the past 30 years. Numerous rule and equipment changes, the change in placement and sizing of the net and the standardization of the size of the ice surface are just a few of the changes that have impacted the game we love.
More from Analysis
The number of teams has increased from 21 to 31, fitness and training has changed dramatically (beer isn't considered dinner anymore), the influence of International players on the league (Canadian-born players made up 77 percent of the league in 1988 – this season it's 47 percent), and the significant impact of implementing a salary cap have all changed the game immeasurably.
With all of these changes to the game, coaching has transformed as well. Wide-open scoring of the 1980s moved to the trap in the 1990s, from stand-up goalies to the butterfly technique. More recently, players who fought and couldn't skate have been made obsolete, as the game has transitioned to a pure speed game.
Add to this instantaneous access to video and top-end analytics, and it's easy to see how coaching has changed with the game. With all of these changes, what, if any, impact has it had on Stanley Cup-winning coaching tenure, or the number of coaches who won a Stanley Cup after nine or more seasons with the same team? Let's take a look at the data.
Stanley Cup winners — last 30 years
Before we review the information, a caveat. The 22 coaches listed that have won a Stanley Cup since the 1987-88 season. Al had a different approach, a different team and different ownership — completely different circumstances and styles.
The point being, coaching, like leadership in general, is more of an art than a science. This is strictly a review of historical data. It doesn't mean Coach Q can or cannot win in his 10th season with the Blackhawks next year. It just shows it hasn't been done in 30 years (spoiler alert).
The chart below shows the past 30 years: year/season, Stanley Cup-winning team, the coach and the number of seasons the coach had been with the team at the time of the Stanley Cup win.
The data shows how extremely rare it is for a coach with a long tenure to win the Cup. In the past 30 years, only Glen Sather and Scotty Bowman have won the Cup being with the same team for nine years or more. Sather won his last in his 12th season, in 1987-88.  Statistically, he is an anomaly as he was with Edmonton eight years before winning his first Cup. That is tough to do in today's modern game.
Live Feed
Da Windy City
The bottom line, even winning in your ninth seasons hasn't happened in the past 15 years. Not a huge surprise, as coaching is a business and change is constant. Win now or find someone who can.
Quenneville won his last Cup in his seventh season. He is third-longest-tenured coach to bring home the Cup in the past 30 years. Winning the Cup after 10 seasons (which would be next year for Coach Q) has not been done since Sather 30 years ago.
The second question, which was how many first-time coaches won the Stanley Cup, produced a more surprising discovery. Over the past 30 years, 10 Stanley Cup wins came from first-year coaches. Crazy, right?
Some, like Bob Johnson with Pittsburgh, stepped down due to medical issues and left a Cup-winning team. Blackhawks fans remember how that worked out as Pittsburgh defeated the 'Hawks in the 1992 Cup Final (still can't believe Eddie let in that goal from the corner).
Basically, a third of the time, all a talented team needed was a coaching change to elevate it to a league championship the next year.
The final question was if changes in the game itself had any material impact on length of time to win a Cup or number of first-year winners. I'm not a professional statistician, but it seems not. Aside from Claude Julian, John Tortorella and Ken Hitchcock, most Stanley Cup-winning coaches win before their fourth season. This has been consistent throughout each decade.
A few other notes of interest in looking at the Stanley Cup data:
Over the past 30 years, the average tenure for a Cup-winning coach is 3.0 years. Without Sather, Bowman and Quenneville, it drops to an average of 2.0 years.
From 1990-94, a first-year coach won every Stanley Cup. It would have been six in seven years, but Mark Crawford had coached in Quebec the year before winning the Cup in his first season in Colorado. As he had coached most of the same players the previous year, I did not include him as one of the 10 first-year winners.
There have been five first-year coaches who have won the Stanley Cup in the past 20 seasons (25 percent), and three in the past 10 (30 percent).
Scotty Bowman retired after his last win, which was in his ninth season with the Cup. This is the same tenure as Coach Q this year.
Pittsburgh has won the Cup four times with a first-year coach – Johnson, Bowman, Dan Bylsma and Mike Sullivan, most of any team.
Pittsburgh has also won back-to-back Cups twice in the past 30 years. Only Detroit has won back-to-back during that period of time (once).
The personal side
Besides the passing of Bill Wirtz and subsequent organizational changes by his son Rocky, there may not be a more important change in Chicago sports history than the replacement of Denis Savard with Quenneville in September 2008.
More from Analysis
At the time it seemed crazy to make a coaching change only four games into a season, but back then the Chicago Blackhawks were voted as one of the worst franchises in all of sports and consistently made terrible decisions — banning Hall of Fame players from the building, blacking out home games on TV, hiring a head coach who could barely speak English, trading Chris Chelios to the hated Red Wings for a group of nobodies — the list was endless.
Nine seasons later, we all celebrate what a fantastic decision Rocky Wirtz and John McDonough made to hire Quenneville.
I went the first 47 years of my life not seeing the Chicago Blackhawks win a Stanley Cup.  Winning in 2010 was something I'll never forget.  Then to win again, two more times, in 2013 and 2015 was unbelievable.  The friendships and bonds with my brother, sons and so many friends and family were cemented as we all watched this miracle unfold over these past years
From losing my mind in 17 seconds, to watching Duncan Keith bury that crucial goal against Tampa, these times became key moments in our lives. I thank Coach Quenneville for these amazing times and understand how fleeting they can be.
I didn't require a swear jar before 2010, as there wasn't passionate Blackhawks hockey to care that much about (for the most part). Going into its ninth season, my swear jar could pay off most of the country's deficit. Would not have happened without Coach Q.
Summary
Quenneville has shown consistent excellence throughout his coaching career.  History shows he wins.
The question for the Chicago Blackhawks brass is, do they feel the talent is lacking, or do they feel  this team could be one that just needs a new voice to ring the bell one last time.  If the veteran players step up and lead the Blackhawks on a deep playoff run this year, we march on and all this "lost the room" talk is gone.
Next: Blackhawks' Eye On The Enemy: Eye On The Isles
If not, history shows a coaching change with a young, talented team would provide much better odds to win another Cup within the next couple years.